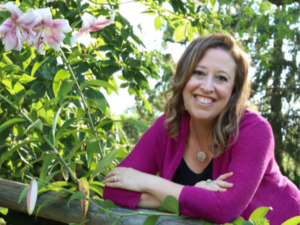 Hi, my name is Sandi Schwartz and I am an author and journalist specializing in parenting, wellness, and environmental issues. I want to help your family build a nature habit to feel happier and calmer. I believe that happy, calm children turn into happy, healthy, kind, passionate adults that will lead to a kinder, safer world for all of us. 
Through my education, writing work, and personal battle with stress and anxiety, I have discovered how several science-backed natural tools can help minimize stress and increase happiness. My book, articles, blog, and other projects explore these positive psychology tools–including mindfulness, gratitude, awe, kindness, and creativity–through a nature lens. I am dedicated to sharing tips, resources, and activities about these tools to bring happiness and balance to your family. 
I love painting nature scenes, going for peaceful walks and bike rides, picking berries, and seeking out natural sites when traveling. I am a passionate environmentalist, fighting for a healthier planet every day through my words and actions. I love driving my electric car, choosing organic products, and greening my closet.   
My bylines include Chicken Soup for the Soul, Scary Mommy, Motherly, Very Well Family, Environmental Defense Fund's Moms Clean Air Force, The Gottman Institute's blog, The Week, Green Child Magazine, Your Teen for Parents, Grand, Urban Mommies, Mommy Nearest, and over 70 regional parenting magazines like NY Parenting, Washington Family, MetroKids Philadelphia, Bay Area Parent, and Calgary's Child. 
For nearly six years, I blogged under the name Happy Science Mom. My blog received recognition, such as being on Feedspot's list of "Top 100 Mom Blogs Every Mommy Must Read." I have also appeared on a number of podcasts and online summits including Optimal Daily Living Podcast; Jedlie's Reading With Your Kids Podcast; Apparently Parent Podcast; Sunshine Parenting Podcast; Mindful Mama Mentor Podcast; and Mom Enough Podcast.
My prior experience includes communications positions in the environmental field at the United States Environmental Protection Agency, National Academy of Sciences, and an environmental and energy consulting firm. I earned a Bachelor of Arts in Environmental Studies at The George Washington University, a Master of Arts in Government with an Environmental Focus at Johns Hopkins University, and a Specialization Certificate in Foundations of Positive Psychology from the University of Pennsylvania. I also completed The Science of Happiness course offered by the University of California, Berkeley and served as a Community Teaching Assistant. I recently completed the Level 1 Ecotherapy Training course with the EcoPsychology Initiative.  
I am a member of the American Society of Journalists and Authors, Children & Nature Network, Editorial Freelancers Association, International Positive Psychology Association, National Center for Science Education, National League of American Pen Women, Nonfiction Authors Association, Parenting Journalists Society, and Union of Concerned Scientists. 
Please join me on this journey as we make new discoveries together. I welcome your questions and feedback along the way. Through knowledge and a constructive exchange of ideas, we can lead the next generation in making the world a happier, healthier place. Do not hesitate to reach out to me at [email protected].