Stressed? Feeling a bit down? Seeking a break from screens?

Nature can help

.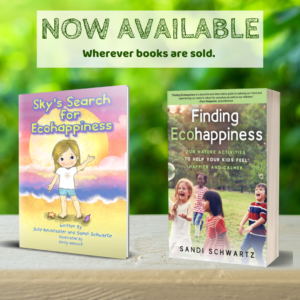 Spending time in and around nature is so beneficial to our health and well-being. It calms us when we are feeling stressed and boosts our mood when we are feeling down. There are so many incredible ways to tap into the healing power of nature, and I am excited to share them with you.
My name is Sandi Schwartz, and I created the Ecohappiness Project® to focus on where nature and mental health intersect. This one-of-a-kind platform ties together all the science and practical tools to help you live a happy, balanced life through nature. I am so thrilled to announce that my multi-award-winning book, Finding Ecohappiness: Fun Nature Activities to Help Your Kids Feel Happier and Calmer, is now available and the children's picture book I co-authored, Sky's Search for Ecohappiness is also available wherever books are sold.
Finding Ecohappiness has won multiple awards:
GOLD book award from Foreword Reviews
GOLD award from Independent Book Publishers Association (IBPA) Benjamin Franklin Award program
GOLD Nautilus Book Award
GOLD award by Nonfiction Book Awards, via Nonfiction Authors Association
BRONZE Living Now Book Award
Arlene Book Award: Books That Make a Difference from American Society of Journalists and Authors (ASJA)
National Indie Excellence® Awards (NIEA) finalist
Environmental writing/journalism Indigo Award from Sierra Club Florida Chapter
Grab your copies today to start finding ecohappiness for you and your family!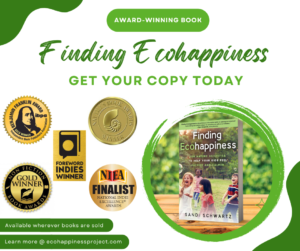 What is ecohappiness? It is about connecting to nature to feel happier and calmer. On a deeper level, it involves realizing how important nature is to our well-being so we do what we can to protect it.
Ecohappiness Project is on Substack —Subscribe Now
Spread Ecohappiness
Come join the Little Free Library 50 State Challenge. Learn how.