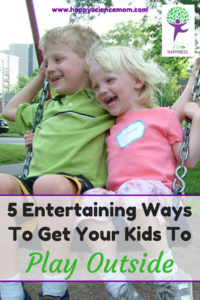 Having trouble pulling your kids away from their electronic gadgets? It's getting harder and harder everyday to convince our children to turn off their iPhones, iPads, and video games to step outside and enjoy some fresh air and old fashioned running around. And maybe they will also get to interact with other human beings as opposed to virtual friends or by "talking" to their friends by texting and posting on Instagram.
If we want to raise successful and well-rounded children, it is absolutely necessary that we entice them to spend more time outdoors and appreciate the importance of nature in our life. Besides being fun, this time outside offers numerous benefits including reducing stress and improving their health. What can you do to get your kids outside more often? Try these five entertaining ways that will be sure to give those electronics a run for their money.
Outdoor Games
When it comes time for birthday or holiday gifts, choose some fun games to play outdoors. Try tetherball, hula hoops, jump ropes, or get a few water squirters and let your kids loose on each other out back. Or, if they prefer skill-based games, check out some Let's Play Cornhole products. These games are a blast to play as a family or invite a few neighborhood kids over to play.
Your children will also love doing an obstacle course in your backyard. You can set it up yourself or have them help you. Go through your house and garage and gather several pieces of fitness equipment. Create several stations for different activities, such as jump rope, cones to run around, a box to jump over, and a basketball net to shoot a ball into. You can also have some stations that do not require equipment–they can do jumping jacks, push-ups, or hop on one foot. With older children, you can even incorporate swimming or bike riding into the obstacle course. Each unique course gives them a new challenge they will love.
Swing Sets
Swing sets are still so popular for backyard fun after all these years. They can be a great form of exercise and hours of entertainment for your little ones. You can purchase swing sets that are part of wider play areas, giving your children something to climb on and hang from. Just make sure that you install the equipment over a soft surface so your kids do not hurt themselves if they fall off.
Believe it or not, swinging can be an effective form of exercise, helping to condition their joints, muscles, tendons and ligaments. The monkey bars are also a wonderful way for children to gain strength and help them reach new goals as they learn to move from one bar to another on their own. And who can forget the slide? Every child loves the thrill and freedom they get when sliding.
Team Sports
Signing your children up for team sports is probably the best way to get them involved outside and a chance to give them new skills to use throughout their lives. Besides all of the physical fitness gains, team sports are also a wonderful opportunity for kids to meet new friends and learn how to work within a team. They will want to go to their practices and games to see their friends.
Deciding which sports to sign up for can be overwhelming. Before registering, research all your options and be sure that your child tries the sport at home first to gauge their interest and abilities. If you have to force them to play, then it will not be beneficial to them in the long run. But know that it is okay for them to try (and fail) at a few different sports before they find what they love. However, it is important to stick through the season. Even if the sport you signed up for does not turn out to be your child's favorite activity, there is an important lesson to be learned about commitment and teamwork, and finishing an activity for the good of others.
Swimming Pool
Spending time in water has a tremendous soothing effect, making us feel more relaxed and refreshed. It also provides hours of enjoyment and exercise for kids of all ages, whether they are swimming laps, doing cannonballs into the water, playing Marco polo, or engaging in water sports like basketball, water gymnastics, or volleyball.
You do not need to purchase an expensive in-ground pool; a large inflatable one will also do the job. In the summer, pools can be the best way to entice your kids to spend more time outside to cool off in the heat. Besides, swimming is one of the best, safest forms of exercise since it does not put strains on our bodies. Just make sure you can fit the pool in your garden before you buy it, as they can be surprisingly large.
Make It A Group Event
Another way to lure your children outside is to set up a playdate that involves one of these outdoor activities. Your kids will tend to want to play outside if they have friends to spend time with. Make it even more exciting by hosting a pool barbecue party for your kids and their friends. Or set up an obstacle course, water balloon toss, or other sporting events and invite a few friends over for some impromptu backyard Olympics. The more the merrier–and the happier your kids will be enjoying the outdoors.
What is your trick to getting your kids outside more often?