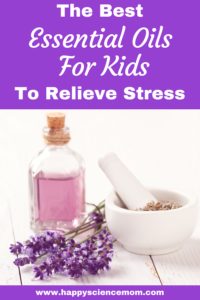 We are so fortunate to have many natural tools available to us to help our children relieve stress. Tapping into our sense of smell is a simple, effective way for us to feel calmer, even if it's for just a few moments. If you haven't yet tried aromatherapy for stress relief, you may be overwhelmed by all of the different scents and ways to use essential oils. However, there are a few very effective scents known to reduce stress that are safe for our children.
How Essential Oils Relieve Stress
Aromatherapy is the use of essential oils, including smelling/inhaling them, ingesting them, or rubbing them into our skin. They can be used in many forms like candles, sprays, and as part of items like meditation eye masks. Essential oils are concentrated, liquid plant extracts used for multiple purposes for the mind, body, and spirit including stress relief. They are called "essential" because they contain the essence of a plant, including its aroma and health properties. They can be taken from all types of plants, so they can come from a variety of sources including flowers, grasses, fruits, roots, trees, and leaves. They have been around for a very long time, as many ancient civilizations like Egypt, China, and India have been using them as a complementary and alternative therapy for the past 6,000 years.
Scents can be a powerful way to uplift our mood. According to Psychology Today, the olfactory nerve gives us our sense of smell and sends signals to parts of the brain, including the limbic system and amygdala. These areas are in charge of emotions, mood, and memory, and also help to regulate our nervous system and keep our stress response in check. When we sniff in a pleasant scent, it can trigger positive reactions in our body that last even when the smell is gone. In fact, essential oils have been shown to act similarly to many anti-anxiety medications.
Scents Known To Relieve Stress
When choosing essential oils for our precious children, it's critical that we use only high-quality products made from 100 percent natural ingredients. Here are a few of the best essential oil scents to help relieve stress:
Lavender
Extracted from the fresh flower of the lavender plant, the oil has been shown to have sedating effects to help our mind and body relax. The antioxidant components of lavender can impact our endocrine system to lower the levels of stress hormones. It is particularly known to calm nerves and help reduce insomnia. According to the New York Times, a 2018 study confirmed the incredible anxiety-reducing qualities of lavender. When your children are stressed and before they go to sleep at night, try diffusing some lavender in their bedroom or adding a few drops to their pillow for them to inhale this calming scent.
Bergamot
The smell of citrus fruits like lemons, oranges, and grapefruit help to calm us down when we feel anxious and give us a boost of energy. Bergamot is a fragrant citrus fruit the size of an orange with a yellow or green color similar to a lime, depending on ripeness. Bergamot essential oil is generally citrusy, yet fruity and sweet with a warm spicy floral quality.
It is known to help people feel calmer and have a boost of energy. A 2015 study found that bergamot essential oil inhaled together with water vapor can lead to positive psychological and physiological effects in a relatively short time. In addition, a 2017 study published in Phytotherapy Research found that exposure to bergamot essential oil for 15 minutes improved participants' positive feelings in the waiting room of a mental health treatment center. It also is used as a natural relief for headaches and muscle tension, both symptoms of stress.
Ginger
Another calming fragrance, which may surprise you, is ginger. It has a warm, spicy, woody, peppery scent that we are most familiar with in Asian food recipes like sushi and stir fry. But the scent is also known to revitalize us, provide emotional balance, and reduce anxiety since it is filled with antioxidants. It is also helpful in treating headaches and digestive issues.
Your children will love smelling these different fragrances that will also make them feel so much calmer. There are also other scents from Gya Labs that help relieve stress that I encourage you to try, such as mandarin, vanilla, rose geranium, and lime. I personally love lavender and even have lavender sprays, perfumes, and an eye mask because it makes me feel so good. Experiment a bit by testing out different essential oil scents with your kids to see what they favor.
How To Safely Use Essential Oils For Kids
The best way to use essential oils safely with children over 6 months old is to have them smell the scent either directly from the bottle; use a diffuser; or add a few drops to a cloth, pillow, or even a stuffed animal. Children should not ingest essential oils, as some can cause harmful effects if swallowed in certain amounts. Also, avoid rubbing the oils on your children's skin since young children's skin tends to be more sensitive than adults' skin and can potentially cause irritation. If your child already has skin or asthma issues, avoid essential oils until you consult with your pediatrician.
It's also important to take some safety precautions. Always keep essential oils away from your children's eyes and mouth. Be sure to safely store the essential oils out of reach of your kids as you would any medication or home cleaner. If you ever have any questions or concerns about your children using essential oils, please contact your pediatrician.
What is your experience with using essential oils for stress relief?