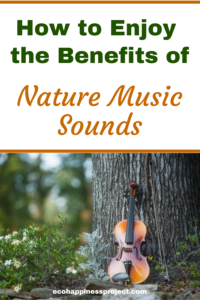 Creativity is the ability to think in unusual, divergent ways. It involves using the right side of the brain from where imagination, intuition, visualization, emotions, and daydreaming originate. Creativity has been shown to develop many positive characteristics and help individuals lead happy, successful lives.
When we are creative, we tap into curiosity, intuition, and playfulness. Creativity can also be an important stress buster to help us feel happier and more relaxed. It provides a healthy outlet for us to express and cope with our emotions in a safe, calm manner.
Benefits of Nature Music Sounds
The arts can also be a path for connecting to nature, as it is one of the best sources of inspiration for creative endeavors since it is filled with so many stimuli. Nature sounds like birdsong, wind, rain, and flowing water can be quite healing. They help mask intrusive noises like airplanes flying overhead, leaf blowers, and construction sites, and undo the stress we feel from listening to them.
Engaging in nature music—whether it be singing, listening, or creating—provides biological and psychological benefits. It can help us relax by providing a healthy distraction and forcing us to be more mindful. As music garners our attention, it acts as a diversion while also helping us explore our emotions. It also keeps us focused and prevents our mind from wandering to negative thoughts. Music also allows us to lose ourselves in the moment as we enjoy the sounds we play or hear.
We can incorporate nature music sounds into our lives by either listening to meditative nature sounds that are enhanced by soothing music or by creating, playing, or listening to music with nature-related content. With regard to the first option, there are many apps available that provide nature relaxation music. This is especially an effective tool to use if you or your kids are having trouble falling asleep at night.
Encouraging Children to Enjoy Nature Music
When it comes to children, they often enjoy listening to music that tells a story about nature, whether it be about animals, trees, the ocean, or otherwise. One artist to check out is Raffi, a music producer, author, and ecology advocate. He is known for his signature song "Baby Beluga," and has been producing children's music since 1976. Many of his songs have nature themes. The Laurie Berkner Band also has several nature-related songs, along with cute, engaging music videos on their website. Finally, Mister G is a Latin artist who performs bilingual songs in both Spanish and English. His album Mundo Verde (Green World) is filled with environmental children's songs covering topics like bees, fish, and water.
If your children play musical instruments or love to sing, they can try their hand at writing their own nature-themed music. It may be helpful for them to use other songs as inspiration, such as taking a popular song and changing the words to focus on nature. If they take piano or guitar lessons, they can easily add in their own words to the music they are already playing. Even children who have never taken a music lesson can still bang on some drums or shake a maraca to some nature lyrics they penned themselves.