This guest blog post was written by Sandy Richards of Sandy Richards Wellness. First and foremost, she is a mom of two girls. Raising her daughters to live a long, healthy life has been at the forefront of her motherhood journey for about five years. Her goal in life is to ensure that her girls have the tools and knowledge to feel empowered and equipped to live a healthy life (whatever that may mean to them.)
As a certified health and wellness coach and personal trainer, Sandy has made it her goal to educate and empower her clients to be strong inside (emotionally and mentally) and out (physically). Although she loves coaching her clients, her main passion lies within bringing like-minded people together through wellness events and retreats and leading her "Stronger TogetHER" Mom and Daughter Fitness class. If you are a mom of an elementary-aged daughter, join her Facebook Community that connects girl moms all over the globe to support, encourage, and learn from one another. You can also find her on Instagram @SandyRichardsWellness.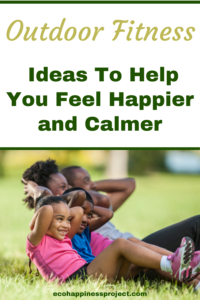 With the temperatures rising and the sun staying out longer, now is a great time to take your workouts outdoors. Let's take advantage of this beautiful weather and switch up our fitness routines by heading outside to connect to nature. After all, exercising outside is a convenient workout with endless possibilities and many benefits for both our physical and emotional health.
With a few simple exercises, you will be able to add variety to your family's fitness routine that can be done in your own backyard (no fitness equipment even needed!). So, grab your kids and head outside to get moving and to reap the many benefits of green exercise.
If you want to incorporate some new equipment into your routine, I recommend trying:
Rocks
Benches or Chairs
Monkey Bars
Logs
Exercise #1-SURRENDERS 
This exercise can be done with or without a weight. If not using any type of weight, try putting your hands behind your head for a more advanced workout. This exercise targets legs, butt, and core. It will also keep your heart rate up.
Tips: Try to stay in a squat position when you step up. Alternate between right and left sides.
Beginners: Without weight, hands behind head.
Advanced: With weight.
Exercise #2-RUSSIAN TWIST 
This rotational move targets your obliques as well as your core. Grab a rock or boulder to add an extra challenge.
Beginners: Keep feet on the ground.
Advanced: Cross legs and hold them off the ground.
Exercise #3 – RENEGADE ROW
This is an exercise focused on stabilization. It's also a great exercise to help improve posture and overall body strength. Get more connected to nature by using a big rock or boulder as your weight.
Tip: If you feel your body rotating, squeeze your glutes to keep your body in a straight line.
Beginners: Row with or without weight.
Advanced: Add a push up in between.
Exercise #4-MOUNTAIN CLIMBERS
This is a true total body workout incorporated into one exercise.
Beginners: Find a taller bench or log to lean on so your body is more upright.
Advanced: Move your body to the ground and off the bench so you are in a plank position.
Exercise #5-Tricep Dips
This one focuses on arms and shoulder strength. I love this exercise because it can be done just about anywhere. The goal is to form a 90-degree angle with your arms, making sure your elbows stay tucked in.
Beginners: Bend your knees.
Advanced: Straighten your legs or elevate your legs as well.