(Although this post is sponsored, all opinions are my own.)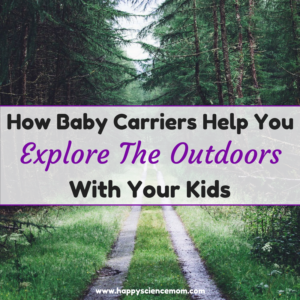 Feeling trapped inside with your little ones? Maybe you are running out of activity ideas and craving some exercise to burn off that baby weight. No matter whether it's too hot, too cold, too rainy, or too dreary, getting outside for a lovely walk in the fresh air to enjoy nature is one of the best things you can do for yourself and your children.
You may be wondering how to do this with an infant or toddler. Well, I have the perfect solution for you! By finding the best baby carrier, you can easily bring your kids along with you for a relaxing walk in the park or an awe-inspiring hike.
Benefits of Baby Carriers
Sure, you can throw your child in a stroller, but did you know all the benefits of using a baby carrier for both you and your child?
Builds Stronger Bond. According to Dr. Sears, it is natural for babies to want to be close to their mother, and babywearing makes that easier to do. Spending time in a carrier reminds your baby of being in your womb. By extending the womb experience, your baby will feel more in tune with the rhythms of your body, just like when in utero. When you take a walk with your baby in a carrier, it feels like the time spent in the womb. As babies lean against your chest, they can hear your heartbeat, which reminds them of the sounds in the womb.
Keeps Babies Happy and Calm. Research shows that babies in carriers cry and fuss less. Pediatricians in Montreal conducted a study of ninety-nine mother-infant pairs. The first group of parents were provided with a baby carrier and asked to carry their babies for at least three extra hours per day. After six weeks, the infants who received more time in the carrier cried and fussed 43 percent less than the non-carried group.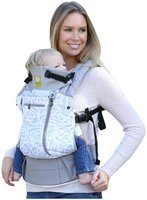 Stimulates Baby's Brain. Babies who spend time in carriers learn more because they experience life with quiet alertness, considered the most optimal state for learning. This is when children are most content and best able to interact with their environment. Researchers have also reported that carried babies have better vision and hearing.
Promotes Physical Development. When babies ride in a carrier, they sense all of your movements like walking, bending, and reaching. This stimulation helps children regulate their own physical responses, such as the vestibular system which controls balance. There is evidence that premature babies who are touched and held gain weight faster and are healthier, but mechanical swings and other holding devices do not provide these same benefits as a baby carrier.
Makes Moving Around Convenient. Carrying your baby in a sling or carrier makes it so much easier for you to walk without maneuvering around crowds or narrow aisles like when you use a stroller. Also, your hands are free to take care of the many tasks you need to accomplish as a busy mom.
Allows You To Exercise. Using a baby carrier gives you the freedom to exercise with your baby in tow. You will be able to enjoy the dual benefits of walking and "weightlifting" to help you build muscles slowly and gently postpartum.
Provides a Safe Option. Compared to your kids running around, carriers are a safe place for them to be. They are held safe and secure right next to your body. And they make giving your child a hug so simple! Visit the Baby Carrier Industry Alliance to learn more about babywearing safety.
Why Taking Your Kids Outside Is So Important
Humans have an innate instinct, called biophilia, to want to be around and immerse ourselves in our natural environment. This connection to nature provides a sense of well-being and offers solace and comfort unlike what we can find in any man-made environment.
According to Frances Ming Kuo, a researcher documenting the positive link between nature and health, humans benefit from exposure to green environments like parks, forests, and gardens. She uses the term "Vitamin G" (G for "green") to capture nature's role as a necessary ingredient for a healthy life. Science tells us that spending time in nature can improve our children's lives in so many ways—socially, psychologically, academically, and physically.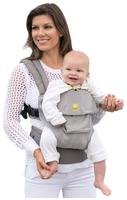 Enhances Learning. Being around and observing natural settings increases children's ability to focus and learn.
Encourages Physical Activity. When you move around outdoors with your children, you are showing them the importance of exercise, which will help them choose healthy behaviors like playing outside and participating in team sports as they get older.
Improves Eyesight. According to the American Academy of Ophthalmology, more time spent outdoors is related to reduced rates of nearsightedness in children and adolescents.
Improves Self-Discipline. Viewing green spaces enhances peace, self-control, and self-discipline in children.
Reduces Stress. Spending time in nature has a calming effect, reducing stress and anxiety.
Improves Mood. Studies show that sunshine, fresh air, and outdoor exercise lead to a positive mood and reduces depression.
Nature Walk Ideas For All Seasons
When you expose your children to nature, you are enhancing their development and setting the stage for a happy, successful future. You are also modeling healthy habits while you closely comfort them in a calming, safe environment.
There are so many opportunities for you to explore the outdoors with your little ones all year long.
In autumn you can enjoy the beautiful leaves changing colors and stroll through an apple orchard.
During wintertime, take a brisk walk around a local park or flat trail. If you see snowflakes falling, bundle up and head outside for a quick walk to enjoy the special winter scene. Some baby carriers have special wraps or blankets. Another trick is to wear an oversized coat that you can zip around both you and your child.
When spring arrives, head to a park, garden, or nature center trail to show your children the blooming flowers and trees, and to try to spot some chirping birds.
In the summer, enjoy a relaxing walk on the beach. Just remember to protect your child from the sun's rays with sunglasses, sunscreen, hats, and UPF 50+ clothing.
What are your favorite ways to explore the outdoors with your children?