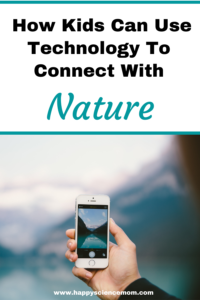 Are you frustrated and concerned that your kids are always using some sort of technology? Between phones, games, and now virtual school for many kids, it is challenging to separate them from their screens.
We know that technology can have its negatives, including mental health issues like stress, anxiety, loneliness, and depression. We also know how nature can be an antidote for too much technology. While I deeply encourage parents to guide their children to take nature breaks every day that it's possible, I have also discovered how technology can be a conduit to get kids out into nature.
Recent research shows that technology can help us successfully connect to nature in a number of ways. A 2017 study showed how children used an app to help them connect to nature. Actually, it was just as effective as if they were with an in-person environmental educator and it offered additional benefits, including more fun and increased social interaction. A 2018 study found that exercising indoors with simulated nature was more relaxing than regular exercise. This suggests that environmental exercise settings, also called green exercise, that include things like nature sounds or images of nature are effective in reducing stress. Another study discovered that participants who listened to a birdsong app became more relaxed than those who listened to a meditation app with a human voice.
Ways Technology Can Connect Us With Nature
There are a number of fun, easy ways for kids to use technology to connect with nature.
Nature Photography
One of my favorite hobbies is taking pictures of nature and then painting them with watercolor. Photography is a wonderful art form to help reduce stress and anxiety that we can share with our children. According to sound-mind.org, "…this particular stress management skill allows you to place your focus outside of yourself. Photography is a creative and fun hobby that can help distract you from the stress, anxiety, and depression you may be feeling." Photography serves as a type of mindfulness meditation in which we get lost in the moment and experience a sense of flow while snapping photos with our camera. It can be quite calming to take photographs, especially of gorgeous nature and awe-inspiring images.
Online Nature Experiences
Nothing beats holding, petting, and being up close with an animal, but sometimes that is not possible. Children can also enjoy animals through virtual encounters. My daughter's recent birthday fell during the beginning of the COVID-19 lockdown and we had to think out-of-the-box for her birthday party. We already had her party booked at a local nature center, so we asked if they could do a virtual animal show for the children instead. It was a huge success, and the kids loved learning about turtles, snakes, owls, and sharks.
Here are some ideas for connecting with animals online:
Look for virtual programs and tours sponsored by zoos, science centers, wildlife sanctuaries, farms, and aquariums.
Sign up for animal-focused online classes and camps.
Volunteer online with your pet through a therapy pet program.
Go on a virtual "vacation" by searching for websites that have live cams of animals in the wild, including bird nests and underwater marine life.
Be an electronic wildlife watcher. Use technology to view nature. There are numerous live nature cams online for you to observe animals around the world in real time. The U.S. Fish & Wildlife Service and the National Conservation Training Center, for example, broadcast a bald eagle nest. Also, Explore.org has all kinds of live animal cams to enjoy.
Connect with a relative or friend who has a pet and ask if they will do a screen call so your children can see the animal.
Nature Videos/Movies
A study out of University of California, Berkeley found that watching nature on TV, in this case Planet Earth, led to feelings of awe, joy, happiness, and less stress. If you are unable to visit a place in person, the next best thing is to observe it using various media tools such as videos, movies, and documentaries. You can find these types of programs on National Geographic, Discovery, and PBS. Some of the best nature documentaries for kids include March of the Penguins, Bears, and Blue Planet.
Virtual Reality
Technology can give us the chance to enjoy nature experiences that we otherwise would not have access to, such as flying or walking on the bottom of the sea floor. My family and I participated in a nature-themed VR experience a few years ago at the Franklin Institute in Philadelphia, Pennsylvania. I had never tried VR and was feeling a bit nervous that I would fall over or bump into a wall. But once I put on the VR headgear, I was transported to a gorgeous underwater world. The best part was when a giant whale swam by me and I tried to reach out my hand to touch it.
Using VR to connect to nature is a fun, unique activity for our children. I can envision a future in which we visit these virtual places to de-stress on days when we may not be able to get outside. While it may not completely replicate being in nature, it offers an opportunity to connect with images of nature. I walked away from that exhibit at the museum feeling happier than when I entered.
How To Ensure Balance
To me, there is nothing wrong with bringing technology along if you are incorporating it into your nature experience. If we use technology as an enhancement rather than a distraction while engaging in outdoor activities, we will reap the most benefits like stress reduction and feeling more balanced.
Just be mindful of how you and your family are engaging with technology. If you go to the beach to rest and relax on a blanket, don't let the rings, buzzes, etc. on your phone interrupt your mindful nature time. If your iPhone or iPad is used as a tool, rather than a distraction, then it can be beneficial and help us connect to nature.
Of course, it's also important to silence the device and put it away for a part of the nature experiences. For example, if you are going forest bathing, which is essentially a mindful walk in the woods, put the phone away for most of the experience. Pull it out to snap a photo and capture the incredible nature scenery that fills you with awe so you can reference it later for a creative project like drawing or painting. I did this when I went forest bathing in Pennsylvania and I am so grateful for the few photos I have to remember that special experience.
Want to learn more? Check out my podcast interview on Tech Talk for Parents.