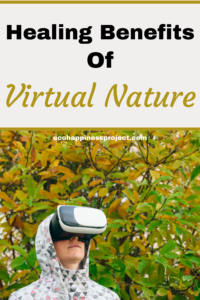 We know that nature has tremendous healing benefits for our family, but what if we cannot get outside or travel to experience the magnificence of nature? Sometimes we face challenges that prevent us from leaving our home or town, whether they be financial constraints, scheduling concerns, health issues, or even a pandemic like COVID-19.
Fortunately, we do not necessarily even have to go outside to experience the awe and beauty of nature. We can turn to various media tools such as videos, photographs, slideshows, 3-D or 4-D movies at an IMAX theater, and virtual reality (VR) to stimulate a sense of awe and relaxation. But can nature on a screen be as healing as the real thing?
Virtual Nature Research
Scientists are working hard to answer that question. So far, there is very good news if you enjoy VR and nature videos. VR is a technology that combines multisensory stimuli to provide the perception of being "present" within computer-generated environments. It also allows us to interact in a 3-D world, resembling real-life events. What is also intriguing is that it can give us the chance to enjoy experiences that we otherwise would not have access to, such as flying or walking on the bottom of the ocean floor.
In an analysis of over thirty studies that reviewed the effects of spending time in nature versus urban environments, researchers found that being exposed to nature led to people feeling happier whether they were outdoors or viewing nature on a screen. They also discovered that simulated environments with realistic images of nature, such as interactive VR, led to greater psychological benefits than less immersive choices like photographs.
In 2020, researchers found that watching nature programs on television can uplift people's moods and reduce negative emotions. Experiencing nature with VR could have even larger benefits, boosting positive feelings and increasing people's connection to the natural world. During an experiment, individuals viewed scenes of an underwater coral reef in one of the following ways: on television, using a 360-degree VR video, and via VR using computer-generated interactive graphics. All three viewing methods minimized negative feelings such as sadness; however, only the interactive VR experience led to increases in positive emotions like happiness.
In Your Brain on Nature, authors Eva M. Selhub and Alan C. Logan conclude that "we have no doubt that simulated nature can have medicinal effects, and while these may not be as strong as nature in its complete form, the scientific evidence supporting isolated elements of nature does exist. Sitting in a virtual forest has been shown to reduce stress, although in head-to-head duals, actual nature experience appears to have the edge on mental energy, vitality, and restoration."
How To Enjoy Virtual Nature
While VR may not completely replicate being outside immersed in actual nature, it offers an opportunity to connect with images of nature that can still help us feel happier and calmer. I can envision a future in which we visit virtual nature-filled places to de-stress on days when we may not be able to get outside. So, although I encourage you to always choose authentic nature when you can for your family, it is exciting that virtual nature can also provide key health benefits to us.
Using VR to connect to nature is a fun, unique activity for children. My family and I had the pleasure of feeling awe in a nature-themed VR experience a few years ago at the Franklin Institute in Philadelphia, Pennsylvania. I had never tried VR and was feeling a bit nervous that I would fall over or bump into a wall. But once I put on the VR headgear, I was transported to a gorgeous underwater world. I remember feeling like I was actually floating through the water among the colorful fish. I was smiling and oohing and ahhing the entire time. The best part was when a giant virtual whale swam by me, and I tried to reach out my hand to touch it. We talked about the experience for days.
Get Started
Here are some ways to start exploring nature virtually:
Search for virtual reality experiences focused on nature at your nearby science museums and theme parks.
Rent some virtual reality equipment and host a virtual nature exploration party.
Invest in your own virtual reality system and choose programs highlighting nature scenes, such as Greener Games. You can have a blast going on a virtual nature walk.
Participate in the Virtual Nature research project at the Wellcome Centre for Cultures and Environments of Health based at the University of Exeter.