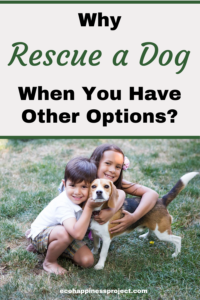 Pets can have a profound impact on our children's well-being. Their physical, social, emotional, and cognitive development improves when they interact with a pet. Walking, grooming, feeding, and playing with a pet are enjoyable activities for everyone in the family. Pets also push family members to slow down from their hectic lives, realize the importance of nature, communicate with one another, and spend quality time together relaxing with their animal friends. Learn more about the emotional benefits of having a pet dog.
Choosing the right pet for your family depends on your preferences and the demeanor of the individual animal. India Blake, award-winning photographer, animal advocate, and author of the children's book Gypsy to the Rescue, shared the following important reasons to rescue a dog.
Save a Life
When you adopt a pet, you save a life. The number of animals that enter the shelter system is staggering, and sadly that will continue without education and awareness. Every year there are 3.3 million dogs and 3.2 million cats that enter shelters nationwide, according to the American Society for the Prevention of Cruelty to Animals (ASCPA). People find that rescued pets show their genuine gratitude and appreciation when they finally feel safe in a home.
Select the Right Pet For Your Family
Although there's nothing more adorable than a puppy, they can be a lot of work. Training takes time and commitment. An adult dog may be a better fit for your family. Adopting an adult dog who is already house-trained and knows basic commands is often much easier than adopting a puppy. You will also be able to see the personality of the adult animal and won't have any surprises down the road.
Be Informed
When you buy a pet from a pet store, you have no way of knowing whether your animal will be healthy or not, because you don't know the breeder. And, once you walk out of the store, you are on your own. Most pet stores don't provide any support if you have questions or problems with your new pet. When you adopt, especially from a rescue group, you know what you are getting because the group has a history on the animal. The rescue group will also help you through the familiarization period because they are invested in providing a suitable home for that animal.
Take a Stand Against Puppy Mills
When you buy a pet from a pet store, you are actually supporting the puppy mills that are "breeding factories" that put profits way before the welfare of dogs. Animals from puppy mills are housed in shockingly poor conditions. Without any proper medical care, they often end up sick and are behaviorally troubled as a result. Also, the breeding mothers are kept in isolated cages with little hope of any form of companionship.
Save Money
Adopting a pet costs less money. Adoption fees are lower than buying a purebred animal for profit. The adoption fees go right back into the facility, covering expenses such as spaying or neutering and vaccinations. Many shelters and organizations also host "clear the shelters" events, and adoption fees are waived.
Set a Good Example for Children
Taking in an animal that needs a home sets a great example for your children, and teaches valuable life skills through pet ownership like responsibility. Re-homing a pet will also encourage empathy by making them think about how they have helped to give an unwanted animal a loving home. Pets can also help children with separation anxiety and provide them with security.
Looking to adopt a pet? Find your local animal shelter or contact an animal rescue organization, such as The Humane Society of the United States, Petfinder, or Adoptapet.com. They are bound to have exactly the pet you are looking for to help your family feel happier and calmer!