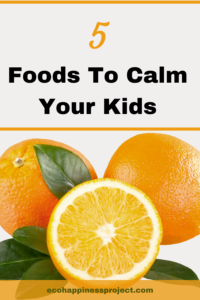 We are all familiar with how some foods and drinks can calm our nerves like a warm, cozy cup of chamomile tea. But what are some kid-friendly foods that help reduce stress?
Here are the top five calm cuisine options that you can incorporate into your child's diet. One way to give your kids a much-needed break after school is to offer them a healthy snack. These foods are ideal because they will nourish and calm them.
Oranges And Other Foods With Vitamin C
Oranges are loaded with vitamin C, a nutrient known to lower levels of stress hormones while strengthening the body's immune system. Vitamin C has actually been found to fight brain cell damage due to the stress hormone cortisol. One study found that vitamin C helped people bounce back more easily from a stressful situation. In that study, blood pressure and cortisol levels returned to normal more quickly when people took vitamin C before a stressful event.
Additionally, stress makes our body release more free radicals than when we are in a good mood. Vitamin C helps to keep the free radicals in control, repairing the body. Basically, it helps protect the body from the cumulative effects of stress.
Besides oranges, look for these foods rich in vitamin C: blueberries, mangos, cranberries, strawberries, Brussel sprouts, leafy greens, broccoli, and red and green peppers.
Almonds
If your child is not allergic, then almonds should definitely be part of their daily diet. They are loaded with these vitamins and minerals that help reduce stress:
Vitamin E: Shown to fight the free radicals associated with stress.
Vitamin B: Makes us more resilient during stress.
Zinc: Key nutrient for maintaining a balanced mood.
Iron: Low iron levels have been shown to contribute to brain fatigue, which can increase anxiety.
Magnesium: Shown to reduce stress.
Almonds are now found in so many delicious forms for your children to enjoy. Let them try almond milk instead of cow's milk and almond butter instead of peanut butter. You can sprinkle almonds on yogurt for a healthy breakfast or snack. Try spreading almond butter on apple slices or using it in a delicious smoothie.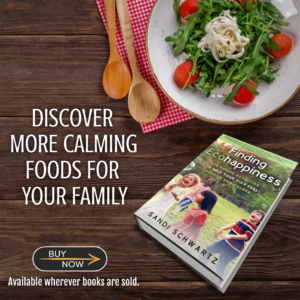 Fatty Fish
Consuming omega-3 fatty acids–found in fatty fish such as salmon, tuna, sardines, anchovies, lake trout, herring, and mackerel–can prevent surges in stress hormones and improve our mood overall. In a study at Ohio State University, students given an omega-3 fatty acid supplement showed a 20 percent reduction in anxiety. The researchers suggest that people incorporate more fatty fish into their diet instead of just taking a supplement. According to Jonathan Davidson and Henry Dreher, authors of The Anxiety Book, a deficiency in omega-3 fatty acids in the brain can be related to anxiety disorder. Adding these foods to your diet can help ease symptoms of anxiety.
You are probably wondering how to serve these types of fish to your kids when all they want are fish sticks. It's okay to get a bit sneaky and creative when cooking for your kids. Try mashing up different types of fish to make yummy fish cakes or creating your own baked fish sticks.
Turkey And Other Foods With Tryptophan
You know how on Thanksgiving you feel sleepy after eating a big turkey meal? It's the tryptophan doing its job. Tryptophan is an amino acid known to produce chemicals such as serotonin in the brain that makes us feel happier and more relaxed.
So, pack those turkey sandwiches for lunch and put some turkey dinners on the calendar year-round!
Other foods that contain tryptophan and ease anxiety include milk, bananas, oats, soy, nuts, peanut butter, and sesame seeds.
Whole Grains
Complex carbohydrates, like whole grains, can boost serotonin levels in our brain, which help us to relax and calm down. They also stabilize blood sugar, improving anxiety symptoms since low blood sugar can make us feel anxious.
Here are some other reasons why whole grains help reduce anxiety:
They are rich in magnesium–magnesium deficiency can lead to anxiety.
They contain tryptophan, which turns into serotonin in the brain.
They create healthy energy while reducing hunger–both important for controlling anxiety.
Good sources of complex carbohydrates include oatmeal; brown rice; and whole-grain breads, pastas, and breakfast cereals. Here are some fun ways to serve
oatmeal
to your kids.
Meal Time Tips
I bet your children would love a smoothie with bananas, almond milk, and peanut butter. Or how about a dinner consisting of turkey meatballs and whole grain pasta? Now that we know the key ingredients of a calm cuisine, we can look for new recipes or create our own using these 5 types of foods. Bon appetite!