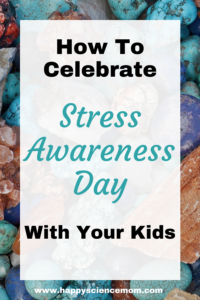 Stress Awareness Day takes place the first Wednesday of November each year. This is a great time to take a step back and evaluate our children's stress level and how we can help them better manage the stress in their lives.
How Stress Is Affecting Our Children
Stress and anxiety play a big role in our children's lives today. Children and teens are super stressed in this always-on pressure-cooker culture, and we know that all of these stressors are taking a toll on them. Some stress is normal and beneficial in short-term situations, but experiencing strong, frequent, and/or prolonged tension can result in bothersome physical symptoms and more serious mental health problems like anxiety and depression. Unfortunately, more and more children are struggling with these types of issues.
Child and adolescent mental health disorders are the most common illnesses that children will experience under the age of 18, says The Child Mind Institute, a nonprofit children's mental health advocacy group. Each year, one in five American children aged 3 through 17 (approximately 15 million) are diagnosed with a mental, emotional or behavioral disorder, according to the Centers for Disease Control and Prevention (CDC). The number of children aged 6 to 17 who have ever been diagnosed with either anxiety or depression increased from 5.4% in 2003 to 8% in 2007 and to 8.4% in 2011–2012, according to the Journal of Developmental and Behavioral Pediatrics. Additionally, the use of anti-anxiety medications is exploding. It increased by almost 50 percent for children ages 10-19 between 2001-2010, explained Scott Shannon, author of Mental Health for the Whole Child: Moving Young Clients from Disease & Disorder to Balance & Wellness
.
It is clear that this is an issue of top concern that is not going away anytime soon.
Natural Stress Reduction Tools
By turning to some fun, safe, science-backed activities, we can help our children feel calmer and happier. Try some of these tips with your kids:
Spend some time outside in nature. Learn how to build a healthy habit around connecting with nature.
Get creative, whether it be painting or drawing nature scenes, doing some mindful coloring, or playing an instrument.
Incorporate exercise into your family's daily routine. Some ideas include yoga, gymnastics, or going for a hike together.
Teach your children mindfulness techniques like mindful eating and lovingkindness meditation.
Express gratitude by keeping a gratitude journal or writing real thank you notes.
Volunteer as a family in your community.
Enjoy some relaxing massage or acupuncture.
Incorporate calm foods into your children's diet and keep them away from sugar and caffeine.
Encourage your children to play outside more.
Seek out more awe experiences, such as observing a sunset, listening to a symphony, or attending a magic show.
For more ideas, get your copy of my new book Finding Ecohappiness: Fun Nature Activities to Help Your Kids Feel Happier and Calmer.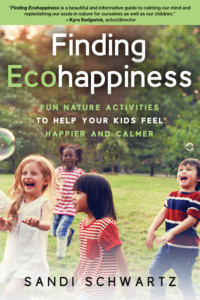 Getting Help
Sometimes natural stress reduction tips aren't enough. If you find that your child is still struggling, please contact a professional therapist for help.