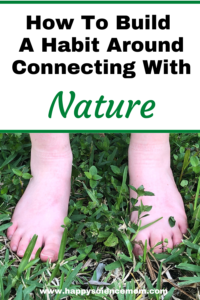 On Friday, March 13th, it was the day we knew the schools were shutting down and we were going into quarantine for who knew how long. (We're still in it, for the most part!) I am sure most of you can relate to what that felt like.
I needed to figure out how I was going to get through this challenging, stressful time. So, I decided to walk the walk and turned to all of my research and writing that focuses on how nature can help us feel happier and calmer. So, the next morning, I embarked on a 100-day Eco Happiness Challenge to get through this rough time. While this challenge helped my family and me stay calm while stuck at home, it also provided the opportunity for us to build a nature connection habit that will benefit us in the long run.
What Is Eco Happiness?
Spending time in and around nature is so beneficial to our family's health and well-being. It calms us when we are feeling stressed and boosts our mood when we are feeling down. There are so many wonderful ways to tap into the incredible healing power of nature, from volunteering outdoors to green exercise to spending time with animals.
I created the Eco Happiness Project to focus on where nature and mental health intersect. It serves as a platform to tie together all the science and practical tools to live a happy, balanced life through nature. I also want to shine a light on why mental health should be part of the environmental movement and our daily lives, especially as we face challenges related to development, toxics, and climate change. Bottom line: we need to protect our environment for our mental health.
The Challenge
My family's Eco happiness Challenge lasted for 100 consecutive days. You can view my daily posts on Facebook and Instagram that showcase each nature activity that we did during this time.
We smelled essential oils, drew whimsical birds, painted nature scenes, went for walks and bike rides around our neighborhood, swam in our pool, made nature-themed cards for the elderly to spread kindness, did yoga on our balcony, tried earthing for the first time, read nature poetry, enjoyed watching ducks paddling around our pool, planted seeds in our backyard, supported a local farm by purchasing a box of fresh produce, watched nature videos online such as one about hiking along the Pacific Crest Trail, and celebrated Earth Day.
Your family can join in on the challenge by grabbing your FREE 30-Day Eco Happiness Challenge Calendar. It is filled with fun and relaxing activities for your family to enjoy together without even leaving your own neighborhood. All of these activities can be done from inside your home, on your balcony, or in your backyard. You can start this challenge at any time, so sign up now to get your calendar right away. It is the perfect way to stimulate your own family's interest and creativity around nature and help you build a nature connection habit.

Learn More
During this time, I was a guest on several podcasts to talk about my family's experience with the Eco Happiness Challenge. Check out these episodes to learn more:
Mindful Mama Mentor Podcast—The Healing Power of Nature
Sunshine Parenting Podcast—The Eco Happiness Challenge
Apparently Parent Podcast—How to Connect to Nature During COVID-19
What are your family's favorite ways to build a nature connection habit?