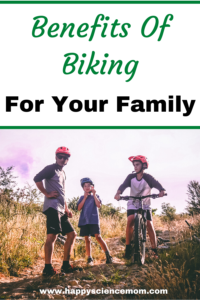 Whether it be riding around the neighborhood or exploring an off-road mountain trail, biking is an incredibly beneficial activity for your family. My family has always enjoyed bike rides, but with more time spent at home over the last year, we have been biking even more.
Some of our significant memories from family vacations involve exploring on bikes. During a trip to Puerto Rico, we ventured out to explore the property on a bike trail together. We also love biking on the boardwalk at the Jersey shore along the ocean. Recently, my husband and the kids biked all the way to the local post office and back. The kids loved this special experience since it was a fun way to get out of the house, exercise, and complete an errand. Biking has so many benefits to help us feel happier and calmer.
Provides Exercise
Riding a bike regularly is one of the best ways to reduce our risk of health problems linked to a sedentary lifestyle, including mental health issues like anxiety and depression. Biking is a healthy, low-impact exercise that your whole family can enjoy once the kids learn how to ride a bike confidently. It also has many physical benefits including building muscle strength and increasing stamina.
Gets Us Out In Nature
Whether we head to a mountain trail or city park, biking is also a wonderful opportunity to get outside in nature. You can see all kinds of scenery and even some animals! In fact, bicycling is a type of green exercise, a term used to describe our interaction with nature while engaging in a physical fitness activity. Green exercise is packed with mental health benefits, as experts have found a clear link between exercise and stress reduction, and nature and stress reduction.
Look for local parks in your area with biking trails or consider exploring some of the top ten places to bike in the United States on your next family vacation. These cherished spots include breathtaking scenery, daring mountains, and vast valleys. New trails continue to be developed for bikers in these iconic biking areas; however, the old trails are still around as well.
Besides biking, there are tons of fun nature activities for your family that will help you all feel happier and calmer. You can now download your own FREE 30-Day Ecohappiness Challenge Calendar filled with activities that can be done from inside your home, on your balcony, or in your backyard. Enjoy!
Gives Us A Healthy Break
Whether we take a solo ride or go as a family, biking provides an easy way to get a healthy break from the stress in our lives. Hopping on a bike and whizzing around your neighborhood streets or through a local park with the breeze blowing on your skin can be very relaxing. It is also a magnificent way to escape the doldrums of a normal day, blow off some steam, and experience new scenery.
Helps Us Bond As A Family
Life can get hectic and our children's schoolwork and extra-curricular activities can quickly fill our family schedule. Be sure to make time for free play and exploring like family bike rides. It gives everyone in the family the chance to relax and share in a special activity together. When we feel closer to our loved ones, we all feel happier.
Additional Benefits
Bill Bone, a bike injury attorney, outlines some additional benefits of biking linked to improving mental health.
Helps us sleep better by producing hormones that lead to deep sleep.
Boosts memory by increasing brain cells in the memory region of the brain.
Gives us a sense of pride after finishing a challenging run or knowing that we are helping to reduce air pollution.
Increases creative thinking since many people are inspired to do some contemplative thinking while on a bike ride.
Increases productivity since an afternoon bike ride can increase energy levels, so when we go back to work we are more motivated to get things done.
Important Biking Safety Tips
Biking can be very fun, but it can also be dangerous if we are not careful. The National Highway Traffic Safety Administration suggests the following tips on how to stay safe while biking.
Ride a bike that fits you. Bikes that are too big can be hard to control. Use this bike size chart for guidance.
Wear a bike helmet that fits you properly; your family's safety depends on it.
Make sure that the bike works, and there is nothing mechanically wrong with it.
Wear bright clothing that makes you visible, especially in the evening.
Have a white front light and a red back light.
Ride only one person per bike with both hands on the handlebars unless signaling.
Carry all items in a backpack or in a basket on the bike.
Tie your shoelaces so they don't get caught.
Plan your route to safe places, not areas with heavy traffic.
Ride on sidewalks and paths.
Follow traffic rules and signs.
Don't text, listen to music, or do anything that might distract you while riding.
Look for hazards in your path such as nature elements, trash, etc.
We can encourage our children to ride bikes with a friend since it's such a positive activity for their health and happiness. By taking a few extra precautions, our kids will stay safe and have a blast.
What are your favorite family bike ride memories or tips?