Random Acts of Kindness Day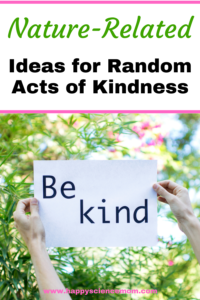 takes place each year on February 17th to help spread love and kindness throughout the world. Even the smallest act of kindness can improve someone's day or even change their life. When we tune into kindness happening around us, the day seems a little bit brighter. This is especially impactful in times like these when we are socially distant and struggling to stay positive during a global pandemic.
Benefits of Spreading Kindness
Scientific evidence shows us the positive effects of doing kind acts for others, as well as receiving or even witnessing kindness. We are all born with an instinct to give. In fact, humans have evolved over time to be compassionate, and our brains are now wired to respond to those who are suffering.
Studies show that infants as young as eighteen months old who are not even talking yet choose to help others (even strangers), although they are too young to have learned to be kind and polite. There is also evidence that children continue to show compassion as they grow. In one study, toddlers who were asked to give away their own treats expressed greater happiness when they shared with others.
Helping others through activities like community service and random acts of kindness makes us feel good and triggers a fascinating biological phenomenon called a "helper's high." This distinct physical sensation—sometimes described as euphoric—is associated with performing acts of kindness. It happens after our brain releases endorphins including dopamine, which give us a rush and make us feel elated. This positive energy in our body is similar to how we feel after we exercise.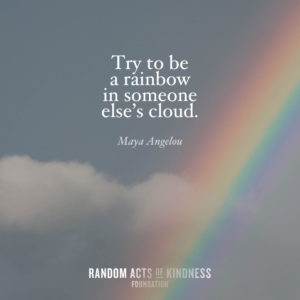 Spreading kindness can also reduce our stress level. The simple act of doing something for another can change our brain activity and lead to positive emotions. Studies show that thinking about, watching, or practicing kindness stimulates the vagus nerve, which is linked to the production of oxytocin in our brain. Oxytocin is a hormone that soothes us, making us feel calmer and happier. It's the same hormone released when we give or get a big, warm hug from a loved one.
Kindness can also improve our physical health and longevity, since it helps decrease stress and related physical symptoms. As a result, we experience positive health changes including lower blood pressure, stronger immune system, and fewer aches and pains.
Kindness ends up being a win-win for both the giver and receiver as we all enjoy a boost in happiness when we spread and receive acts of kindness. The positive feelings that our kids can experience from giving to others helps make them happier and healthier by reducing stress and anxiety and feelings of sadness, loneliness, or depression.
Nature-Related Ideas for Random Acts of Kindness
Given my focus on nature and mental health, I am putting a special ecohappiness spin on Random Acts of Kindness Day. There are many small acts of kindness that your children can partake in on any given day that involve nature. Here are 10 ideas to get you started:
Rake or weed a neighbor's yard.
Walk a neighbor's dog.
Grow your own flowers and give them out at a nursing home.
Compost and then give the rich soil you created to a local community garden.
Grow your own vegetables in your garden and donate them to a local food bank or soup kitchen.
Cook or bake using produce from your garden and surprise a neighbor or friend with the special treat.
Give out seeds, plants, or tree saplings to neighbors or people who live in areas lacking greenery.
Clean up a community area like a park or the beach.
Create a nature-related video with soothing outdoor scenes and send it to others to brighten up their day.
Take your kids on a nature walk to collect items like sticks, fallen leaves and flower petals, pebbles, etc., and ask them to use what they find to create get-well cards to distribute.
Want more ideas for volunteering outside in nature? Check out this post.