This guest post was written by freelance blogger and writer Emily Folk. She feels passionately about conservation of wildlife and natural resources and living a greener lifestyle. To see more of her work, check out her blog, Conservation Folks, and follow her on Twitter.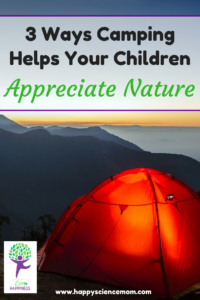 There is no better way to get your children to value the importance of nature in our life than to immerse them in it with a camping experience. Or maybe you want to buy a kayak online and worry you'll never get a chance to use it. If you tremble at the thought, I don't blame you. Setting up and taking down tents in the pouring rain is only one of the many obstacles you will face while subjecting your family to leaving the comforts of home and sleeping in the woods. You will also have to pull your kids away from their electronic gadgets. Oh my! But all of these sacrifices will be well worth it. No matter what happens, you will come home with lasting memories that you and your family will cherish. Here are some ways that camping helps your children appreciate nature:
Living Off The Land
Living off the land requires responsibility and hard work. Camping gives you the opportunity to show your children how much we depend on our natural environment. Ask them to take on some tasks to ensure a safe and happy camping trip. They can gather firewood and pile it away from the fire pit. Ask them to fetch water, either from a lake or a pump at the campsite. They will quickly learn to appreciate their municipal water system after doing it the hard way.
Take the kids to search for berries to eat. However, be sure to know what you will be picking in the area. If you know you are among blueberry bushes, that's fine, but beware of poisonous berries that may look appetizing. Getting sick won't make them appreciate nature!
If possible, do some fishing so they can experience catching and eating their own food. Fishing will teach them where food really comes from and give them more appreciation for what nature provides. Once they make these connections, they will really understand the importance of keeping our environment clean. Be sure to highlight the Leave No Trace Seven Principles for keeping the outdoors pristine.
Finally, camping gives our kids the chance to solve problems that come up when we are away from the resources and comforts of home.
Appreciating Simplicity
After just a few breaths of fresh air, your children will begin learning about the environment we live in. Modern conveniences are wonderful, but they keep us sheltered and cut off from nature. When you are in it, you start noticing the sounds, the scents, and the vivid colors of nature. Use this time to do some family meditation focusing on your senses like the gorgeous colors around you.
Your children will learn to appreciate the simplicity of nature and just being a part of it. You don't have to leave 45 minutes early to get somewhere because there are no appointments or deadlines while out in the woods. Encourage your children to spend some time resting in a hammock, and they may never want to leave. Give them a good book to read or a coloring book while they are relaxing and let the hours pass by without a worry. They might want to go on a hike or run to the beach, but they will enjoy a break from structure for a while.
Finally, turning life down a bit without all the technology is good for the soul. No television, no computers, no phone calls. Disconnecting gives them the opportunity to get creative. They will have to use their own imaginations to entertain themselves. You will be surprised how they use rocks, sticks, leaves, animals, and cloud formations to create their own games and stories.
Taking In The Beauty
Camping is a lot of work but it is also tons of fun. Living outdoors exposes your children to many things they may not have thought about before. They will squeal with delight when they see their first deer, shudder at signs of bear or bobcat tracks, and jump for joy with they catch their first fish.
You can guide your children to discover different varieties of plants and trees. Bring along nature reference books and tools like binoculars and magnifying glasses to make nature walks more exciting. You will enjoy seeing your children experience nature on their own, rather than watching it on TV or through a device.
Sunrises and sunsets are everyday occurrences, but your children will marvel at their beauty. Always be on the lookout for rainbows and clouds in all types of interesting shapes. Bring along some notebooks and art supplies so they can document all the natural beauty they witness.
As night approaches, you can have your children help you build a cozy campfire. Take some tips from Smokey the Bear to teach them campfire safety and show them the proper way to light and maintain a fire. Sitting around a campfire is such a wonderful way to strengthen family bonds. Get a comfy spot by the campfire and enjoy the warmth along with entertaining stories everyone has to share. You will find times where you just stare into the fire and enjoy the peace of the night together as a family.
Happy camping!
What family camping stories can you share?