This guest post was written by Michelle McCarthy of Fresh Flowers + Spilled Milk. She is an entrepreneur, digital marketer, and mom of two. Michelle started her blog in 2019 with her sister and mom. Together, they have started a motherhood lifestyle blog and created an online printables store to help you "decorate + celebrate baby" with beautiful designs for nurseries, baby showers, and birthday parties.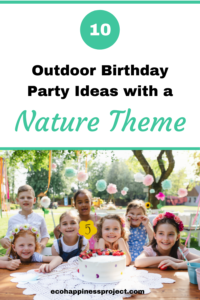 With nicer weather approaching, it is the perfect opportunity to plan an outdoor birthday party with a nature theme for your kids! Combine the benefits of nature with the gathering of close family and friends, and you are sure to have a special party that will be remembered for years to come.
The greatest part about a nature-themed birthday party is that nature itself provides beautiful decor and endless entertainment – so the party planning is relatively easy. Here are 10 of the best nature-themed birthday party ideas for your family and friends to enjoy. We've even included sample invitation text to go along with each theme.
#1: Birdwatching
"How Time Flies! Max is Turning 4"
Birdwatching would make such a fun and unique children's birthday party theme. For locations, we recommend a local bird/Audubon Center, a park, or simply your backyard. An easy and creative activity to incorporate would be to make your own binoculars. Just provide toilet paper rolls, glue, string, and markers/stickers. For featured foods, make bird nest treats using pretzel sticks and egg shaped candy (secure with icing). This party wouldn't be complete without a DIY pinecone bird feeder party favor.
#2: Gardening
"A Little Dirt Never Hurt! Join us for Liam's Garden Party"
Gardening is an educational, active, and calming activity for children. Why not turn this into a fun birthday party theme? For locations, we recommend a backyard or a local plant nursery. The kids can create their own egg carton gardens by scooping dirt and planting seeds. When the lid is closed, it retains moisture and acts as a greenhouse. Featured foods at your garden party could be dirt cups, fresh vegetables, and flower cookies/cupcakes. Since they will be taking home their egg carton gardens, you can keep the party favors simple with gardening stickers to decorate their egg carton.
#3 Animals
"Calling All Party Animals…Ansley's Turning 3!"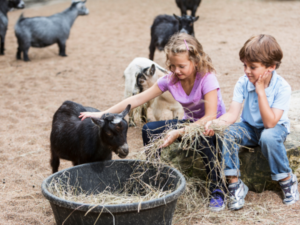 There are amazing benefits for children who spend time with animals. Plan an animal birthday party at a petting zoo, local farm, or in your backyard. If you are throwing it in your backyard, try making an animal footprints sensory station by setting up hard toy animals and clay for the children to stamp the footprints into. The featured foods for this party are a fruit plate in the shape of an animal, animal cupcakes/cookies, and cheddar bunnies. Let them "adopt a party animal" on their way out by taking home a little plush friend!
#4 Camping
"Our Happy Camper is Turning 3"
Camping is an immersive nature experience that helps your children learn survival skills and disconnect from the always-on world. For a camping party, try having it at an actual campsite or in your backyard. Have a fun sleeping bag race to feed their competitive spirits and a "Happy Camper" nature scavenger hunt so they can appreciate the nature around them. Featured foods at a camping themed birthday party are s'mores and pigs in a sleeping bag (blanket). Decorate with fun tents for the children to play in and lanterns hanging from the trees. A unique party favor (that is also functional) is their own mini flashlight.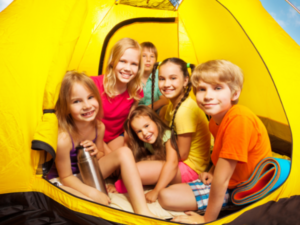 #5 Hiking
"Hike on Over to Celebrate Jaclyn's 6th Birthday"
Hiking is an amazing way to promote exercise and encourage your children to explore the wilderness. This is a fun spin on the more popular camping birthday party theme. The locations for this party could be a hiking trail, a county park, or your backyard! This is another opportunity to do a nature scavenger hunt. For your featured food, set up a build your own trail mix bar. Similar to the camping theme, another functional party favor is a mini wooden whistle.
#6 Fairy Garden
"Celebrating a Fairy Special Girl, Charlotte"
This whimsical fairy garden birthday party theme encourages children to use their imaginations and pay attention to the details. The best locations for a fairy garden birthday are a butterfly garden or your backyard. Hit up the local craft store to set up a DIY fairy garden activity. Just get a plate, a little wooden house, beads, stones, paper butterflies, and some greenery. Featured food at a fairy garden party could be butterfly crackers, mushroom cookies, and strawberries dipped in white chocolate with shimmery sprinkles. Send them off with their fairy garden and some fairy bubbles as a party favor.
#7 Bugs
"We are Buggin' Out for Henry's Birthday"
Bugs are a part of nature and an important part of the ecosystem. Plus, they are fascinating and cute (at least some of them!). Throw a bug themed birthday party at the local bee center, bug zoo, park or your backyard. Do some fun bug printing in clay and use bug catching kits. There are endless ideas for bug foods, but the easiest featured food ideas for a party are ladybug strawberries (use chocolate icing), caterpillar grape skewers, dirt cups, and bee cupcakes. Give them little bug headbands as a party favor.
#8 National Parks
"You're Invited to Madelyn's National Park Adventure"
Since most of us can't actually bring our friends to a national park, let's bring the park to them! The best location for a national park themed birthday party is your own backyard. Incorporate a large Smokey the Bear pinata and make a trout fishing water hole out of a kiddie pool. There are lots of options for national park decor that look just like the signage at the actual parks. Give the kids a national park coloring book as they head out.
#9 Rocks
"Rowan rocks! Join Us to Celebrate His 5th birthday"
From an early age, there is something about rocks that is fascinating to children. Throw a rock themed birthday party in your own backyard. You can set up a DIY rock mining activity by burying rocks in a sandbox or dirt bucket, providing a little sifter and a water station to rinse them. For featured foods at this party, serve donut holes and mini chocolate bundt cakes with raspberry cream (as mini volcanos). Hand out some rock candy as a party favor to your little geologists!
#10 Picnic in the Park
"Join Us for a Picnic in the Park to Celebrate Mia"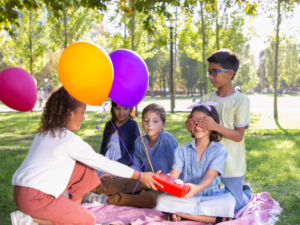 Find a picnic table at a park and lay out some blankets for this easy birthday party theme. There may be a playground at your park, so you can just bring some trucks and shovels and make a little bubble station. In authentic picnic form, sandwiches are your main featured food. Add in a popsicle or ice cream stand to help cool the kids down from all the playing they will be doing! Let them leave with mini picnic baskets that have a little treat inside.