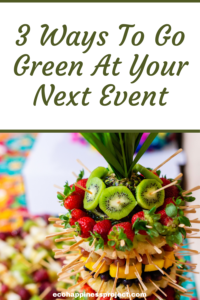 Earth Day is an annual worldwide event that reminds the need to protect and preserve the environment. It serves as a rallying cry for sustainability, encouraging individuals, communities, and organizations to take proactive steps. This significant event unites people in a shared mission to create a healthier and greener planet for future generations.
On the other hand, the environmental implications of hosting events like birthday parties can be significant, from excessive waste generation to high energy consumption and carbon emissions. Embracing eco-friendly practices can positively impact the environment and inspire others to do the same.
Reducing waste, conserving resources, and minimizing carbon footprint can help protect the environment. You can create memorable events to celebrate special occasions and demonstrate your commitment to a greener and more sustainable world.
For instance, planning and throwing a great 4th of July party incorporating eco-friendly practices can leave a lasting impression on attendees. Promoting sustainability in events demonstrates your commitment to environmental responsibility.
Adopting eco-friendly practices can help reduce environmental damage. Sustainability helps build your reputation and gives events a unique experience that people will remember. It can also lead to cost savings and operational efficiencies, making events more financially viable in the long run.
Here are some ways to go green at your next event:
Use Digital Communications
Using digital platforms can significantly reduce paper waste and minimize carbon footprint. It also eliminates the need for printed materials, making it the most convenient, cost-effective, and environmentally friendly option.  Here are some eco-friendly practices you can adopt:
Choose electronic invitations instead of paper ones. You can send invitations and updates via email, social media, or event management platforms.
Encourage guests to RSVP online and provide event details through digital channels. Minimize the use of printed materials and embrace technology for communication.
Embrace digital signage and interactive screens instead of printing excessive paper materials.
Offer eco-friendly promotional items such as reusable bags, bamboo pens, or recycled paper notebooks.
Promote Sustainability At The Venue
Hosting events online eliminates the need for attendees to travel, reducing carbon emissions and minimizing ecological footprint. A virtual event also saves resources like paper and energy. It allows participants to engage anywhere worldwide while reducing long-distance travel. On the other hand, if your event requires physical attendance, here are some ways you can promote sustainability:
Choose event spaces that align with sustainable practices. Look for venues with green certifications, renewable energy sources, or eco-friendly building materials.
Encourage attendees to bring their reusable water bottles and provide water stations instead of single-use plastic bottles. Use compostable or biodegradable food containers and cutlery.
Promote carpooling, public transportation, or biking to the event. Provide bicycle parking and incentivize eco-friendly transportation options.
Explore the use of solar panels or wind turbines to power the event. Minimize the use of generators and opt for energy-efficient lighting and sound systems.
Use reusable or rented event décor, such as plants, fabric backdrops, or eco-friendly banners.
Minimize the use of single-use decorations and opt for sustainable materials.
Set up clearly labeled recycling and composting stations throughout the event space.
Adopt Eco-Friendly Food Practices
Prioritizing local, organic, and seasonal ingredients can help support local farmers, reduce transportation emissions, and ensure fresher and healthier meals. By making sustainable choices, you can offer delicious and nutritious meals and contribute to a more sustainable and environmentally conscious event experience. Sustainable seafood options, for example, protect marine ecosystems and promote responsible fishing practices. Additionally, adopting plant-based and vegetarian menu options conserves water and land resources.
Minimizing food waste through careful planning and proper portion control is also essential. Here are some suggestions to consider:
Work with caterers who prioritize locally sourced and organic ingredients. Support local farmers and reduce carbon emissions associated with long-distance transportation.
Design menus based on seasonal produce, as it requires fewer resources for growth and transportation. Include vegetarian and vegan options to cater to different dietary preferences.
Opt for compostable or biodegradable plates, cups, and utensils made from bamboo or plant-based plastics. Avoid single-use plastics whenever possible.
You may donate the leftover food to local food banks or organizations. Consider donating decorations or other event items to community centers or charities.
Promoting sustainability at your events isn't only beneficial for the environment but also adds a unique and responsible touch. By adopting eco-friendly practices, you can reduce waste, conserve resources, and inspire others to make sustainable choices. Remember, every small step counts towards creating a greener future. Celebrate joyous events while being mindful of your impact on the planet. It's not impossible to host memorable ones that leave a positive imprint on your guests and the environment.