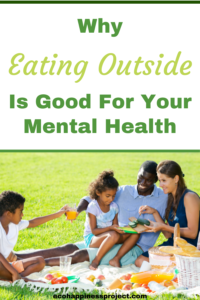 I have always enjoyed eating outside, whether it be a backyard barbeque or an outside table at a restaurant with a water view. But outside dining took on a whole new meaning during the pandemic. Many people now prefer to eat outside (I certainly do!), even if the weather isn't perfect. The great news about this cultural shift is that eating outside provides numerous benefits because of the nature connection we experience.
Every year on August 31, National Eat Outside Day is celebrated. I propose that we all try to make this a more common occurrence throughout the year–no matter where you live. In her book There's No Such Thing as Bad Weather, Linda Åkeson McGurk teaches us that we can enjoy spending time outdoors even if it is rainy, chilly, cloudy, windy, or other weather that typically keeps us inside. With the right equipment and clothing and a bit of planning, we can venture outdoors more, including a family meal.
Benefits of Eating Outside
Besides the obvious avoidance of germs inside a restaurant, there are many benefits of eating outside that reflect the power of nature.
Fresh air: There's just something about being outside and breathing in the fresh air that helps us relax. A main reason is the high concentration of oxygen that both calms and invigorates us.
Greenery: Odds are that if you eat outside, you will have a view of some bushes, trees, or maybe even some colorful flowers. Greenery can help us feel happier and calmer. One study found that being around trees and green space helps people feel happier and less anxious.
Nature sounds: When we eat outdoors and listen mindfully to nature, we can feel more relaxed due to the restorative effect of natural noises like chirping birds, blowing wind, and flowing water. These relaxing nature sounds physically alter the connections in our brain, reducing our body's fight-flight-freeze instinct. These soothing sounds also help mask intrusive noises like airplanes flying overhead, leaf blowers, and construction sites, and undo the stress we feel from listening to them.
Natural light: Being outside in natural sunlight has a huge impact on our well-being. Without the natural light, our mood can suffer. So, even if it isn't the best weather, try to eat outside. Just be sure to protect your skin by seeking out a shaded spot to dine.
A possible water view: Humans are naturally attracted to water for its many beneficial properties like tranquility, blue and emerald hues, waves and ripples, soothing sounds, and scent if you are by ocean. If you can sit outside and eat by the water, you can calm your body and mind. Research shows that less cortisol (the stress hormone) and more serotonin, oxytocin, and dopamine (hormones that boost mood) have been found in people as they spend time around water.
A chance to see wildlife: When we eat outside, this gives us the chance to catch a glimpse of beautiful, entertaining, and intriguing wildlife, such as birds, butterflies, lightening bugs, squirrels, rabbits, and more. When encountering wildlife, we often feel as though time stands still and we get lost in the moment of observing an animal's every move, behavior, size, and color. Believe it or not, watching wildlife can provide a deep sense of well-being that can lead to psychological health benefits.
And while you're waiting for your food to arrive, you might want to try a nature lovingkindness meditation to set the tone for your relaxing meal outdoors.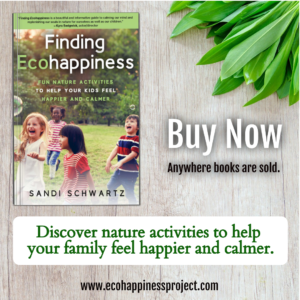 Places To Eat Outside
Here are some ideas for where you can have your next relaxing meal outside:
Enjoy a lovely meal in your own backyard or on your balcony. If you have a garden, you can use the produce and herbs you grow to create a fresh, delicious meal.
Look for restaurants that offer outdoor dining. Be sure to ask about heat lamps or cooling misters to stay comfortable no matter the temperature.
Head to a park to have a picnic.
Plan an outdoor birthday party. Check out these fun outdoor birthday party themes.
Choose outdoor venues for gatherings, such as your next book club meeting.
Turn a meal into a family walk or hike as a way to stack your life with nature and movement.
Find a nature sit spot to enjoy a snack or meal outside.
Go on an adventure and enjoy an outdoor meal while you are there to take in the scenery. Some ideas include nature centers, zoos, botanical gardens, butterfly gardens, lakes, the ocean, rivers, boat rides, mountains, waterfalls, caves, canyons, farms, rocky areas, and if you are really lucky, volcanoes and tropical rainforests.