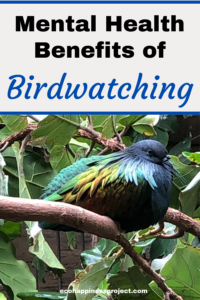 I will never forget seeing eagles flying overhead during my trip to Alaska. I could not take my eyes off those powerful creatures. When encountering all types of birds in the wild or even in our own backyard, we often feel as though time stands still and we get lost in the moment while observing their every move, size, color, shape, and birdsong.
There are a multitude of reasons why birds specifically lead to emotional benefits, such as feeling calm and at peace. Birdwatching is a very special hobby that can help boost our mental and emotional well-being, while we enjoy the great outdoors. Here are the key reasons birdwatching is good for our mental health:
Leads to Feelings of Awe
We tend to be intrigued and in awe of the many vibrant, impressive birds gliding across the sky. Awe is an emotion that has a powerful effect on our body and mind but is sometimes hard to put into words. It is an overwhelming mix of wonder, joy, amazement, and even magic. We might even get goose bumps on our arms, feel a tingling up and down our spine, or have tears flood our eyes when we experience awe. Nature is known to trigger feelings of awe, and seeing a wondrous bird—whether it's a flamingo, peacock, cardinal, or crow—can lead to these extraordinary moments. One of the aspects of birds that makes me feel so in awe is that they can fly so easily, while we cannot. I sometimes get lost in the moment thinking about how wonderful it must be to fly like a bird to have the freedom and lightness.
Helps Us Be More Mindful
There is so much about birdwatching that helps us feel more mindful. Seeing animals in the wild heightens our senses as we move into a state of flow where our thoughts and actions focus on spotting, watching, identifying, recording, and appreciating the wildlife around us. In a sense, birdwatching is a form of mindfulness meditation that can help us feel calmer as we focus on finding the birds soaring through the sky or perched up on top of a tree branch. It requires patience, stillness, silence, and slow breathing to be able to catch a glimpse of their vibrant feathers or beady eyes. Being immersed in nature watching birds helps us step away from our day-to-day worries, making us feel more relaxed.
Stimulates Creativity
Birdwatching can lead to creative endeavors like nature photography and drawing or painting nature scenes since it involves being outside experiencing the beauty of nature. When we are trying to capture or a picture of a bird in the wild, we focus intensely. This allows us to become distracted from negative emotions like stress, anxiety, and sadness. It also gets us in a state of flow, which means becoming so absorbed in our creative project that we reach a near-meditative state. When we are in a state of flow, we forgot about all our thoughts and lose track of time. In addition, the entire process of shooting photography, from choosing a subject matter to discovering new angles to manipulating the light, requires a great deal of focus and attention. This process ends up being meditative, so we feel more relaxed as a result. A large part of photography involves capturing the colors that we see with the naked eye, which also sparks imagination as we process what we capture through the camera lens. Plus, we will feel so proud when we share our incredible creative projects from our birdwatching endeavors.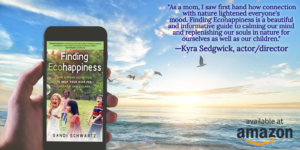 Expands knowledge and curiosity
Birdwatching takes a quite a bit of knowledge to be able to identify the types of birds you observe. During my time volunteering at a local nature center, I had to study up on birds using a bird guide. I learned so much and still enjoy pointing out the birds I discovered during that time, such as the ibis. Birdwatching gives us the chance to expand our knowledge and be curious about our surroundings, which ultimately helps us feel happier and calmer as we discover new things. Plus, it's fun to be able to go out with others and share with them what birds you see and hear based on the details you notice like their behavior, feather colors and patterns, beak size, and birdsong.
Birdsong is Soothing
When we step outdoors and listen mindfully to nature, we can feel more relaxed due to the restorative effect of natural noises. Birdsong, in particular, is especially comforting. I find chirping birds to be extremely peaceful—and I am not alone. Scientific studies show that listening to birdsong can help restore attention and decrease stress. In fact, birdsong was found to be the natural sound most commonly linked to stress recovery. Birdsong also help mask intrusive noises like airplanes flying overhead, leaf blowers, and construction sites, and undo the tension we feel from listening to them. During a recent birdwatching class I took, the instructor gave us fun tricks to learn how to identify different birdsong. There are some great apps and websites to learn birdsong such as https://www.bird-sounds.net.
How to Get Started
Here are a few tips to get started with your birdwatching hobby.
Bring along binoculars, a camera, a bird guide, and some birding apps to help you identify the different species you see and hear. For more information, check out National Audubon Society.
Get your feet wet by first looking for birds in your own backyard and neighborhood.
Visit public gardens, zoos, nature centers, aviaries, wildlife refuges, and animal-focused theme parks to search for birds.
Take a trip to local, state, or national parks to go hiking in the wild to look for birds.
Try birdwatching in different habitats, such as the beach, forest, and around a pond or lake.
Look for a local birdwatching class or club to get involved with.
Try to learn different birdsongs so you can identify them while you are out in the field. Some of the most uplifting birdsongs come from blackbirds, curlews, skylarks, nightingales, willow warblers, wrens, robins, and oystercatchers.
Get involved in a citizen science project that involves observing and collecting data on birds. Some popular bird-related citizen science projects include Audubon's Christmas Bird Count and Cornell Lab of Ornithology's NestWatch, Project FeederWatch, and Great Backyard Bird Count.
Plan vacations to include birdwatching in your itinerary so you can observe diverse species in various locations.
Resources
To learn more about birdwatching, check out these helpful resources:
Tons of books—just search online or look for them at your local library or bookstore.