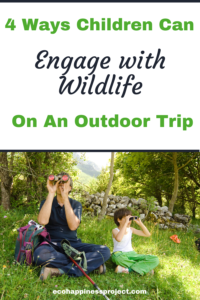 Taking your family out into the great outdoors is one of the best activities you can do. Exploring nature gives kids an opportunity to discover new and exciting things, and learn more about wildlife. During any trip, they might just stumble upon a wide variety of animals that they have never seen before–from beetles and frogs to colorful birds.
Encouraging children to observe and document what they find from a distance will not only help them develop important skills, such as research and photography, it will also heighten their emotional connection with nature and give them a better appreciation for wildlife. So next time you take your little ones out for an adventure, make sure you bring along some photo gear and binoculars. You won't be disappointed by what your crew discovers.
Not only does it get you outside in the fresh air, but it also allows your children to explore nature in all its glory. It is also a great opportunity to teach your children about the importance of wildlife conservation. Here are four ways your children can engage with wildlife during an outdoor trip:
Birdwatching and Wildlife Listening
Birdwatching is a lovely way to introduce children to all kinds of wildlife. All you need is a pair of binoculars, a bird guide book, and some patience. Point out different types of birds that you see and talk about their unique features and behaviors. You may even be able to attract some birds if you bring along birdseed or other food items they like.
It is also important to discuss how bird habitats are being impacted by human activity, such as deforestation and climate change, so that your children understand the importance of conservation efforts. If you happen to find a nesting area, be sure to observe it from a distance so as not to disturb the animals. It is also worth keeping your eyes peeled for other creatures like insects, squirrels, and rabbits.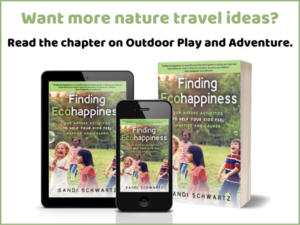 Wildlife Tracking or Games
Exploring the outdoors is much more exciting when you are looking for signs animals have left behind, such as tracks or animal droppings. Trackers will often look for signs that animals have been in an area, such as uprooted plants or gnawed trees. This can help kids learn more about how animals interact with their surroundings.
There are plenty of activities that can be done outdoors to teach young children about wildlife and engage their senses in the environment around them, too. For example, take a nature walk and challenge your kids to find five items in nature (pinecones, leaves, rocks, etc.). You could also play "I Spy" using animals or plants you see along the way.
Nature Photography
Another way to engage with wildlife is through nature photography. It can help children appreciate nature's beauty in a new way, and being out in nature with a camera provides an opportunity for quality family time.
Going on a nature photoshoot can also foster creativity by teaching children to view the world from a new perspective. Remember, every day can be an adventure. Whether your kids find inspiration in small details like flowers to keep track of changes throughout the season or take breathtaking shots of wildlife in its natural habitat, kids' love of taking pictures and their sense of wonder will open up their eyes to the possibilities around them.
Kids should always be aware of safety rules when taking pictures near any kind of wild animal, but they can still get close enough to capture stunning images of wildlife without putting themselves or the animals at risk. Photography helps them appreciate the beauty of these creatures while also teaching them about respect and caution when dealing with wild animals up close.
Wildlife-Friendly Gardening
The wildlife opportunities do not stop when you get home. If you have access to a garden or outdoor space, encouraging wildlife-friendly gardening can be a great way for kids to connect with nature. Planting native species that attract birds and butterflies can help create a habitat where these creatures feel safe and welcome to visit regularly (and provide endless entertainment).
This could be anything from planting flowers that attract butterflies or bees to hanging birdhouses in the garden–whatever your family chooses.
Engaging with wildlife while on an outdoor trip is easy if you know where to look–and it doesn't have to cost money, either. Whether it is birdwatching or creating a wildlife garden at home, there are plenty of ways for children (and adults) to connect with nature and appreciate its beauty even when far away from big cities or tourist attractions. Taking time out each day during our trips helps foster respect for natural environments, which is essential if we want future generations of young people to understand why preserving our planet is so important.