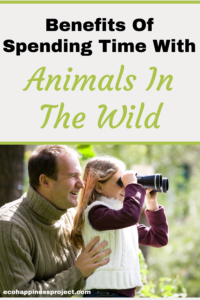 Have you ever encountered a wild animal that stopped you in your tracks? I will never forget seeing eagles flying over my head in Alaska. My mouth fell wide open and I could not take my eyes off those impressive creatures. When encountering animals in the wild, we often feel as though time stands still and we get lost in the moment as we observe their size, shape, sounds, color, and every move. We are intrigued and in awe. These experiences are powerful and can leave us feeling happier, calmer, and more energized.
Seeing wildlife provokes a deep sense of well-being that can lead to psychological health benefits. Our senses are heightened as we move into a state of flow where our thoughts and actions focus on spotting, watching, identifying, recording, and appreciating the wildlife around us. Being immersed in nature and among animals in the wild helps us step away from our day-to-day worries, making us feel more relaxed.
In the book Our Wild Calling: How Connecting With Animals Can Transform Our Lives—And Save Theirs, Richard Louv suggests that the next frontier in treating mental health will be to incorporate wild animals into therapy by encouraging patients to notice the animals in their yards, neighborhoods, and beyond to improve mood. For example, sharing wildlife encounters with others, such as feeding ducks, has been shown to make people happier.
Observing wildlife is a special way for us to connect to nature and feel better overall. Here are some ideas for exploring animals in the wild:
Birdwatching
Birdwatching is a lovely way for children to experience wildlife in a safe, captivating way. There are mental health benefits for those who can see birds around their home, no matter if they live in the city or suburbs. Lower levels of depression, anxiety, and stress are linked to the number of birds seen, no matter the type. Birdwatching is a form of mindfulness that can help us feel calmer as we focus on finding the birds soaring through the sky or perched up on top of a tree branch. It requires patience, stillness, silence, and slow breathing to be able to catch a glimpse of vibrant feathers.
Birdsong, in particular, is especially comforting. I find chirping birds to be extremely peaceful—and I am not alone. Listening to birdsong can help restore attention and decrease stress. In fact, birdsong has been found to be the natural sound most commonly linked to stress recovery.
Try going birdwatching in different habitats, such as the beach, forest, and around a pond or lake. Bring along a bird guide book and challenge yourself to identify the different species you see. Notice details like their behavior, feather colors and patterns, and any unique attributes like beak size. Also, try to learn different birdsongs to listen for. Some of the most uplifting birdsongs come from blackbirds, curlews, skylarks, nightingales, willow warblers, wrens, robins, and oystercatchers. Finally, many birdwatchers like to take photographs out in the wild. Learn more about nature photography.
Trips
Another wonderful way to immerse yourself among wildlife is to take a trip to a local, state, or national park to go hiking, boating, camping. Feeling adventurous? Plan ecotourism vacations to get up and personal with wildlife, such as an airboat tour in the Florida Everglades, swimming with the dolphins in The Bahamas, or even an African Safari! You can also visit nature centers, butterfly gardens, aviaries, wildlife refuges, and animal-focused theme parks to be in the presence of wild animals.
Look in Your Own Backyard
Did you know that wildlife may be closer than you thought? Look for wildlife in your own backyard or while visiting a neighborhood park. Try to identify all the animals you spot. Make it even more enjoyable by playing games like wildlife Bingo and I Spy or creating a scavenger hunt. My family loves to connect with wildlife in our backyard, from vivid birds chirping to sneaky lizards hanging out on our sliding glass doors, to ducks that like to pay us a visit and paddle around our pool.
Citizen Science
Citizen science involves volunteering to collect scientific data, and is a way to gain science knowledge and experience while directly help the scientific community. It can really open your eyes to notice all the wildlife around you that you may have missed before. You can get involved in a citizen science project to collect data on wildlife in your area. Learn more about citizen science.
Enjoy your precious time with animals in the wild. Be sure to capture your wildlife experiences in creative ways and discuss your observations with others. Some ideas include putting a slideshow together, creating a collage of the animals you spotted, keeping a nature journal, and drawing or painting animals or nature scenes you enjoyed. Have fun!
*This post is part of Twinkl Life's Children's Anxiety campaign, and is featured in their Creative Calming Activities for Children with Anxiety post.