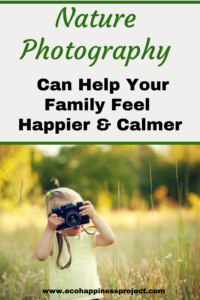 Looking for a fun, relaxing, creative hobby for your family? With the prevalence of iPhones and iPads, starting a photography hobby is easier than ever. By focusing on outdoor photography, you will reap the many benefits of both connecting to nature and engaging in a creative activity.
Why Nature Photography Is So Relaxing
Photography is a wonderful art form to help us feel happier and calmer. It allows us to place our focus outside of ourselves by distracting us from emotions like stress, anxiety, and sadness.
Overall, art has been scientifically proven to reduce stress levels and boost our mood. It is a way of tapping into the right side of the brain where creativity, intuition, visualization, emotions, and daydreaming stem from. Creativity helps us focus on something more positive, productive, and inspiring. It also gets us in a state of flow, which means becoming so absorbed in our creative project that we reach a near-meditative state. When we are in a state of flow, we forgot about all our thoughts and lose track of time.
The main reason nature photography is so calming is that it serves as a type of mindfulness practice while snapping photographs with our camera. It can be quite calming to take photos, especially of gorgeous nature and awe-inspiring images. This whole process enables us to capture the objects we find extraordinarily beautiful in the world and gives us a whole new perspective.
The entire process of shooting photography, from choosing a subject matter to discovering new angles to manipulating the light, requires a great deal of focus and attention. This process ends up being meditative, so we feel more relaxed as a result. A large part of photography involves capturing the colors that we see with the naked eye. This helps spark imagination as we process what we capture through the camera lens.
Ruth Davey is the Founder and Director of Look Again, an organization in Great Britain that offers mindful photography courses that merge the creative and therapeutic benefits of photography, nature, and mindfulness to support individuals by increasing their well-being and mental health. She works with students of all ages, including youth groups and children with special needs.
A large portion of her classes involve students going outdoors to apply a mindful approach to nature photography, such as taking a walk and focusing on all the colors they see. This practice helps them slow down, stay calm, view the world with a fresh perspective, and connect in a creative way to themselves and the beautiful natural surroundings. "Mindful photography is using our sight and a camera or smartphone as an anchor to help us become more consciously aware of the present moment. It is experiencing the process of creating photographs in a non-judgmental, compassionate way," she explains.
As you can see, nature photography provides so many positive benefits to all of us.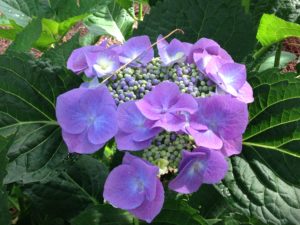 How To Start a Nature Photography Hobby
One of my favorite hobbies is taking pictures of nature and then painting them with watercolor. I gravitate towards nature painting because I love how flowers, trees, and animals are so unique, vivid, and fresh. When I focus on a gorgeous flower, for example, I feel more relaxed. When I go on walks with the intention of finding some intriguing nature objects to take pictures of, I end up viewing my surroundings with an artistic eye. This can be a helpful skill to teach children, too, since it encourages them be more mindful and curious.
Here's a bit about my process. First, I go for a walk and look for attractive nature in my neighborhood or I seek out nature during our travels, whether it be a trip to the beach or a garden. Then I snap a photo of it using my phone. When looking for beautiful images, I notice how much more mindful I am of my surroundings. Later, when I'm ready to sit down and paint, I scroll through my images and choose one to create my artwork. I can pull up the image on my phone or computer, or I can print it out the old-fashioned way to use as a reference photo. Next, I draw the object or animal. Finally, I get creative with my color palette. I really enjoy painting natural scenery using watercolor. In addition to using the nature photos for painting, I post them online to inspire others with the beauty of nature all around us.
You can easily start a nature habit in your family. You can choose from a variety of cameras—from children's cameras to iPhones to serious high-end cameras with fancy lenses. Then it's just a matter of making the time to venture out to snap some photos. You can visit places like gardens, national parks, nature centers, farms, and local water bodies or you can find nature right in your own backyard. I bet you could even capture some gorgeous images from your front porch, balcony, driveway, or even window. Get creative and see what you find!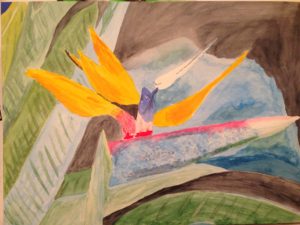 Fun Ideas For Your Nature Photography Hobby
There are so many ways to keep your family's nature photography hobby fun and exciting. Try out some of these ideas:
Print out your pictures and create a collage.
Design a digital scrapbook with all your incredible photos.
Use your images to make cards to send to family and friends.
Add your images to a nature journal by writing captions, stories, or poems to describe what you saw.
Enter a nature photography contest.
Share your images on social media, along with uplifting quotes.
Put together a nature slideshow set to relaxing music or nature sounds.
Decorate your home or office with your own nature photography.
Give your nature photography as gifts. You can go on a variety of websites and order special gifts with your images, such as blankets, mugs, shirts, and more.
Have nature photography challenges as a family, such as only taking pictures of natural objects of a certain color, looking for specific shapes, or searching for all the animals in a specific location.