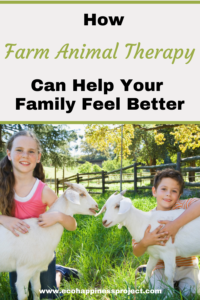 Nature lovers and environmentalists come in all shapes and sizes. While there is a robust homesteader movement to get back on the farm and work on activities like raising chickens and growing one's own food, I am admittedly a suburban environmentalist through and through.
I have only ever lived in suburbia, by the beach, or in a city, so my interactions with farms and farm animals are pretty minimal. As a child, they were mostly during special events like my father's company picnics. I remember riding ponies, enjoying hay rides, and participating in potato sack races out on the farm. Over the years, we have visited farms to pick berries. I also remember how amazing it was to tour a pineapple farm in Hawaii during my honeymoon.
Just in the past year, I have picked up a box a fresh produce from a local farm and taken the kids to a pumpkin patch on a farm and an orchard to pick apples. As far as interacting with farm animals, I have gone horseback riding several times and recall volunteering at an agricultural fair in Maryland several years ago where I was around the most farm animals I have ever seen in one place—sheep, goats, pigs, and cows galore.
What I never realized until recently, however, is how beneficial farm animals can be to our well-being. A variety of domesticated farm animals can be used for therapeutic purposes, and research has confirmed their effectiveness to help those struggling with emotional and mental health issues. While  children and adults who need help can take part in Animal-Assisted Therapy (AAT), everyone can benefit from time with farm animals.
What is Animal-Assisted Therapy?
AAT is a type of therapy that utilizes animals to help heal and rehabilitate patients. Specific goals are outlined for treatment so that progress is clear. These goals can be physical, mental, emotional, and/or social.
Using AAT is considered beneficial since the animals have a natural tendency to create a bond with people. This approach often helps therapists overcome some limitations of traditional therapy that rely on talking, which may not be the most effective way for children and adolescents to address their issues. Essentially, the therapist communicates with patients through the animal, reducing pressure for them to talk about their feelings.
Common Therapeutic Farm Animals
The most common therapeutic farm animals are horses, goats, and cows.
Horses
Horses are widely recognized for their therapeutic benefits, including helping children cope with emotional challenges like anxiety and depression. Equine-Assisted Psychotherapy (EAP) involves using a horse as a therapeutic tool in which a licensed therapist and a horse professional work collaboratively with the children. Horses tend to have a non-judgmental nature, which helps create a relaxing environment. Having a horse around offers both emotional and physical comfort, thereby developing trust and confidence between the patient and therapist.
During EAP, a variety of activities can have a positive impact on a patient. Caring for the animal by feeding and brushing it can be quite soothing and builds confidence and patience in the child. Learning to ride a horse has tremendous benefits, such as figuring out how to calm oneself down, building focus and mindfulness, and working collaboratively with the animal. The physical contact with the horse and the rhythmic movement while riding can also be relaxing.
Goats
Goats are another type of animal that can help relieve stress. More farms are now offering goat snuggling to the public. Many people are finding that holding and feeding a baby goat can be calming. Visitors often go from feeling miserable to blissful—even laughing—after their time with the goats. Since most people do not live near a farm anymore, this gives them a chance to connect with the farm animals that are unique to them. It helps them feel more energetic and better emotionally overall.
There is also a physical change that occurs. When they look at, hold, and snuggle with the baby goats, oxytocin is released. This feel-good hormone acts as natural mood booster and pain reliever. Finally, being in the moment with these animals allows people to be mindful, which we know improves well-being.
Children especially love to spend time with goats, just staring at and petting them. It helps them feel calm from developing a special connection with the animals. Plus, the animals themselves love being around people and getting the attention.
Cows
Cows are another type of farm animal used for comfort. Believe it or not, college students at Michigan State University pay money every semester to brush the school's dairy cows to reduce stress before finals because they find the quality time with the animals very soothing.
Cow cuddling, which can involve milking and/or cozying up to a cow, is an innovative experience gaining traction with several farms now offering the experience. It might sound bizarre to think of these large farm animals being comforting, but there is science behind it. When cows digest their food, they like to lie down, and they become very quiet. This is the perfect time for people to snuggle up and connect with them. Plus, cows have a slightly slower heart rate than us, so when our body is in contact with theirs, our heart rate naturally slows down as well. Their body temperature is also higher than ours, which helps us feel more relaxed.
Cows typically lie down in a half circle, which creates a cozy couch-like spot for someone to snuggle up in. Cow cuddlers like to stroke the cow's belly as they digest their food and chew their cud, and scratch underneath their chin. The cow will literally fold into a person, almost embracing them. Some people will even start talking to the cow during this relaxing, mindful experience.
Finding a Therapeutic Experience
While there are several therapeutic farms focused on helping individuals with mental health issues, there are also some for the general public to visit for a fun, relaxing experience. Happi Farm in Florida, for example, has a variety of activities for children such as therapeutic horseback riding; equine activities like feeding and grooming horses; and a petting zoo where they can pet, feed, brush and/or hold the animals. Simply search online for places in your area offering goat snuggling, horseback riding, horse grooming, cow cuddling, and similar activities for your family to enjoy.