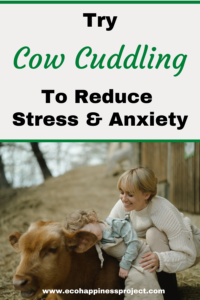 When you think of cows, what comes to mind? Maybe milk, ice cream, cheese, chewing cud, and eating lots of grass? Well, did you know that spending time with cows can also be comforting to both us and the animals?
A variety of domesticated farm animals are used for therapeutic purposes, and a great deal of research has confirmed how effective this can be for those struggling with emotional and mental health issues. While there are formal therapeutic programs called Animal-Assisted Therapy (AAT), there are also cutting-edge activities like cow cuddling getting attention these days.
What is Cow Cuddling?
This practice began in the Netherlands and is slowly spreading around the world. Called "koe knuffelen" in Dutch (which means "cow hugging"), it focuses on the healing that results from humans and animals snuggling. While cow cuddling is not considered formal animal therapy since participants are not working towards a specific goal, just sitting with the cows can be extremely therapeutic.
Cow cuddling takes place at a farm in a controlled environment and typically lasts about an hour. (Don't just try to cuddle a cow on your own without guidance of an expert.) A cow cuddling appointment typically begins with a tour of the farm and learning how best to safely and calmly approach the animals. It is done in very small groups of no more than four people at a time.
A session begins with gently petting the animals. Cows typically lie down in a half circle, which creates a cozy couch-like spot for someone to snuggle up in. Cow cuddlers are welcome to stroke the cow's belly as they digest their food and chew their cud, and scratch underneath their chin. The cow will literally fold into a person, almost embracing them. Some people will even start talking to the cow during this relaxing moment.
Both adult cows and calves can be cuddled. At Horse and Goat Yoga farm in Drescher, Pennsylvania, visitors are invited to bottle feed and cuddle with calves. The farm rescues these calves from being slaughtered for veal. According to Kristin Sutch who runs the farm, "Calves fall asleep next to people in their arms. They like to snuggle and they love to be around people." She also explained how therapeutic the experiences is. "It's great for kids with autism and people with any kind of stress. I find this to be one of the few ways to get people to truly be present." The baby animals especially have a soothing effect on people. She has seen people transform from miserable and stressed to happy and laughing from some time cozying up with the calves.
At Krishna Cow Sanctuary on the Big Island of Hawaii, they also include milking the cows as part of the experience. People get to taste the fresh, warm milk as well. The entire experience takes about two hours as visitors cuddle with the cows, milk the cows, and learn how to make their own butter and cheese.
Why It Works
Cow cuddling is relaxing, meditative, and allows participants to engage in something special and unique. Most people have never been on the other side of a fence that close to a cow. In fact, many people live in cities and suburbia and rarely get to see or visit a farm, if at all.
It might sound bizarre to think of these large farm animals being comforting, but there are some scientific reasons behind it. When cows are digesting their food, they like to lie down and become very quiet. This is the perfect time for people to snuggle up and connect with them. Plus, cows have a slightly slower heart rate than us, so when our body is in contact with theirs, our heart rate naturally slows down as well. Their body temperature is higher than ours, which also helps us feel more relaxed.
Cow cuddling is also effective because is spurs mindfulness and a sense of awe. It creates an opportunity to be solely focused on touching and being around the animals in a gentle way. It is a great time for people to leave their technology behind and just be in the moment with the impressive animals. There are numerous stories about children who typically can't focus or sit still being transformed by this experience. They relax and engage in the moment with the animal and all the nature around them.
As a result, our stress level decreases. Many people are craving affection, and this is a way to snuggle and connect with another living creature. It is also part of our history as humans to work with animals, so being with the cows calms and nourishes us.
And don't worry, studies show that the cows also appreciate this human affection. According to James Higgins of Krishna Cow Sanctuary, the interaction is positive for the cows as well.
Can Children Do It?
You will have to check with the farm because some have age restrictions. For the most part, cows are gentle, sweet, and welcome the loving attention during a cow cuddling session. Of course, make sure there is a cow expert there to monitor your children's interactions with the cows. Kids love the experience and find petting, snuggling, and milking cows very calming (and fun!).
Where You Can Try Cow Cuddling
Cow cuddling originated in the Netherlands and is pretty popular there. Check out this video all about cow cuddling from a farm in the Netherlands.
If you are looking to try cow cuddling in the United States, here are some farms offering it. Keep searching for places by you as well.
Aimee's Farm Animal Sanctuary in Queen Creek, Arizona
The Gentle Barn in Santa Clarita, California
Krishna Cow Sanctuary on the Big Island of Hawaii
Mountain Horse Farm in Naples, New York
Sunset View Creamery and Farm in Odessa, New York
Send Your Stories! I have not yet been cow cuddling, although it's on my list. I would love to hear your stories in the comment below if you have done it.
To learn more about how animals help us feel happier and calmer, check out my book, Finding Ecohappiness: Fun Nature Activities to Help Your Kids Feel Happier and Calmer.