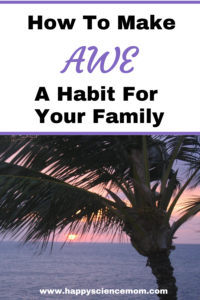 We hear a lot about forming good habits, whether it be exercising daily, drinking enough water, getting eight hours of sleep each night, and practicing gratitude. While some of these habits may require work and discipline, paying attention to our natural surroundings and soaking in awe really isn't all that difficult–yet can be so incredibly beneficial for us and our children.
What Do I Mean By Awe?
Awe is an emotion that is a bit hard to describe. It involves an overwhelming mix of wonder, joy, amazement, mystery, and magic. These moments are so exhilarating that we get goosebumps on our arms, feel tingling up and down our spine, tears flood our eyes, and our jaw drops. Experts have discovered that awe includes the following components:
Perceived vastness—something we think to be greater than ourselves in number, scope, or complexity.
It challenges or alters our understanding of the world.
Different things can trigger awe for different people. It can result from profound beauty; spending time in nature; feeling connected to others; remarkable human accomplishments; scientific discoveries; or monumental works of architecture, art, and music. Some of my most memorable awe moments include flying over Maui in a helicopter, looking down at the Grand Canyon, and waking up to a glacier in Alaska.
Learn about the many benefits of awe.
How To Build An Awe Habit
Nature provides so many opportunities for our children to notice the surrounding beauty, soak it in mindfully, and then express gratitude for it. We can introduce ways to incorporate awe of nature into their daily lives to provide another tool to help them reduce stress, boost their mood, and stay balanced.
In his book Awestruck: How Embracing Wonder Can Make You Happier, Healthier, and More Connected, Dr. Jonah Paquette suggests several ways for us to make awe a helpful habit in our family's lives. Here are a few of his ideas:
Take the Scenic Route
So much of our day is quite repetitive, such as the same drive to drop our kids off at school or the same walk around our neighborhood. One way to trigger more awe is to try a new route and possibly see something that never caught your eye before. This is also a great tip when you are traveling. Instead of always driving on the highway (which I find to be so uninteresting), take the more scenic back roads and soak it all in. As Dr. Paquette points out, "When you take the scenic route, you never know what you'll find. When we break our routine and pay attention to what happens, we can find opportunities for awe all around us."
Watch Something Awe-Inspiring
We aren't always able to get outside and go on an adventure, so we can turn to technology during these times to provide us with some awe. There are so many incredible videos and movies that we can view to stimulate a sense of awe. If you are unable to visit a place in person, the next best thing is to observe it using various media tools such as videos, photographs, slideshows, movies, and even virtual reality. This is the perfect example of using technology in a positive way with our kids.
Dr. Paquette recommends shows like Planet Earth, Blue Planet, and Cosmos. I love watching time-lapse photography of nature, such as blossoming flowers. Another way for your family to view nature is to be an electronic wildlife watcher. There are numerous live nature cams online for you to observe animals around the world in real time. The U.S. Fish & Wildlife Service and the National Conservation Training Center, for example, broadcast a bald eagle nest so you can see the eagles coming and going. How cool!
Be Adventurous
Stepping out of our comfort zone and area can help spur more awe experience for our family. Brainstorm ideas with your kids about new activities you can do and places you can visit so you can get that incredible, indescribable feeling. This can look like trying a new bike path; renting a boat for a few hours; taking a day trip to a park, nature preserve, or other place you haven't visited yet; or even camping out in your own backyard and gazing at the stars and listening to wildlife. "Whatever you decide, try stretching your comfort zone a bit, and breaking your normal routine," Dr. Paquette suggests. "Seek what inspires you and think about what makes you feel more alive. Immerse yourself in that experience, fully soaking it all up."
Relive Moments of Awe
Sometimes all it takes is a trip down memory lane to spur feelings of awe. Dr. Paquette explains that remembering pleasant experiences can have many of the same physiological benefits as actually being there. We can do this in a number of ways with our children. If we capture special moments of awe by taking pictures or doing something creative like writing about it, then we can relive those experiences later on. A really fun activity is to have family slideshow nights. Get your kids involved in making the slideshows and even putting them to music.
We can also use meditation techniques to visualize our awe-filled moments by inviting our children to close their eyes and recall how they felt during a recent outdoor trip. Dr. Paquette provides some guidance: "Paint in the details that help bring the experience to life–the colors, sights, sounds, smells, or tastes. Notice where in your body you feel this experience, and what emotions come up for you."
As you can see, building an awe habit using nature is fun and easy. Your kids will love all of these new experiences and they are sure to feel happier and calmer as a result!
What are your favorite ways to build an awe habit?