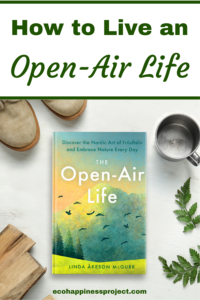 I recently had the pleasure of reviewing and blurbing Linda Akeson McGurk's new book, The Open-Air Life. I also love her first book, There's No Such Thing As Bad Weather, and referenced it in my book more than once. Linda and I address many of the same topics in our books and hope that we can inspire more people to build a nature habit in their lives to experience the many benefits of nature connection.
In The Open-Air Life, Linda takes us on a fascinating journey to explore how nature can enhance our lives. While some of the general concepts are familiar, she adds a unique perspective by introducing us to the terminology and customs rooted in strong tradition from her native country, Sweden, and the surrounding Nordic countries. Through poetic storytelling, helpful checklists, and informative illustrations sprinkled throughout the book, she educates and inspires us to step outdoors into the fresh air and bring a number of nature-connection habits into our daily lives no matter where we live, our age, or what language we use to describe them.
Understanding the Concept of Friluftsliv
The main concept of her book is based on the Norwegian word friluftsliv (pronounced FREE-loofts-leeve), which means open-air life. Linda explains that the Norwegian government defines this term as "embracing nature and enjoying the outdoors as a way of life, a possibility of recreation, rejuvenation and restoring balance among living things." The Swedish Environmental Protection Agency explains that it is about "spending time outside in natural and cultural landscapes for personal wellness and to experience nature without the pressure to achieve or compete." This is an important concept to keep in mind as we live in such a structured, competitive, tech-obsessed society these days.
As I talk about in Finding Ecohappiness, free nature play is so valuable to all of us. This can look like taking a relaxing walk around your neighborhood, eating outdoors, sketching a nature scene, or simply finding a sit spot and enjoying nature through all our senses. I love how Linda describes this way of life: "In essence, traditional friluftsliv is less a set of activities and more of a culturally learned rhythm that revolves around being outside and experiencing oneness with both nature and the cultural landscape." It is a sort of slow living, as she compares it to slow food and slow parenting. In many ways, it is about being mindful in nature to soak it all in and reap the many benefits, another concept I talk about quite often.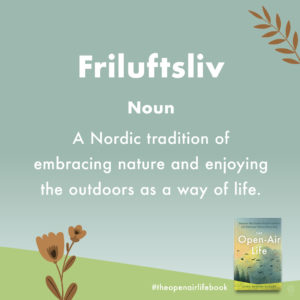 Principles of Friluftsliv
At the beginning of the book, Linda outlines the 10 core principles of friluftsliv. Here they are, with a bit of my take on each one woven in:
Be one with nature. I love how this is the first principle because it's all about protecting nature. If we don't protect and respect nature, we won't be able to enjoy it and benefit from it in the future. As I mention in the conclusion of my book, I hope that more people will recognize the mental health benefits of our natural environment so they do what they can to protect it.
Don't mind the weather (or the season). This is the premise of Linda's first book, and I highly encourage you to grab a copy. She provides so many helpful tips on how to prepare for and enjoy the outdoors in various weather situations.
Use your body. She encourages us to challenge ourselves physically outside to maintain good health, develop resilience, and achieve a harmonious state of mind. Green exercise is great for this!
Appreciate your nearby nature. Linda and I agree that you don't have to venture deep into the wilderness to experience a nature connection. I often recommend that everyone start by looking for nature around your home, such as sitting on a balcony, exploring your backyard, and walking or biking to a local park.
Learn useful skills. Linda writes, "Open-air life gives you an opportunity to grow confidence through greater self-reliance but also get a deeper knowledge of yourself and your role in the beyond-human world." Throughout the book, she describes many outdoor skills you can develop, from starting a fire to foraging.
Keep it simple. Simplicity and frugality are key to living an open-air life, so keep this in mind when you are making plans and deciding what you need to enjoy the great outdoors. In other words, don't buy too much stuff! Keep it basic and go have fun.
Do not compete. Linda warns against competition in your outdoor activities since it defeats the purpose of friluftsliv and could erase the many benefits nature has to offer.
Disconnect to connect. Linda and I both agree that all of us need healthy breaks away from screens throughout the day to recharge and get back to a balanced state, both mentally and physically. Replacing screen time with green time is another core concept of an open-air life.
Propel yourself. Interestingly, friluftsliv encourages using our natural energy to get around outdoors, such as by walking, biking, paddling, skating, pedaling, swimming, and propelling.
Nurture your sense of wonder. Finally, living an open-air life means cherishing the joy in everyday nature experiences to find a sense of awe and contentment that helps us ultimately feel happier and calmer.
There's so much more to discover throughout the book as she dives deep into open-air activities within the categories of air, earth, water, and fire.
Learn More
Linda Akeson McGurk is a Swedish American journalist and author who believes life is better outside. Her first book, the parenting memoir There's No Such Thing as Bad Weather: A Scandinavian Mom's Secrets for Raising Healthy, Resilient, and Confident Kids (from Friluftsliv to Hygge), was published in 2017 to critical acclaim, receiving mentions in The Wall Street Journal as well as The New York Times. Since then, the book has become an Amazon bestseller and been translated into five languages. The Open-Air Life: Discover the Nordic Art of Friluftsliv and Embrace Nature Every Day is her second book. Learn more at www.rainorshinemamma.com and www.lindamcgurk.com.