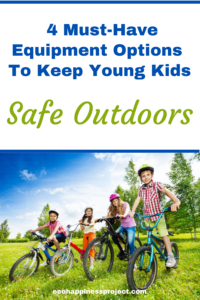 Being outside can be a lot of fun and has a lot of benefits for kids, but it can also pose threats to children who are vulnerable and unprepared for it. The CDC notes that injuries to children and teens are the leading cause of early mortality, and many of these happen outdoors. It pays to have the best equipment to ensure your child is safe, no matter where they are. Here are some outdoor must-haves to keep your children out of harm's way.
Swim Rings and Floaties
If you're planning to head to a pool or the beach for a pleasant swim, having the right gear for your kids could be life-saving. Even in shallow water, your child might struggle with swimming if they don't know how to swim properly. Swim rings and floaties are essentials for young children's safety in the water.
For children learning how to swim, Speedo offers fabric armbands for ages two to twelve that can aid them in the water. Floaties can be worn on the arms and offer added protection when your child is in a kiddie or shallow pool. A swim ring would be a more suitable tool for deeper waters. However, adults should always be close to children wearing them because there is still a risk of them floating away. Teaching them how to swim early on is also vital for water safety.
Helmets
The outdoors is great for all sorts of active play, but children can get hurt easily without proper safety equipment. Whether riding a bike, skateboarding, or using a scooter, wearing a helmet is a must. Giro's Scamp Helmet is a kid-friendly and affordable option that can offer safety for your child. It's lightweight, colorful, and adjustable to minimize fuss. Kids may resist wearing helmets at first, so lead by example. Your child may recover quickly from bruises or scraped knees, but head injuries could lead to more dangerous developments. Before your family goes out to play, make sure everyone is wearing protective gear.
Tandem Strollers
Very young children need to be under constant adult supervision when out, especially if you are watching more than one child at a time. A double stroller keeps the kids secure in one place, allowing parents to complete other tasks like shopping. For busy parents, most double strollers are not ideal for moving around town safely since they are too wide. Often, a parent will need to take their children out and fold the stroller in order to get on public transport or enter buildings, which increases the risk of an injury or incident happening.
iCandy's line of double strollers for growing families showcase how it's now much more convenient for parents to invest in a tandem design where one child sits behind the other, allowing for easier maneuverability through doorways and on public transport. Many modern designs also convert to a car seat which will not only keep your children safe when traveling by car, but will also save you the cost of buying separate items.
GPS Tracker
Your child might be gaining more independence now that they're no longer toddlers, but older kids still need safety measures when they go out. Modern phones usually have some form of location tracking, and you can use built-in apps to find them. However, if your kids aren't old enough for a phone, you can have them bring a GPS tracker to help you monitor where they're at. The Jiobit Smart Tag is a GPS device you can clip onto your child's clothes, bag, or lanyards so you can check their whereabouts with real-time tracking. Parents can be notified on the app when their child leaves and arrives at a particular location.
Every child deserves to feel safe and protected outside. For more on how the outdoors can benefit you and your family, check out Linda Akeson McGurk's new book The Open-Air Life, and of course, my book, Finding Ecohappiness.