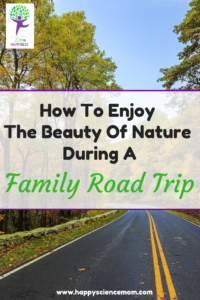 Traveling with our family gives us the opportunity to see new places and enjoy our surroundings. We can also utilize that dull time while traveling to our destination by seeking ways to connect to nature.
Whether you are driving in your family car (and I sure encourage you to choose a hybrid or electric car to help cut down on your carbon footprint) or taking public transportation options like a bus or train, your children can take in the beauty of nature from the back seat. (Warning: drivers may not be able to take in the scenery as much as the passengers–safety first!).
Benefits of Experiencing Nature
Giving our children the chance to soak in nature's beauty during a road trip is especially important these days as children suffer from nature-deficit disorder. This term was coined by Richard Louv, author of the book Last Child in the Woods: Saving Our Children From Nature-Deficit Disorder and co-founder of the Children & Nature Network (C&NN). It refers to children having less experience with and connection to nature over the last couple of decades. Unfortunately, children spending less time outdoors has been linked to decreased appreciation of our environment, health problems including childhood obesity and vitamin D deficiency, diminished use of the senses, attention difficulties, and higher rates of emotional illnesses like anxiety and depression.
On the other hand, a growing number of studies from around the world show that spending time in nature can have a profound impact on our mood and behavior, helping us to reduce stress and anxiety and to increase our attention, creativity, and our ability to connect with others. In an article on the Greater Good Science Center's website, researcher David Strayer of the University of Utah explains that "Now we are seeing changes in the brain and changes in the body that suggest we are physically and mentally more healthy when we are interacting with nature."
One study indicated that hospital patients can reap the benefits of nature even just by observing natural scenes from their hospitals window. This idea can be translated to when you're on the road; therefore, we can also feel better by enjoying nature from a car, bus, or train window.
Ways Children Can Enjoy Nature During A Road Trip
We have so many fun ways to expose our children to the beauty of nature while we are traveling from place to place either in our car or when using public transportation options like a bus or train.
Take a Scenic Trip
Look for local spots to drive to or plan vacations around areas you would like to explore. Some ideas include farms, drive-through zoos or safaris, tree-lined paths, and coastal roads. This country is packed with so many gorgeous places to explore from the Road to Hana in Hawaii to the Grand Canyon in Arizona to Mount St. Helens and the surrounding snow-covered mountains in Washington State. For more ideas, check out America's most scenic roads to view exquisite nature put together by Travel and Leisure Magazine.
Another great resource to use when planning your next drive is www.myscenicdrives.com, which offers a free Road Trip Planner and Scenic Drive Finder. You can look up nature-filled drives to take in each state that you can use to plan day trips, weekend getaways, or cross-country adventures. Each pre-planned scenic drive features an overview, interactive map, and GPS directions. It also highlights recreational activities and places of historic and cultural interest to visit in the area. Check out these tips on how to save on your family's summer outings.
Play The Cloud Imagination Game
I always find it so fascinating to stare at fluffy white clouds and observe the amazing images that appear in the sky. Ask your children what they see in the clouds, such as animals, shapes, people, or other objects. Take it one step further and challenge them to create a story about the cloud images.
Watch For Wildlife
Have your children keep an eye out for wildlife. If you are traveling in a rural area, you can spot cows, horses, and sheep. If you are in a coastal area, look for birds like seagulls. In wooded areas you can find squirrels, deer, skunks, and raccoons. You can even look for animals in your local neighborhood, such as squirrels, rabbits, and a variety of birds. Keep your kids busy and engaged with a collection of camping themed printables for your family's next road trip
Find Flowers And Trees
Ask your children to keep a look out for different kinds of flowers and trees that they see during the drive. Colorful gardens can be a real source of peace, and can be found in all types of communities. You can make a game out of searching for flowers and trees by asking questions like: Who can find the tallest tree? Who sees the most colorful garden? Can you name that flower or tree? Feel free to bring a nature guidebook on the drive to look up what they discover.
Soak In A Sunset
What is more inspiring than a golden sunset? Time your drive when the sun is setting and point it out to your children. Have your children describe the colors and how the sky is changing as the day slowly ends. Add excitement with a countdown or contest to see who can guess how long it will take for the sun to disappear. Capture the moment by taking a photograph and then see if your children can recreate the sunset by drawing or painting it. I highly recommend catching a sunset as you drive along the coast.
Gaze At The Evening Sky
I remember driving home at night from my grandmother's house many times as a child and being awestruck as I looked up at the moon and stars in the sky. The night sky provides us with a sense of awe and makes us think about the infinite possibilities of our universe. See if your children can spot any planets or name the constellations. A really simple game is to have your young children count the stars and see who can find the most.
Play Car Nature Bingo
The National Wildlife Federation created a do-it-yourself nature bingo game to encourage children to be observant of nature during a car drive. You can print out the bingo cards, which include pictures of animals and scenery that you are likely to see out the car window. Your kids will have a blast looking for butterflies, trees, dogs, flowers, ponds, and parks.
How does your family enjoy nature while traveling?