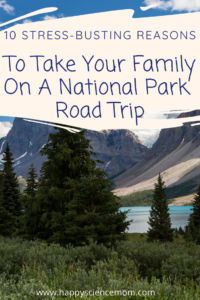 Have you ever been to a national park? They are part of America's hidden treasures that many of us take for granted. My most memorable national park experience was when I visited the Grand Canyon in Arizona with my family when I was in high school. I can still picture the sprawling red, amber, and golden rocks, craters, and mountains as far as I could see. It was so stunning that I felt transported to another planet, but that awe-filled experience took place right here in my own country.
Connecting to nature like at picturesque national parks can help reduce stress and boost our mood. Here are 10 reasons to take your family on a national park road trip this year:
#10  Experience awe. Awe–when we experience something that seems magical and amazing–is an emotion that has a powerful effect on our body and mind. It allows us to transcend the ordinary, tests our concept of time and scale, gives us the sense of being small in a grand universe, and helps us to truly be in the moment. Awe can make us happier and healthier in a number of ways by helping us build social connection, pique curiosity, expand creativity, and reduce anxiety and depression. National parks have so many incredible natural features that will "wow" you and your family.
#9  See something new. Did you know that stress reduction is one of the most important benefits of travel? A 2012 survey by Expedia found that 89 percent of vacationers said they could let go of stress and relax after only a day or two into their trip. When you take your family on a national park road trip, you are getting everyone out of their comfort zone and daily routine to experience something new and exciting, which helps reduce stress and boost happiness.
#8  Get some exercise. When you visit a national park, you'll have so many opportunities to move your body. Whether you go on an family hike, bike around the park, or rent a kayak or canoe to paddle around the water, you'll be able to take in the sites while also getting some exercise.
#7  Find peace and quiet.  Another huge benefit of visiting a national park is that you can find some peace and quiet and feel removed from the hustle and bustle of your daily life. It will give your family a chance to practice some mindfulness out in nature, helping to clear your mind of all the chatter and stress. Challenge your kids to just sit and be for a few minutes; focused attention can do wonders to reduce stress and anxiety. (Maybe even offer a prize to the child who can sit quietly the longest.) You may even want to practice some family yoga out there in the gorgeous scenery. It's your time to soak in the silence and recharge your batteries.
#6  Spark creativity. Being in and around nature is the perfect inspiration for artwork. You can take photographs of the scenery and then have your kids paint or draw masterpieces based on the images you captured. You can also use those pictures and work together as a family to create a collage to hang up in your home or a slideshow set to music. A trip to a national park may also set the stage for your children to write a story or poetry about what they experienced during their visit. By recreating nature experiences through art, we feel calmer and happier.
#5  Teach about nature and conservation. By spending time outdoors enjoying the beauty and awe that our natural environment provides, our children will feel better emotionally as they are excited and curious about their surroundings. There are endless opportunities to turn a national park trip into a learning experience. Many of the parks have visitor centers that share the history and science of the area. Your children will love learning about the animals and plants in the park and how the park was formed. My family has visited national parks to learn about volcanoes, glaciers, tropical rainforests, petrified forests, redwood trees, waterfalls, and more.
#4  Inspire kindness. A trip to national park can also help your children realize how important it is to preserve and protect nature. They may want to do more to help the environment when they return home. Your family can make a big difference year-round by volunteering outdoors in nature doing activities like beach cleanups, planting trees, and working with animals.
#3  Be grateful. Gratitude plays a critical role in happiness. Focusing on the positive boosts body, mind, and spirit. It gives us energy, inspires us, and transforms us. In a nutshell, it provides life with meaning by thinking of life as a gift. The incredible aspects of nature can help us all step back and be grateful for the beauty and mystery of our planet. A trip to a national park helps us escape our daily routines in big cities and crowded suburbs to experience the natural environment. It's important that we take a moment to be grateful for what we find.
#2  It's fun family time. Just simply having fun spending time together as a family does wonders for boosting all of our mood. It's even better when you get to travel and experience new places together. Even the journey to the national park can be filled with enjoyable, inspiring learning opportunities. Learn how to enjoy the beauty of nature during a family road trip.
#1  It's FREE! On five days in 2022, all national parks that charge an entrance fee will offer free admission to everyone. Mark your calendar for these entrance fee–free dates.
Where will you be traveling this year to soak in some nature?