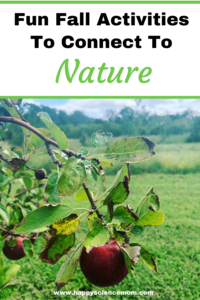 Depending on where you live, you may already feel the air getting cooler and crisper. With school back in session and all the talk about Halloween, we know that fall is just around the corner. While we are busy with school and extracurricular activities, this is also a lovely time to take a relaxing break and connect to nature as a family. Here are some fun fall activities to help you and your kids connect to nature.
U-pick Farm
One of my most favorite memories of autumn is going apple picking with my family. I was so enthralled by all the hidden treasures hanging in the orchard. I loved tasting the different varieties of apples and deciding which was my favorite. My family and I actually just went apple and raspberry picking, so I was able to pass along my cherished childhood memories to them!
This time of year is the perfect opportunity to head to a local farm to pick your own produce of the season, whether it be apples, pears, raspberries, squash, or others available where you live. It is a wonderful chance for the entire family to enjoy a few hours strolling around an orchard or farm taking in the sights, fragrances, and miracles of nature. By taking your children on a u-pick adventure, they will learn a tremendous amount about healthy food and the environment, and you will support your local community. Plus, locally grown food tastes better, is more nutritious, and stays fresh longer.
The best part is that you can go home from the farm and spend quality time together in the kitchen creating tasty meals from the food you hand-picked yourselves. There are so many healthy kid-friendly recipes to discover, from smoothies to side dishes to snacks. When your children play this much of a role in gathering and preparing their food, it will have a huge impact on them and influence the food decisions they make in the future.
Pumpkin Patch
Nothing feels more like fall time than pumpkin patches, hay rides, and corn mazes! Your kids will love running around outside in a corn maze and searching for the biggest, brightest pumpkin to take home with them. No matter where you live, you should be able to find a place in your area that offers these fun autumn seasonal treats for your family to enjoy.
And, of course, your children will have a blast carving the pumpkins and displaying their works of art for neighbors to see. We always love toasting the pumpkin seeds and enjoying them as a healthy snack afterwards. Even if you can't find a pumpkin patch by you, you can still grab a few pumpkins at a local store and carve them outside in your yard to get some relaxing outdoor time together.
Fall Foliage
One of the most incredible aspects of nature is all the colors we can find. During autumn, colors pop out all over as the leaves begin to change. When we experience the vivid natural colors during this season, we are filled with awe. This special emotion helps us feel happier and calmer, and is worth seeking out. One way to fill your kids with some awe this time of year is to go for a hike or family road trip to observe the gorgeous hues of changing leaves.
The fall foliage can be so soothing as well as inspiring. Bring along a camera and be sure to snap lots of photos of the gorgeous leaves, and when you return home encourage your kids to draw or paint pictures based on what they saw. You can also organize an online slideshow of your photos or print them to create collages. Another fun idea is to collect some of the fallen leaves and bring them home for art projects.
Volunteering
This is also a great time of year to get outdoors and give back to others. When we spread kindness throughout our community, we actually experience a physiological change called a helper's high. These positive feelings are heightened even more if we are volunteering outside and connecting with nature.
September happens to be the month when the annual International Coastal Cleanup takes place, so if you live near the ocean you can volunteer to clean it up either with a group or on your own as a family. This year the cleanup is on September 19th. Find out how to get involved.
Another way to volunteer outside is to contact a local farm and see if they need help with activities like weeding, planting seeds, sifting compost, digging, or watering. You can also ask about or organize your own gleaning project, which involves picking leftover crops from a farmer's field after they have been commercially harvested and donating the produce locally. Finally, on a much more personal level, you could offer to rake a sick or elderly neighbor's leaves. This is a great way to get your kids involved in community service and to see the results right away.
I hope you will take advantage of this special season to enjoy some fun fall activities as a family. You will be sure to build family memories that will last a lifetime!
What are your family's favorite fall activities?