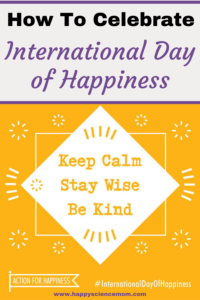 Before my journey into the world of happiness science, I thought happiness meant we must strive to feel pure elated joy as often as possible. The problem with this outlook is we will never be happy enough. This is an unrealistic upward battle.
Instead, happiness is about feeling satisfied and content, and connecting with others in our community. It is about learning, and challenging ourselves with realistic goals. It is about opening our eyes to new people and experiences. It is about stopping to cherish the little things, and being grateful for every moment we have.
I started this website and wrote my book, Finding Ecohappiness, because my struggles with anxiety pulled me away from happiness. I want my children–all children–to have the necessary tools so they can work through any challenges they face, accepting the emotions they feel and the decisions they make without letting stress and anxiety overshadow their lives.
I also believe that if everyone in this world was armed with a happiness toolkit–instead of guns and nasty language aimed at each other when they feel disappointed or angry–the world would be a more productive, peaceful place. My work here, and in both my parenting book and children's book about how nature helps children feel happier and calmer, are a piece of the happiness puzzle for all to explore and benefit from.
What Is International Day of Happiness?
I am excited to celebrate International Day of Happiness every year on March 20th. In 2013, the United Nations designated this day as a way to recognize the importance of happiness in the lives of people around the world. As part of this special day, the UN developed 17 Sustainable Development Goals that seek to end poverty, reduce inequality, and protect our planet–three key aspects that lead to well-being and happiness for all. This annual global celebration is coordinated by Action for Happiness, a non-profit movement of people from 160 countries, supported by a partnership of like-minded organizations.
This year's theme for International Day of Happiness is Mindful, Grateful, Kind. With our world facing unprecedented challenges, wellbeing matters more than ever. Here are 3 ways you can celebrate the International Day of Happiness with a nature lens:
Mindful
Engage in mindful activities that help connect you to nature, such as tree hugging meditation, earthing, creating a nature mandala, relaxing in a nature sit spot.
Grateful
Express gratitude for the awe you find in nature, such as a rainbow, the ocean, or a colorful bird flying overhead.
Kind
Be kind to animals and the planet by volunteering outdoors engaging in activities like beach cleanups and helping parks. You can also spread random acts of kindness.
How Your Family Can Celebrate
Learn More About Happiness
The world of happiness science continues to bring us a wealth of new knowledge every day as more studies are completed. Here are some fascinating highlights about the latest research on happiness:
And, of course, please explore the many resources here at the Ecohappiness Project and my books. Spread happiness by sharing with your family and friends!