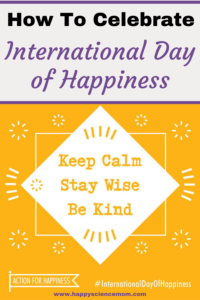 Before my journey into the world of happiness science, I thought happiness meant we must strive to feel pure elated joy as often as possible. The problem with this outlook is we will never be happy enough. This is an unrealistic upward battle.
Instead, happiness is about feeling satisfied and content, and connecting with others in our community. It is about learning, and challenging ourselves with realistic goals. It is about opening our eyes to new people and experiences. It is about stopping to cherish the little things, and being grateful for every moment we have.
I started this blog because my struggles with anxiety pulled me away from happiness. I want my children–all children–to have the necessary tools so they can work through any challenges they face, accepting the emotions they feel and the decisions they make without letting stress and anxiety overshadow their lives.
I also believe that if everyone in this world was armed with a happiness toolkit–instead of guns and nasty language aimed at each other when they feel disappointed or angry–the world would be a more productive, peaceful place. My work here, and in my forthcoming book about how nature helps children feel happier and calmer, is a piece of the happiness puzzle for all to explore and benefit from.
What Is International Day of Happiness?
I am excited to celebrate the International Day of Happiness on March 20th. In 2013, the United Nations designated this day as a way to recognize the importance of happiness in the lives of people around the world. As part of this special day, the UN developed 17 Sustainable Development Goals that seek to end poverty, reduce inequality, and protect our planet–three key aspects that lead to well-being and happiness for all. This annual global celebration is coordinated by Action for Happiness, a non-profit movement of people from 160 countries, supported by a partnership of like-minded organizations.
This year's theme for International Day of Happiness is all about finding positive ways to look after ourselves and each other as we face a global crisis with the pandemic. We are literally in this together, and we can rise up and feel happier and healthier together. By looking for a bit a happiness in our day, we can find hope and balance.
Here are 3 positive steps we can all take when facing these difficult times:
Keep Calm. There are lots of things outside of our control. Let's remember to breathe and focus on what really matters so we can respond constructively. Check out these helpful breathing exercises to calm down.
Stay Wise. Making wise choices helps everyone. Let's choose positive actions that support our well-being and help others do the same. This includes wearing a mask, social distancing, exercising, eating well, and spending time outside in nature to help manage our stress.
Be Kind. We are all in this together, even when we are forced apart. Let's stay connected and reach out to help others who may be in need.
How Your Family Can Celebrate
Participate in acts of kindness as a family to spread happiness to others.
Teach your kids lovingkindness meditation.
Visit Happy Acts to sign up for tips on living a happier life, access a happy acts calendar of ideas, share your happy acts, and see how others are spreading happiness.
Create your own happiness wall or find out where to find one near you.
Download the coping calendar that has 30 suggested actions to look after ourselves and each other as we face this global crisis together.
Seek out books, movies (such as Inside Out and Trolls), and songs (like Pharrell Williams' "Happy") about happiness to share with your kids.
Learn More About Happiness
The world of happiness science continues to bring us a wealth of new knowledge everyday as more studies are completed. Here are some fascinating highlights about the latest research on happiness:
And, of course, please explore the many resources on my blog and share with your family and friends!