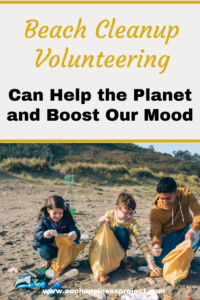 Don't you just love relaxing on the beach? The sounds of the crashing ocean waves and seagulls flying above are so soothing. We know how powerful water is in helping us feel happier and calmer. Ever since I was a little girl, I have loved walking the beach to search for precious seashells and staring out in awe at the horizon and water glistening in the sun.
The ocean is filled with so much life and beauty. It is critical that it stays pristine and garbage-free. One way that we can help to ensure this is by participating in beach cleanups. With increased awareness of the abundance of trash in the oceans being ingested by marine life and washing up along the shore, beach cleanups have become more frequent in coastal communities.
While it can be frustrating and disheartening to see trash in the ocean and along the shoreline, the great news is that we can do something about it to both help our environment and our own mood. My family has participated in a number of beach cleanups over the last few years and have gotten so much out of these experiences.
Benefits of Beach Cleanups
When we engage in volunteering to improve our environment, we feel more connected to nature and less stressed after spending time outside. These actions can actually change our brain activity and trigger positive emotions, helping us feel happier and calmer by reducing stress and anxiety and feelings of sadness, loneliness, or depression. In fact, a Marine Conservation Society assessment found that beach cleanup volunteers had a more meaningful experience than other coastal activities, like simply walking along the beach. They felt refreshed, a stronger connection to the natural world, and a sense of satisfaction that the beach was visibly cleaner.
I recently conducted my own research to see if there is a connection between emotions and beach cleanups. I surveyed 100 people who participated in one or more beach cleanups. For a third of the respondents, it was their first or second time doing a beach cleanup, while another third had done ten or more cleanups. I provided them with a list of emotions and asked them to indicate how they felt during the beach cleanup. Joy was the most popular emotion felt. I then asked them if their stress level changed during the cleanup, and forty-two percent said their stress level decreased. The majority (seventy-four percent) said they would definitely clean up the beach again. Here are some of the comments provided by survey participants about how the beach cleanup made them feel:
"A very 'Zen' calming feel!"
"Stronger connection to nature through the ocean—peaceful, reflective, and enjoy the exercise at the same time."
"Time being outside always makes me happy."
"The beach is such a serene place. It was great to have our toes in the sand and do something good for our area at the same time."
"The ocean is immense and endlessly awe inspiring—can't get that indoors!"
"I enjoy being outdoors whenever I can. Being in nature makes me feel happier and calm."
"Walking barefoot on the beach is the most relaxing thing for me. It gives me a peace of mind. Searching for ocean debris also grounds me. It is my treasure hunt, which is one reason it is a great family event and a challenge for your kids. Getting outside clears your head!"
"Ocean brings peace and calming."
"Fresh air and being outdoors is always more relaxing."
"It was a very relaxing and rewarding experience."
"Being outdoors makes a positive difference. Knowing that I am contributing to the well-being of marine life makes me feel like I am doing something impactful."
"I love the ocean. It always energizes me. To know I am helping to protect something I love that supports so much life and belongs to the world helps me feel a sense of purpose and filling a responsibility to protect our earth."
"Being a part of a beach cleanup makes me feel good that I am helping our local environment. I also enjoy teaching others about the importance of not littering."
Imagine how a beach cleanup will help your family feel!
How To Get Started
Beach cleanups are a simple activity to do with your kids either on your own or through an organized group. You can find beach cleanup events by contacting your city or county's sustainability or environmental director or through Ocean Conservancy, Surfrider Foundation, 4Ocean, Ocean Blue Project, and volunteercleanup.org.
You can also do a beach cleanup on your own. All you need is a bucket or trash bag, gloves, and possibly some trash grabbers. Be sure to stay safe with sunscreen and hats, and to avoid touching anything sharp or hazardous. Also, remember to separate recyclable items and to put them in the appropriate recycle bins. Check out Ocean Conservancy's Do-It-Yourself Cleanup Tool Kit for more guidelines.
How have beach cleanups helped your family feel happier and calmer?