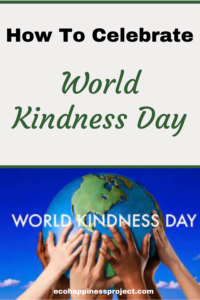 With all the craziness in the world, it is the perfect time to add more kindness to our world. I truly believe that individuals who are happy inside won't act out in hateful ways, whether it is blaming others for their problems, bullying, or using violence to express their emotions.
World Kindness Day takes place each year on November 13th. It's the perfect time to be mindful of how we treat others and how we can spread more kindness throughout our communities. In times like these, we need this day to step back and be grateful for the kindness expressed in this world, even if it is sometimes hard to find.
Science tells us that being kind to others is actually good for our health, reducing stress and boosting our mood. Acts of kindness can help counteract these negative emotions swirling around during this unstable time in history.
How to Celebrate World Kindness Day with a Nature Twist
When we combine kindness with nature, we experience so many incredible health benefits while also helping the world. Here are some ways to celebrate World Kindness Day with a nature twist.
Set your intention with a nature lovingkindness meditation. Lovingkindness meditation is the practice of directing positive thoughts and well wishes to ourselves and others. Practicing this type of meditation can cause us to feel less isolated and more connected to the world around us as we shift the way we view ourselves and others to kindness instead of negativity. The meditation actually leads to positive changes in the brain, bringing benefits such as reducing stress and anxiety and lifting our mood. We can tweak the traditional lovingkindness meditation practice by sending love and kindness specifically to nature. Try the meditation.
Discover nature volunteering opportunities for your family. There are so many different types of nature-related activities to choose from, such as tree plantings and beach cleanups. Finding the right family volunteer activities can be overwhelming at times. You may feel uncertain about what is expected and question whether your children can participate in the activity. It is so important that your family members feel comfortable where you volunteer, get inspired by the work you do, and enjoy themselves. Without these three components, you won't reap all the amazing benefits of volunteering. Learn how to find the best nature volunteer activities for your family.
Become an environmental activist. We have some massive environmental challenges to tackle like climate change, plastic in our ocean, air and water pollution, factory farms, and environmental justice. While these topics may sometimes tempt us to crawl under a rock and ignore what's going on, getting involved in our community through environmental activism as a family can actually help us feel happier and calmer and make a difference in both our local community and the global community. Learn how to get involved in environmental activism.
Spread random acts of kindness. Help spread love and kindness throughout the world. Even the smallest act of kindness can improve someone's day or even change their life, such as offering to walk a neighbor's dog or growing your own flowers and giving them out at a nursing home. Check out more nature-related ideas for random acts of kindness.
Looking for more? My book is filled with community service ideas involving nature. Click below to get your copy.