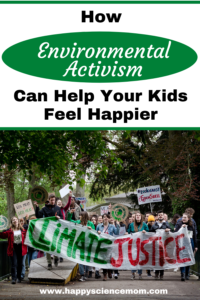 If you have watched the news lately, you can get pretty stressed and overwhelmed by everything going on. Even with the environment alone, we have big challenges to tackle like climate change, plastic in our ocean, air and water pollution, factory farms, and environmental justice issues. While these topics may sometimes tempt us to crawl under a rock and ignore what's going on, getting involved in our community through environmental activism as a family can actually help us feel happier and calmer.
In the book Growing Sustainable Together, author Shannon Brescher Shea provides practical resources for raising kind, engaged, resilient children. One of the important topics she covers is how families can get involved in environmental activism and all the benefits that can provide.
Types of Environmental Activism
In her book, Shannon explains how activism and advocacy can help make changes on the local, regional, national, and global levels. "There's a huge range of activities that fall under both, including calling or writing to elected officials, commenting on rules that the government is considering, in-person lobbying, testifying at local meetings, protesting, attending marches and rallies, and participating in nonviolent civic disobedience."
While these may sound like grown up activities, there are many ways for children to get involved with our guidance. Something as simple as writing a letter with a drawing, creating a flyer for an event, or making a poster for a rally are wonderful ways for children to play a role. In fact, young activists are now leading much of the climate and environmental movements. Fridays for Future and Climate Strike were both started and led by middle and high schoolers. What an inspiration to our children!
Shannon describes her experience attending a family event in Washington, DC led by Moms Clean Air Force. This nationwide organization works with over one million parents to fight air pollution, minimize climate change, and protect children's health. They hold an annual event called a Play-In for Climate Action that entails a mix of family-friendly speakers, games, music, and more. Families from all over the country take part. After the event on the National Mall, they visit Capitol Hill to lobby their members of Congress.
Benefits of Activism
The connection between community involvement and happiness for children and teens is impressive. According to youth.gov, youth who volunteer are more likely to feel connected to their communities, do better in school, and are less likely to engage in risky behavior. They are also more likely to volunteer if their entire family is involved in the experience.
As Shannon explains, "Hearing about or suffering through problems and feeling like you can't do anything about them is stressful. However, taking action through activism can provide relief. Organizing allows people to identify problems, understand the systems that are causing the issues, and collaborate to solve them. Participating in social movements helps people feel more efficacy, the ability to do things and make change in their lives. It also helps them be more engaged in their communities." Ultimately, making a difference helps children better cope with what is happening around them.
Here are some other ways that environmental activism helps children feel better:
Build Relationships
There is a clear link between social connection and happiness, so when we interact with our neighbors on issues that impact our lives we can experience a greater sense of connection to those we otherwise would not have met. This is a positive change for society because research shows how we are happier when we build relationships and open up with others in our community. In addition, the largest survey about American civic engagement from the Harvard Kennedy School of Government revealed that quality of life and happiness are highest in communities where residents are more socially connected.
Gain Confidence and Personal Satisfaction
When we participate in social action, community service, and political groups, we increase personal satisfaction as we engage with others on issues of mutual interest. These activities also involve participating in the decision making process, which has been found to boost our happiness as well.
Help Others
Spreading kindness has so many benefits for our own health and happiness. Environmental activism is another way to support others and improve our community. It also helps children learn how to be more empathetic and care about others from different backgrounds.
Feel Empowered
Shannon explains how activism helps kids feel empowered and in control of their own lives. "From a political point of view, empowerment involves understanding social and political systems well enough to feel that you can influence them. Empowerment generally develops as people get involved in their community. On the flip side, disempowerment is associated with chronic stress and depression." As you can see, empowerment can help our kids make sense of environmental problems and build resiliency around such challenges.
Find Hope
She also points out how activism can help children feel a sense of critical hopefulness. "Instead of optimism based on rose-colored perspective of the world," she explains, "critical hopefulness is a clear-eyed view of power structures coupled with realistic understanding of what you can do to change them." Feeling hopeful is a critical ingredient of happiness.
How To Get Started
Throughout Growing Sustainable Together, Shannon offers many helpful tips for parents to get involved in environmental activism, such as teaching children about activism and environmental issues through reading, figuring out which issues your children are most passionate about, connecting with groups that welcome youth involvement, and choosing the best types of activism to do as a family. At the end of the chapter, she walks you through the steps with a special environmental activism family activity.
The book covers other topics to help children grow up as kind, engaged, and resilient individuals from a sustainability lens: transportation, gardening, energy efficiency, volunteerism, and minimalism. Each chapter is filled with incredible stories and ideas for families to get involved and make changes in their lives.
You can also consider enrolling your child in a course that addresses activism. Juni is on a mission to prepare students for the real world. Through their dynamic, fun courses and learning model, they are inspiring the next generation of problem solvers, critical thinkers and leaders with a passion to make an impact through learning. They offer a 'Future Of' curriculum – focused on Cryptocurrency, Cybersecurity and Climate Change for students 12-14 and 15-18 – to give Juni students the foundation skills and understanding they'll need for these budding industries of the future. Learn more about these courses.
About the Author
Shannon Brescher Shea is devoted to telling authentic, gloriously messy stories about the space where parenting, sustainability, and social justice meet. Her writing appears on her blog, We'll Eat You Up, We Love You So, as well as in The Washington Post, Sierra magazine, Scary Mommy, Ravishly, and Romper. She was a staff writer for the New York State Conservationist and is currently a science writer for the federal government. She has participated in environmental activism since she was 10 years old. Since then, she has been part of more marches against climate change than she can remember, biked 300 miles to raise money for climate change groups, organized community bike rides for families, and helped launch community garden projects. She lives in Maryland with her husband and two young sons. You can follow her on Facebook and Twitter.