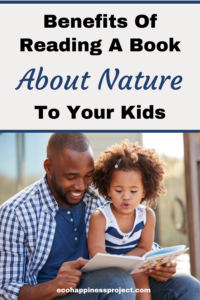 Children love a good story before bedtime to help them unwind and put a smile on their sleepy faces. As it turns out, reading is the best way to relax, according to a research study out of the United Kingdom. Overall, reading is a healthy distraction and helps kids feel calmer as they focus on the words they are listening to or reading.
Books also help our kids escape from the present moment into a world of imagination that captures all their attention. They may become so completely engaged in the story to the point of reaching a calm, meditative state that is great for dozing off. Additionally, bedtime stories bring you closer to your child and help them feel safe and secure so they can get to sleep easily.
Nature-related children's stories are the perfect choice for bedtime, as they transport kids to a magical natural environment filled with animals, flowers, trees, water, and more. Here are some additional benefits of reading a book about nature to your kids.
Offers a Healthy, Positive Distraction
Reading can help children experience mindfulness as they focus on the story they are either reading or listening to. Reading about nature in particular can help kids experience, think about, and visualize the beauty of nature. Stories with natural, whimsical imagery can transport your kids to gorgeous, serene locations, such as a garden, tropical rainforest, or beach. This relaxing escape is more important than ever for kids (and for the parents reading the story aloud) as we face stressful times.
Sparks Awe and Wonder
Reading about nature helps spark awe and wonder in children, which ultimately makes them feel happier and calmer. Awe is an emotion that has a powerful effect on our body and mind. It is a feeling that can be hard to put into words. Essentially, awe allows us to transcend the ordinary, tests our concept of time and scale, gives us the sense of being small in a grand universe, and helps us to truly be in the moment. We might feel chills up our spine, goosebumps, or even tears in our eyes during an awe-inspiring moment like seeing a rainbow, gazing up at the stars, or reading about a fascinating new animal species discovered.
Feelings of awe boost our mood and reduce worry. Our nervous system reacts in the opposite way to awe than it does to anxiety. Instead of the "fight or flight" response kicking in, awe keeps us still and relaxed, benefiting both our body and mind. As you can imagine, if anxious children can experience a bit of awe before bedtime through a nature book, then they will sleep better at night and wake up more refreshed the next day.
Provides Beneficial Attributes of Nature
Another really wonderful benefit of reading a book about nature is that it allows kids to experience the aspects of nature that are proven to be so relaxing. Colors are a great example. Color experts have found that blues and greens are known to be particularly calming. Many nature books are filled with blue and green nature illustrations or photographs, so having this colorful imagery swirling around in their minds as their heads hits the pillow can help them get a good night's sleep.
Patterns are also key. Scientists have discovered that one of the reasons why nature is so soothing to us is that many patterns naturally occur in our environment. Known as fractal patterns, these repetitive, aesthetically pleasing aspects of nature help reduce stress. Our minds are naturally attracted to and soothed by patterns in leaves, tree bark, tree rings, waves, clouds, shells, feather, snowflakes, and more. There are so many amazing patterns of nature to look for both outdoors and in children's story books.
Finally, lots of children's books—about nature and otherwise—feature animals in them. Most children love animals, and numerous studies show that animals can help relax children, bringing them so much joy and awe whether this is a pet or an animal they see in their backyard, at a zoo, or in a story.
Inspires an Appreciation for Nature
Choosing to read books about nature topics to your children can help them understand more about the environment, build their interest in and curiosity about nature, and may even lead them to want to take action to help protect the planet.
In Sky's Search for Ecohappiness, the main character Sky is feeling blue, so her mother encourages her to head outside to see what her friends are doing. She finds her friends connecting to nature in positive ways that help them all feel happier and calmer. She meets up with Coral, who is practicing mindfulness by enjoying the ocean waves. She is intrigued by her friend Parker painting a colorful sunset. And she participates in a beach clean up with her friend Sunny. All of these activities not only help boost Sky's mood, but it also builds her appreciation for nature.
Nature books are magical, calming, and inspiring. Your kids will love them!
Grab your copy today of Sky's Search for Ecohappiness. Check out the book trailer.