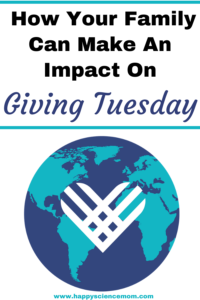 The mad rush to buy holiday gifts has begun. We have been getting bombarded with emails and commercials about Black Friday and Cyber Monday.
Stop. Take a mindful deep breath. There is more to the holiday season than shopping, spending, and stressing. Why not gather your family together for some holiday volunteer opportunities?
What Is Giving Tuesday?
This special day is focused on giving. Giving Tuesday is a global day for sending charitable donations to organizations of your choice. This social media campaign was initiated in 2012 by the cultural center 92nd Street Y in New York City in partnership with the United Nations Foundation. Tens of thousands of nonprofits, businesses, civic organizations, and individuals from nearly 100 countries come together to make real change happen in their communities and around the world. The mission is to build a more just and generous world.
Celebrated on the Tuesday following Thanksgiving (in the U.S.) and the widely recognized shopping events Black Friday and Cyber Monday, Giving Tuesday kicks off the charitable season, when many focus on their holiday and end-of-year giving. Since it began, Giving Tuesday has become a movement that celebrates and supports giving and philanthropy.
It is so wonderful that this day has been created to highlight the importance of charitable donations for organizations supporting those in need. Giving Tuesday is responsible for increasing online donations by 470 percent!
How To Celebrate Giving Tuesday
As parents, we can use this opportunity to teach our children about the importance of giving and helping others. Here are some ways your family can celebrate Giving Tuesday, with a nature twist:
Explain what it means to be compassionate. Teach your children about compassion by reading books.
Discuss how they can help. Find a few minutes during the ride home from school or at dinner to ask your children who they would like to help the environment. Provide some options like helping animals, doing a beach cleanup, planting trees, or raising money for an environmental organization. Brainstorm some places where you can send a donation. Let them send the actual donation online so that they can experience the act of giving firsthand. Discover more ideas.
Give them an easy way to participate. Create or purchase a giving box for your children. Ask them to set goals about how much they would like to give next year and who they want to help. Check in weekly or monthly throughout the year to see how close they are to reaching their goal. Here are some great ideas for making your own charitable collection box that your kids will love.

Courtney DeFeo's Make Your Own My Lil Money Jars
Bits of Everything's Money Jars For Kids

Commit to volunteer work throughout the year. This is a wonderful opportunity to also decide where your family can volunteer together. Learn how to choose the best volunteer activities for your family.
Featured Charities 2022
This is the 8th year that I have published a post about Giving Tuesday. Every year I like to highlight some of my favorite charities that I hope you will consider supporting. This year I am shining the spotlight on organizations focused on planting trees. 
Climate change is front and center these days, especially with the recent 2022 United Nations Climate Change Conference (COP27) making headlines. What can we do to help? Planting trees is one of the simplest ways to help curb carbon emissions and to beautify our planet. Here are a few organizations focusing on planting more trees. Consider supporting their work this year.
The Arbor Day Foundation. The Arbor Day Foundation has been inspiring people to plant, nurture, and celebrate trees since 1972. That simple mission has had a global impact. The Foundation has grown over the last 50 years to become the largest member nonprofit organization dedicated to planting trees. In that time, they have worked with members, supporters, and a strong network of partners to plant and distribute nearly 500 million trees worldwide. Learn more.
American Forests. Founded in 1875, American Forests is the oldest non-profit conservation group in the United States. As well as lobbying Congress to protect forests and provide funds to fight wildfires, American Forests aims to plant 4 billion trees across the country by 2030. This organization also fights for neighborhoods and cities to have adequate amounts of trees and green spaces. Learn more.
One Tree Planted. This non-profit organization has planted over 11 million trees since its creation in 2014. With partners around the globe, One Tree Planted aims to plant a tree for every dollar donated. With consistent photos and updates on planting, they are transparent and open about their projects. They make it simple for anyone to help the environment by planting trees, and their goal is to restore forests, create habitat for biodiversity, and make a positive social impact around the world. Learn more.
Community Greening. Community Greening, an urban forestry non-profit based in Palm Beach County, Florida, has quickly expanded throughout the region. It works with local residents and organizations to improve the environment and community by planting trees and transforming urban green spaces. Since it was founded in 2016, the organization has planted over 9,500 trees with more than 5,000 volunteers of all ages, via tree giveaways and plantings in public parks, schoolyards, residential yards, and urban orchards. Community Greening was named the "SE Partner of the Year" by the US Fish & Wildlife Service, and received the prestigious "Spirit of Arbor Day" award from the Arbor Day Foundation. Community Greening was featured in my book, Finding Ecohappiness, in the food chapter. Learn more.
Plant-For-The-Planet. This global movement focuses on restoring forest ecosystems to tackle the climate crisis and biodiversity loss. To do so, they empower young people, restore ecosystems, conduct restoration research, provide free software tools and restoration advice for organizations around the world. Their goal is to protect the world's three trillion trees and bring back a further one trillion trees. They are a partnership of independent national organizations, led by the Plant-for-the-Planet Foundation. Learn more.
How will you support Giving Tuesday as a family?