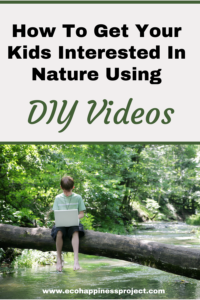 While we know the benefits of spending time connecting with nature, it's not always easy getting our kids off their screens to head outside. However, we can actually use technology to stimulate our children's interest in nature.
Recent research shows that technology can help us successfully connect to nature in a number of ways. A 2017 study showed how children used an app to help them connect to nature. Actually, it was just as effective as if they were with an in-person environmental educator and it offered additional benefits, including more fun and increased social interaction. If we use technology as an enhancement rather than a distraction to engage in nature activities, we will reap the most benefits like stress reduction and feeling more balanced.
I discovered an incredible resource that can help get kids interested in nature. DIY.org is an online learning community made just for kids between the ages of 5 and 16 to empower them to learn new skills. Watching children learn, create, and share while inspiring other kids to develop their skills has become the most enriching experience on the platform. The site's subject matter spans the spectrum of science, tech, art, music, mindfulness, and engineering, covering a wide range of topics related to nature.
The site has a vast library of hands-on projects, online courses, how-to videos, live workshops, and an awesome kid community. Kids can explore over 150 skills, work on more than 3500 projects, and earn skill badges for their achievements. The platform can be accessed either through the website or a mobile app you can download.
I am very impressed by how many of the skills and courses on DIY.org relate to nature. In fact, many of them correspond to the areas of my book and blog: mindfulness, food (gardening), outdoor play and adventure, creative arts, animals, and volunteerism. There is a directory of topics for you to easily discover videos, challenges, and more.
Here are a few examples related to nature for you to check out on the platform:
Nature Skills
Activism Challenges: Explore Your Food Mileage, Volunteer at Your Local Shelter—Dog Day, Go Guerilla Gardening
Backyard Farming: planting seeds, growing plants in containers, harvesting food from your garden, making a raised bed, composting, managing soil
Camping: traveling a trail, purifying water, protecting the wild, cooking on a campfire
Fishing: practice your cast, keep the water clean, find live bait
Forestry: hug a tree, plant a tree, identify local trees
Mindfulness: stroll through nature, do animal yoga poses, eat mindfully
Oceanography: clean up a beach, draw a rare species of fish, set up an aquarium
Painting: learn to paint a rock, paint flowers, paint a landscape
Zoology: design a fantasy animal, photograph an animal in the wild, build a wildlife habitat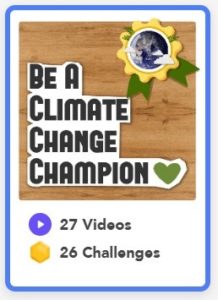 Nature Courses
Be a Climate Change Champion: This is a series of videos that also have specific challenges to try after watching the videos. The course covers topics like what is climate change, growing your own food, saving energy, and issues with plastic. The videos do a fabulous job introducing the issue to the kids and then offering simple solutions that they can do to make a difference.
Art classes where kids can focus on nature. Since both art and nature are such effective and fun stress reduction tools, we can seek out ways for our kids to connect with nature and be inspired by it to create a masterpiece. Children can really connect to nature through hands-on art projects like nature drawing, painting, and photography. DIY.org offers tons of art-related activities for kids.
Strange Science. This section of courses includes all kinds of intriguing science experiments, including a whole series of videos specifically about nature.
Yoga Adventures. There are marvels of nature yoga videos with yoga moves related to nature, including earth's creations, feathered friends, creepy crawlers, and friends from the sea. Your kids will love trying out all the relaxing animal yoga poses.

Benefits of DIY.org
I encourage you to check out DIY.org for your family. Here are some of the many benefits of this online learning community for kids:
30-Day FREE Trial. Cancel Anytime.
All content is advertisement-free.
Can watch videos or join live classes.
Something for all ages.
Simple projects designed with everyday materials in mind, especially stuff commonly found around the house (and inside junk drawers) like paper, pencils, cardboard, glue, and baking soda.