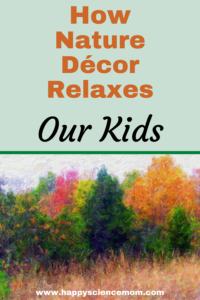 Have you ever gotten lost in a gorgeous landscape painting and felt like you were transported to that time and place? There are so many visual elements of nature that help us feel calmer and happier. Amazingly, just looking at pictures of nature scenes can make us feel like we are actually spending time outdoors. A recent study by the University of South Australia found that displaying nature art in offices can reduce stress levels and mental fatigue by up to 40 percent.
Looking at the scenes for as little as one to five minutes revitalized workers and helped them refocus on tasks and feel less stressed. Interestingly, these results were similar to those found during studies where people looked at live views of nature. It's clear that having a connection to nature, even by viewing a piece of artwork, can help us feel better.
Fortunately, we can easily bring these aspects of nature indoors to decorate our home and create a cozy, serene sanctuary for our family. For example, we can hang art on the walls that contain calming nature images, like trees or birds in the sky, to create a really tranquil atmosphere in the room. Here are some other ideas of how nature décor can help our family feel more relaxed:
Color
The most calming colors stem from nature. Creams, tans, pale blues, and pale greens help create a quiet atmosphere. According to color psychology experts, blue calms the mind and body, lowering blood pressure, heart rate, and respiration. It also minimizes feelings of anxiety and aggression and creates a sense of well-being. The color green promotes a serene and calming environment and is associated with health, healing, and well-being; soothes the body and mind; and reduces anxiety. Neutral colors—tan, beige, ecru, cream, light brown, taupe, and gray—manifest an organic, earthy feeling. They tend to soften the edges and warm up a space in a soothing way. In fact, using more natural hues when decorating your children's bedrooms will help them more easily calm down and sleep better throughout the night. Try using cool colors like blues and greens because their calming effect can make your children's rooms feel spacious and relaxing, like the blue sky or the ocean.
Patterns
Scientists have discovered that one reason why nature is so soothing to us is because of the many patterns that naturally occur in our environment. These fractal patterns are aesthetically pleasing and help reduce stress. Whether the patterns are observed outdoors or by viewing a piece of nature art, we feel calmer as a result of enjoying the images. A tree, for example, contains fractal patterns. First you see the large branches growing out of the trunk, and then you see smaller versions growing out of each big branch. As you keep zooming in to the tree, you notice tinier and tinier branches all the way down to the smallest twigs. Other examples of nature's fractals include clouds, rivers, leaves, flowers, coastlines, and mountains.
Textures
Different types of textures can be comforting to our kids as they explore them with their sight and touch senses. Feeling different textures can be an effective distraction tool that shifts their focus away from their worries to something more positive. We can enjoy a variety of appealing natural textures in our home that may be smooth, rough, shiny, squishy, fuzzy, or hard. Try adding natural décor elements wherever possible, such as bamboo, smooth stones, wood or marble floors, and woven reed mats or sisal rugs made from earth-friendly materials.
Animals
Many types of animals bring joy and peace to children. Whether a child is petting a fuzzy dog, having a conversation with a parrot, or gazing at a picture of a colorful, awe-inspiring creature, animals provide many benefits. You can add this calming element to your home décor as well by decorating with pieces involving animals. Some ideas include hanging photographs and artwork of animals in their natural environment, placing animal sculptures throughout your house, choosing furniture containing animal motifs, or painting an animal mural on the wall. This way, your children will have a constant reminder of the animals they love most from the wild.
Water
Water is known to give us a sense of peace and serenity. In fact, medical studies have found less cortisol (the stress hormone) and more serotonin, oxytocin, and dopamine (the feel-good hormones) in people as they spend time in, on, or around the ocean. When we're around water, our brain becomes engaged in our environment and we enjoy pleasant sensory stimulation. We become so focused on the water that we enter a mindful state. As a result, we enjoy lower stress levels; relief from anxiety, pain, and depression; improved mental clarity and focus; and better sleep. We can enjoy these benefits of water in our home by hanging art containing water scenes, bringing in an aquarium, and installing a mini water fall.
Greenery
There's no doubt that adding real plants, trees, flowers, and herb gardens to our homes will help make us feel better. Besides green being a soothing color as we discussed earlier, plants improve oxygen levels and freshness of a room. Research conducted in hospitals, offices, and schools has consistently found that even a simple plant in a room can have a significant impact on improving mood. But we can also add touches of greenery using other types of décor that mimic nature like artwork, wall hangings, and unique furniture pieces.
What are your favorite natural decor elements for your home?