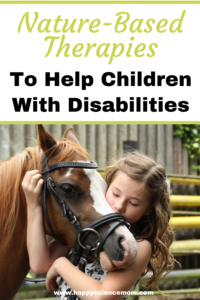 Guiding your children to learn and grow is a crucial part of helping them live an independent life full of success. There are many places that can assist you in doing this. For instance, CDS Life Transitions has some amazing tools available and they have developmental services that help people with disabilities live independent and fulfilling lives.
Nature-based therapies may provide children with disabilities the skills and confidence necessary for learning and growth. Many of these therapies have been around for years, and they are still effective even with the addition of new procedures and approaches.
Here are some of the most popular nature-based therapies for kids with disabilities that can help them grow and develop in positive ways.
Animal Therapy
Animal therapy, also called Animal Assisted Therapies (AAT), involves using animals as a source of healing. Dogs, cats, horses, and birds are commonly used to provide patients with a sense of well-being and relaxation.
AAT is mostly used to support children through various emotional, social, and physical developmental milestones. Some programs include lessons on how to care for a pet as well as developing skills to help children with disabilities cope with everyday life. These lessons will help a child understand the basic functions of a pet, such as feeding, walking, and sleeping. Therapists bring in animals to interact with children and may help develop respect and understanding. The end result is a child who is more confident and with a greater sense of independence.
Horticultural Therapy
The American Horticultural Society defines horticulture therapy as an activity that engages a qualified practitioner in plant-based therapies and physical activities to achieve a certain therapeutic goal in an environment that's specifically intended to support a therapeutic experience. These goals may include the reduction of pain, anxiety, or stress. It also helps enhance self-esteem, achieve relaxation, improve balance and coordination, and promote healthy eating choices. This type of therapy is intended to be a beneficial form of complementary care, helping people with a variety of conditions to maintain, strengthen, and restore health to their lives.
Care Farms
Care farms entail eco-friendly, medicinal, or therapeutic farm practices to provide health, education, or social care services to a wide range of individuals with disabilities or health issues. The aim of these programs is to give individuals with disabilities a fulfilling and healthy experience on a farm that promotes family interaction, good nutrition, and the development of healthy relationships.
Green Exercise
Green exercise refers to an active physical activity undertaken outside in our natural environment. It can be as simple as going for a stroll, jogging through the park, or biking along your local streets. Green exercise can enhance both physical and mental health. Furthermore, it also builds a sense of well-being by making people feel happier and calmer, which is important when it comes to everyday life. Exercise can also make you more alert and improve your strength, memory, concentration, and posture.
Visit a Restorative Environment
Restorative environments provide healing to people suffering from various physical conditions, mental disorders, and emotional illnesses. Through careful observation of natural processes and environments, people have learned how to create restorative places that promote healing. People who are placed in nature-based restorative environments like a garden or forest may have an improved quality of life. The restorative environment has been proven effective in many areas of mental, physical, and emotional health.
There are many types of nature-based therapies for children with disabilities, all of which have a great deal to offer. If used correctly with the guidance of experts, they can be very beneficial. These types of treatments can help children with disabilities gain more self-esteem and confidence, and feel happier and calmer. If you feel that your child may benefit from nature-based therapies, make sure to talk to your child's doctor about the best ones for your family. This may be the solution you have been looking for to help your child thrive.