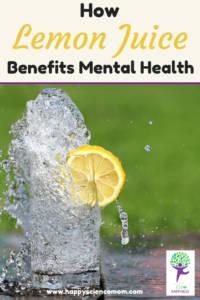 We know how important staying hydrated by drinking water is for our mental health. By simply drinking enough water throughout the day, children and adults can minimize feelings of stress and anxiety. There is a way to make water even more powerful in reducing stress and anxiety: by adding lemon juice.
Why Lemon Juice Is Good For You
Lemons have been found to lower blood pressure, reduce stress and anxiety, and help us feel calmer overall. There are two main reasons for these benefits:
Hydration. Drinking a glass of water, especially warm water, is a wonderful way to hydrate our body. This is especially important in the morning since we have not had any liquids for several hours while we were sleeping. Keeping our body adequately hydrated helps keep us in balance, both physically and emotionally.
Vitamin C. Lemons contain a good amount of vitamin C (almost as much as oranges), a nutrient known to lower levels of stress hormones. Vitamin C has been found to fight brain cell damage due to the stress hormone cortisol. One study found that vitamin C helped people bounce back more easily from a stressful situation. In that study, blood pressure and cortisol levels returned to normal more quickly when people took vitamin C before a stressful event. Additionally, stress makes our body release more free radicals than when we are in a good mood. Vitamin C helps to keep the free radicals in control, repairing the body. Basically, it helps protect the body from the cumulative effects of stress. Vitamin C is also essential for the recovery of our adrenal glands, which can be impacted when we are under too much stress. Without vitamin C we can experience issues like fatigue, stress-related problems, and a weakened immune system.
How To Make Lemon Water With Your Kids
There are a few key tips and tricks to making the best lemon water that you and your children will love. First, know how to pick out ripe, tasty lemons. You want to look for lemons that are firm and have shiny yellow skin. Avoid unripe lemons that are usually green in color and have dull, matte skin. Skip the overripe lemons that can be brownish yellow, have brown spots, be wrinkly, and/or are soft to the touch. And please choose local and/or organic lemons if possible. Get your kids involved in the shopping experience so that they will feel like they are playing a role, which will get them excited about trying lemon water later on. You can even make a game out of it like the "hunt for the best lemon."
Once you pick out your lemons, store them at room temperature away from sunlight. If you want them to last longer, then store them in the refrigerator. After squeezing fresh lemon juice for a drink, you can save the extra and keep it in the refrigerator for a few days. Display a few bright yellow lemons in a bowl in your kitchen to spark your kids' curiosity. Turn this into a creative experience by asking them to paint or draw the lemons (they will sure make a great still life painting!). Your kids will also enjoy smelling the fragrant lemons; their scent is known to help relax us.
When it's time to squeeze the lemon juice from your fresh lemons, you'll want to choose an easy kitchen tool so you don't end up with a bunch of seeds in your lemon water and getting your hands all wet and sticky. I love using a hand-held lemon lime squeezer to get as much juice out as possible. This manual juicer is safe and reliable, made with sturdy industrial aluminum and non-toxic certified lead-free coating. It cleans in seconds and is dishwasher safe. Finally, it's designed to be easy on the hands.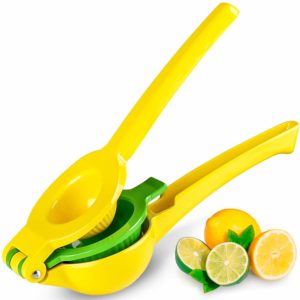 All you need to do is cut the lemon in half and place it face down. Then just press down and squeeze away! You may want to squeeze a few lemons at once and store the juice in your refrigerator to save time later in the week.
Now it's time to add the lemon juice to your water. Warm water is recommended to get the most benefit out of the lemon juice. Add the juice of half a lemon to an 8-12oz cup of water. Of course, you can adjust the amount depending on your own personal taste. If you want to get creative, you can also try adding mint, honey, ginger, cinnamon, basil, cucumber, strawberry, or another garnish to your lemon water. This is another way to get your kids involved and excited about drinking lemon water. Let they choose what else they would like to add. You can even do a fun taste test by offering them a few different options to see what they prefer.
After you are finished drinking the lemon water, it's important to remember to swish your mouth with some room temperature water for 30 seconds to make sure the citric acid from the lemon juice doesn't remain on your teeth. Too much of the acid from the lemon can damage your teeth, so keep that in mind.
Finally, another trick is to freeze some lemon water into ice cubes so you can add lemon to your water quickly when you want it. Just drop a few cubes into a glass of cold or warm water as needed.
Enjoy!
What is your family's favorite type of lemon water?