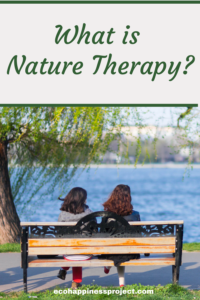 When I am feeling stressed, I often need to head outdoors and go for a walk where I can sort out my thoughts and feelings. There's something so healing about being outside breathing in the fresh air, hearing the birds chirping, and enjoying views of the trees and flowers.
So many people are feeling stressed and overwhelmed, and looking for ways to feel better. Nature therapy, also called ecotherapy, is one therapeutic option. It focuses on both what we do to the earth and what the earth does for us, like improving our emotional well-being. It involves a range of practices, from animal therapy to horticultural therapy, that help us connect to nature in a mindful and meaningful way with the guidance of a trained professional. The premise is to reconnect with nature, which can help us feel more grounded, positive, relaxed, energized, and resilient.
Here are a few different types of nature therapy and what they entail:
Walk and Talk Therapy
Walk and talk therapy is becoming more popular, as therapists realize the many benefits of spending time outdoors with their patients. This type of ecotherapy involves meeting at an outdoor location like a park, pond, hiking trail, botanical garden, or urban green space to conduct the therapy session. Throughout the appointment, the therapist and patient might sit together on a bench or walk around outside. Nature is incorporated into the session as a positive distraction, to offer opportunities for mindfulness, and to guide the conversation.
Nature Prescriptions
Another type of nature therapy that is really catching on is the concept of a nature prescription. More and more pediatricians and general practitioners are turning to nature as an intervention. Just like a prescription for medication, doctors prescribe time outdoors to their patients. It can be written down on a typical prescription pad or generated electronically. To be as effective as possible, each nature prescription has a specific location, activity, frequency, and duration included.
Water Therapy
Spending time in and around water, such as the ocean, can be extremely therapeutic. Maurice "Maui" Goodbeer, Founder and Executive Director of the non-profit StreetWaves Inc., has made it his life's mission to bring youth from under-served communities out to the ocean to swim, surf, and sail. The ocean is a place where they can escape from the chaos and find calm. StreetWaves helps children deal with their stress and fears through the healing power of the ocean. Essentially, the water becomes their therapy.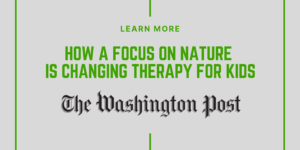 Float Therapy
Float therapy is a type of hydrotherapy typically done in a float center, but can also take place outdoors in a natural body of water. Float therapy provides a lovely relaxation experience that truly allows you to escape from your worries and just enjoy the peace and quiet of the moment. Floating is a great tool to try if you are looking for a new way to reduce stress and anxiety for you or your family. Learn more.
Nature Play Therapy
Based on play therapy, this type of nature therapy involves a therapist strategically using play activities to encourage children to express their feelings, modify behavior, and develop problem-solving skills while also incorporating aspects of the natural world into this process. Nature play therapy taps into multi-sensory aspects of nature through tactics like storytelling, sand tray play therapy, nature art, natural sounds, and other earth-based components. While a nature play therapy session can take place inside a therapist's office, it often involves time spent outdoors. This approach helps the patient feel more relaxed and free outside compared to sitting in a small, confined office.
Adventure Therapy/Wilderness Therapy
These outdoor therapies mix traditional therapy techniques—such as talk therapy, cognitive behavioral therapy, and group therapy—with being outside in a wilderness setting. A unique aspect of these approaches is that participants work through their issues in a physical way with challenging experiences that facilitate self-discovery and personal growth while learning flow, grit, growth mindset, and self-efficacy. There is a slight distinction between the two approaches. In adventure therapy, participants engage in experiential activities that involve some level of risk that are both physically and emotionally challenging. Typical activities include backpacking expeditions, mountain biking, rock climbing, kayaking, doing a ropes course, geo-caching, canoeing, skiing, river rafting, and paddle boarding. With wilderness therapy, participants are immersed in nature and sense a radical change of their environment. They learn healthy coping strategies and build confidence through a daily routine in the wilderness and basic life skills like pitching a tent, starting a fire, cooking at a campsite, building a shelter, and creating primitive art and instruments. These activities and adventures help individuals feel safe and connected to their therapists, making them more open to the therapeutic process overall.
Horticultural Therapy
This practice uses plants, horticultural activities, and the garden environment to promote well-being. A therapeutic garden is designed to facilitate interaction with the healing elements of nature. The basic features of a therapeutic garden include calming entrances and paths; raised plant beds and containers; and a variety of plants selected for their color, texture, and fragrance for clients to explore with their senses. Therapy sessions are administered by professionally trained horticultural therapists. The therapist works with and guides clients in activities in a garden setting, such as planting seeds, watering, weeding, picking fruits and vegetables, making flower arrangements, composting, participating in meditation practices, and journaling about their time in the garden.
Animal Therapy
Animal therapy can look a few different ways, including engaging with emotional support animals (ESAs), participating in equine therapy, visiting a therapeutic farm, and spending time around wild animals. ESAs can be a dog, cat, or other type of pet that helps ease symptoms of an emotional or mental issue through companionship and affection. A variety of domesticated farm animals are also used for therapeutic purposes. The therapist communicates with the patient through the animal, reducing pressure on the patient. Horses are widely recognized for the therapeutic benefits; Equine-Assisted Psychotherapy (EAP) involves using a horse as a therapeutic tool in which a licensed therapist and a horse professional work collaboratively with the children. Besides horses, other types of equines used in therapy include donkeys, ponies, miniature horses, and camels.
Looking for more? My book is filled with tons of ideas to connect to nature. Click below to get your copy today.