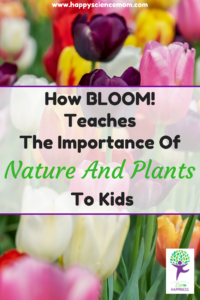 Have you ever stopped to think about how plants play such an essential role in our everyday lives? Better yet, are your children aware of this fact? For starters, plants provide food, shelter, medicine, recreation, beauty, and stress-relieving benefits—and that's just to we humans!
Due to children and teens spending more time staring at screens and less time running around outdoors, experts are trying to reconnect them to the wonders of nature. A new campaign by BLOOM!, an exciting movement to improve the world through the power of plants, is working to inspire young people to appreciate the plant world so that horticulture (the science and art of growing plants) thrives well into the future.
BLOOM! is run by Seed Your Future (SYF), a coalition of more than 150 horticulture industry companies, gardening organizations, schools, colleges and universities, public gardens, youth organizations, and supporters united by an unwavering confidence in the power of plants to change the world. Through eye-catching content delivered inside and outside of the classroom, BLOOM! is educating young people and their families about the endless possibilities in horticulture and introducing them to a lifelong passion—and maybe even a fascinating career.
Amazing Facts About Plants
Sadly, plants are not getting the attention they deserve. The average American can recognize over 1,000 commercial brands and logos, but fewer than 10 plants where they live. And although plants are part of our children's STEM education, most schools stop teaching about plants after third grade. Yet, plants and horticulture are key to our future. Did you know…
The "green-collar" industry of horticulture is home to more than 100 diverse professions that spans the art, science, technology, and business of plants, including drone specialists, plant scientists, landscape architects, arborists, and urban farmers.
Horticulturists impact everything from the air we breathe, to the fruits and vegetables we eat, to the beautiful landscapes and floral arrangements we enjoy.
Horticulturists are using their plant knowledge to solve some of our biggest challenges, like feeding a growing world, climate change, and clean water.
The more we know about plants, the more we can make a difference. Introducing kids to nature at an early age is the best way to protect the planet. In fact, studies have found that children who are exposed to the natural world at a young age are more likely to appreciate nature and preserve and protect it for the future. This is why BLOOM! is working to empower today's youth to unlock the potential of their natural world and open their eyes to opportunities they never knew possible.
Explore BLOOM! Plant Games and Other Resources
BLOOM! has put together some amazing games and other resources for parents, students, and teachers to learn more about plants. The BLOOM! website features videos, infographics, surprising factoids, and an interactive quiz where you can find your own plant power. I love the quiz because it helps kids realize how plants relate to their own interests. You answer a few questions like "would you rather be inside or outside?" and "how do you prefer to travel?". Then you get matched with a type of plant power, which essentially puts you in a category with a group of people using plants to develop things like technology, food, or art.
They have also partnered with Scholastic to develop a toolkit of educational resources, which features sample lesson plans, student magazines, book lists, discussion guides, games, and videos. These are great resources for both educators and parents to use. Finally, check out their social channels Facebook and YouTube for eye-catching content and videos for everyone to learn about the power of plants.
Learn More
BLOOM! is a great jumping off point to inspire us to learn more about the importance of plants. Enjoy some of these other activities as a family:
Take a hike. Grab the family and go exploring outdoors on a nature hike. Teach your children how to identify the many intriguing plants that you find along your hike. Make it fun by creating a scavenger hunt, and be sure to bring along a field guide to help you identify the plants you see.
Garden together. By creating your own kids garden and growing fruits and vegetables together, your kids will get to spend more time outside, learn about healthy food, connect to how food is produced, feel a sense of accomplishment, and appreciate the importance of nature in our life, while also building important skills.
Add plants to your decor. Displaying plants have been shown to cheer people up and even reduce stress and anxiety. You can start an indoor garden of herbs and flowers or just add some houseplants in several rooms.
Explore museums. Visit sanctuaries of nature such as an arboretum, butterfly garden, botanical garden, greenhouse, or science museum. Ask your children to capture the plants they observed by using photographs, drawings, or paintings to create a print or online directory.
Read books about plants. There are so many wonderful books about plants and gardening for kids. Check out the Scholastic BLOOM! site for recommendations.
How do you discover plants for kids in your family?
*Disclosure: This post was sponsored by BLOOM! to spread the word about its Educational Resource Toolkit. All opinions and stories are my own.