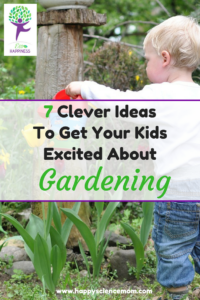 This guest post was written by Shannon Brescher Shea, the mom of a one-year-old and almost four-year-old who is learning to be kinder, more adventurous, and more sustainable. She writes about parenting, growing up, and exploring this big, beautiful world at We'll Eat You Up, We Love You So. You can also follow her on Facebook and Twitter.
Messing around in the dirt is a classic childhood activity. Gardening is just messing around in the dirt with a purpose. Growing fruits and vegetables together can actually be one of the most fun and engaging activities that you do with your kids. In addition to the general benefits of being outside, gardening connects kids with their food, provides them with a sense of accomplishment, shows them the importance of nature in our life, and is a great way to teach a variety of important skills. In my own life, I have seen my son get so excited about the cherry tomatoes in our garden that he eats them right off the plants!
Here are some easy tips on how to introduce young children to gardening:
Involve Them From The Beginning
I have fond memories of going to the garden store with my mom. They had all sorts of fascinating tools and displays, especially the spinning racks with seed packets. While you are there, ask your kids what kinds of vegetables they would like to plant. If you buy from a catalog, sit down with them and look through it together. They may want to grow some of their favorite foods like watermelon, peppers, or corn. Or you may find they have a fondness for a vegetable that you never would have considered. We are going to grow edamame this year because my son loves it. If you want to plant some fruit trees, get some expert advice from the following tree experts: https://www.thelocaltreeexperts.com/wa/seattle/.
Buy Them Their Own Tools
Garden tools are often large, heavy, and not well-suited for little hands. Fortunately, a number of companies make children's garden tools that they can use to do real work. Green Toys sells a sturdy plastic set that is made in the USA of 100 percent recycled materials. Having their own tools will allow kids to participate more easily and minimize the chances of whacking themselves or you. No guarantees that they won't steal your tools anyway though.
Give Them A Job
Small children love feeling useful. (Don't we all!) If possible, try to find a job they can do without too much help from you. It should be something that if they do it wrong, it won't cause major damage to the garden. In our house, common tasks for my three-year-old include putting dirt in a flowerpot for starting seeds and pulling weeds outside our garden fence. If you compost, shredding newspaper to put in the composter is also a perfect, easy task for kids.
Incorporate Play To Teach About Nature
I practice what is called "lasagna gardening," or sheet mulching. This is a technique where you layer several types of organic matter on top of each other and then plant straight into it. Because I do not live on a farm where I would have access to straw, I use leaves instead. In the fall, my son and I work together to rake up huge piles of leaves. But it is far from a serious affair. He jumps in them happily and I even plop down a few times myself.
Give Them Their Own Space
Some of my fondest childhood memories were sitting in my backyard and digging in the dirt. If you can, designate some garden space that your child can have just to themselves. This year, I hope to build a raised bed that my kids can use as a play space. If that is not possible, try to designate a corner of the garden for them where nothing is growing.
Explain What You Are Doing And Why
While gardening sometimes seems like magic to kids–food from the dirt–it actually has a lot of science and math involved. Planting seeds can lead to a conversation about plants' life cycles. Measuring out where to put plants can help kids understand both competition for resources and how to use a tape measure. Talking your kids through what you are doing will help them build their own skills as gardeners as well as provide a practical application for much of what they learn in school. Get them excited by planting an edible garden or a tasting garden so they can enjoy the fruits of their labor.
Read Books And Listen To Music About Gardening
Because vegetable gardening can be so colorful, it lends itself well to children's books. For very young children, Growing Vegetable Soup is a lovely introduction. For older children, Up in the Garden, Down in the Dirt provides a poetic overview of the tasks that each season brings. It also has a glossary that gives information on some common garden pests and helpers. Rachel's Day In The Garden is an adorable book that teaches kids about both yoga and enjoying nature. PBS also has a fairly comprehensive list of other children's books about gardening.
For music, The Garden Song communicates the simple beauty of growing food. The version with John Denver and the Muppets is particularly charming. The band Formidable Vegetable Sound System has swing-funk songs for kids that focus only on environmental topics, including gardening.
Nothing quite connects people like growing food together. Gardening can bond young and old, parent and child. I hope these tips help you get started on growing food with your kids!
What are your experiences with growing a family garden?