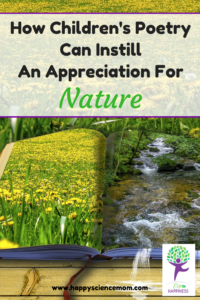 When we witness the beauty and vastness of nature, it can cause us to feel a number of powerful emotions. There is nothing more special than watching our children see a rainbow or waterfall for the first time. They look on in utter awe of these natural phenomena.
When we are in awe of nature, we are inspired to be more creative because it causes us to view the world in a broader sense. One way to capture this creativity is through poetry. Writing colorful prose allows our children to reflect on what they experience in nature so they can hold on to those moments forever.
Throughout history, poetry has fascinated readers and inspired them to understand the world in a deeper way. Many nature lovers have used poetry to communicate their connection to the environment. Some of the most famous nature poets include:
Robert Frost. His works connected everyday life to nature. These words from the poem "The Road Not Taken" are one of the most celebrated lines of English poetry: "Two roads diverged in a wood, and I–I took the one less traveled by."
Alfred Lord Tennyson. He was Poet Laureate of Great Britain and Ireland during the reign of Queen Victoria. His poems use references of nature to describe philosophical themes.
William Wordsworth. He is one of the most famous poets of the Romantic era. He used nature to bring about nostalgia and admiration. He connected with nature in a deep, yet simple manner. One of his poems is titled, "To A Butterfly."
P.B. Shelly. He used nature to describe deeper things like society and people's inner thoughts. Nature was described in a more mystic and sacred manner in his works.
John Keats. He provoked readers to imagine his descriptions of nature. Though his poems focused on the environment, they brought about feelings pertaining to his life.
Inspire Your Children With Nature Poetry
There are so many ways to use poetry to instill an appreciation for nature in your children. After you spend time outdoors like going on a family hike, playing at the beach, or even gardening in your backyard, encourage your children to write down their thoughts and feelings about nature as poetry.

You can also enjoy nature poetry on their level by reading several wonderful children's books together. One of our favorites is The Green Mother Goose: Saving the World One Rhyme at a Time by Jan Peck and David Davis. Not only is it a great tool to teach about environmental issues, it is also quite hilarious. The authors take traditional Mother Goose rhymes and turn them into poetry with a green theme. Old Mother Hubbard shops with cloth grocery bags. Old King Coal works to keep our air free of pollution. Humpty Dumpty gives a lesson on global warming and worries he will get fried from all the heat. And the Old Woman Who Lived In A Shoe makes her home more energy efficient with insulation, compact fluorescent light bulbs, and solar panels. Just brilliant!
Children's Nature Poetry Books
Enjoy some of these other children's nature poetry collections:
Please share your children's nature poems or favorite nature poem books with us.