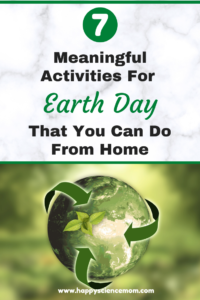 My favorite holiday is coming up! Earth Day is held every April 22nd. Are you ready to celebrate our incredible planet?
It's particularly an important time to stop and engage in our natural environment because spending time in and around nature is so beneficial to our family's health and well-being. It calms us when we are feeling stressed and boosts our mood when we are feeling down. Although many of us are still social distancing, there are still plenty of fun, meaningful ways to show our support and love for our precious planet. Check out these Earth Day virtual activities!
Spend Time Learning
There are so many ways to get your kids excited about environmental issues. Many of us are looking for ways to keep our kids busy these days, so take advantage of this time to teach them new skills and explore new ideas. Read books; recite and write nature poetry; watch environmental shows and documentaries; take virtual and in-person trips to nature centers, gardens, and scenic destinations; and participate in online science education programs.
Be sure to check out both my parenting book, Finding Ecohappiness: Fun Nature Activities To Help Your Kids Feel Happier and Calmer, and children's book that I co-authored, Sky's Search for Ecohappiness. They are the perfect reads for Earth Day!
Host a Virtual Earth Day Party
Earth Day is a great excuse for a virtual party. You can send an online invitation, get a group together through a number of online platforms, and celebrate our planet together. Some activities that you can do together online include: making an eco-craft, reading environmental poetry or books, writing letters to elected officials to support the environment, and playing nature-themed games like charades or jeopardy. You could even have everyone give a tour of their backyards or do a backyard scavenger hunt. My daughter's birthday falls right near Earth Day. In 2020, her party was originally scheduled to be at a marine life nature center. Fortunately, the director still did a live animal show for her and her friends online and they absolutely loved it.
Join an Online Earth Day Event
Everyone is getting creative now and going online. Look out for environmental-related Facetime Lives, webinars, and online Summits for your family to enjoy. Lots of libraries are still offering webinars that you can tune into from anywhere. You can also search earthday.org for events.
Make an Earth-Friendly Feast
Every celebration needs a delicious meal, right? Take this opportunity to spend time together in the kitchen cooking a nutritious meal that supports our planet–whether that means vegetarian, vegan, or organic to your family. By savoring nature's bounty, you can stop and appreciate how much we rely on the Earth to provide the many nutrients we need to stay healthy, both physically and mentally.
Support Environmental Organizations
When we give to others, we feel better and experience what is known as a helper's high. Spend some time this Earth Day choosing one or more environmental organizations (local, national, or international) to either join or send a donation to. Some of my favorites include Sierra Club, World Wildlife Fund, Ocean Conservancy, and Earthjustice. There are also a few groups specifically for moms that are doing amazing work: Moms Clean Air Force, Moms Rising, Mothers Out Front, and Climate Mama.
Shop Sustainable Businesses
This is an excellent time to support both local and national sustainable businesses, whether it be your neighborhood organic grocery store or large corporations with a history of doing incredible environmental work like Patagonia and Rothy's. Not sure where to shop? Check out the B Corporation directory to identify green businesses.
Take the Ecohappiness Challenge
During the beginning of the pandemic lockdown, I started a daily Ecohappiness Challenge. It was the best way I knew how to manage my stress and anxiety during that unprecedented time. I tapped into the power of nature to feel calmer and happier by finding one way every day to connect to nature. These activities range from reading nature poetry with my kids to going for a mindful bike ride in my neighborhood to taking awe-inspiring virtual field trips to view nature online. You can now download your own FREE 30-Day Ecohappiness Challenge Calendar filled with activities that can be done from inside your home, on your balcony, or in your backyard. Let us know what you and your family are doing to connect to nature.
How will you celebrate Earth Day this year?