This guest post was written by Emma Gibson, a psychology Ph.D. candidate from Jacksonville State University and a talented communicator. She has a passion for the written word and has a remarkable ability to explain complex topics in layman's terms. She engages readers with her creative ability to teach as she entertains.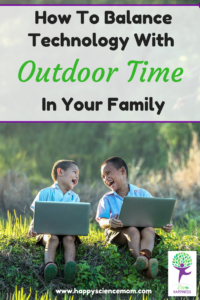 Childhood today is very different than it was for us, particularly when it comes to technology replacing outdoor play. We used to enjoy running around in our backyard and at the park with neighborhood friend. Our kids spend almost nine hours every day staring at screens, and now more with online learning. After all, our children can't even remember a time before the Internet, wireless technology, or cell phones so it makes sense that they prefer to use technology and digital devices for a majority of their communication and interaction. Unfortunately, all of this connectivity can have some surprising effects on our kids.
The Problem With Too Much Technology
As parents, we need to really process what all those hours in front of a screen of any type can do to a person, especially growing and developing children. Sure, our kids can log several hours watching television, but a large chunk of this daily consumption occurs as our children are streaming videos, playing games, or scrolling social media on numerous digital devices. The sheer amount of technology time is alarming, even the American Academy of Pediatrics now advises limiting kids' time in front of devices.
Some of the dangers that technology poses to children include:
Feelings of anxiety, depression, and low self-esteem are associated with social media overload.
Fast-paced stimulus from technology and the Internet are known to alter development in the brain's pre-frontal cortex, which increases the likelihood of developing addictions to fast-paced technology.
The light emitted from glowing screens and interruptions from notifications on our kids' devices disrupt sleep patterns.
Technology is limiting the face-to-face interactions that build a young child's ability to learn speech, bond with others, and develop communication skills.
Joint and neck pain caused by leaning over and using cell phones and devices for long periods of time.
Why Outdoor Activities Are Essential For Kids
Technology is not totally bad all the time. Our gadgets do deserve a time and place in our children's lives. But before giving them unlimited technology access, we should also consider that they might be missing out on the importance of nature and valuable play time when they are plugged in constantly.
Outdoor play is essential to our kids because it:
Lowers the likelihood that a child will experience heart disease, high blood pressure, or obesity later in life.
Gives children opportunities to fine tune their observation and creativity skills. Kids often exhibit higher levels of readiness to learn and even scores on tests from playing outside.
Exposes kids to beneficial germs and bacteria, provides healthy doses of Vitamin D from sunlight, and boosts their immune system.
Regulates natural biorhythms which help children form healthy sleep patterns.
 5 Ways To Disconnect From Technology
Although a lot has changed since we were young, we still need to encourage our kids to take a break from their devices and enjoy the great outdoors. By taking a stance against digital overload, perhaps we can reduce technology's negative impact on our kids. With a few mindful choices and a little planning, we can successfully balance the best of both worlds: technology and nature.
To help encourage our kids to get outside, consider these tips to disconnect from technology:
Make kids earn time to use technology by rewarding them with an allotted amount of tech time for every hour they spend outdoors, reading, or doing chores.
Strive to get the family outside for about one hour each day, weather permitting. Go for a bike ride, play a pickup game of ball, work in your family garden, or take a walk.
Designate technology-free zones in your home by keeping devices in common family areas and away from bedrooms and the dinner table.
Power down all devices at a set time each night to allow your kids to prepare for a good night's sleep.
Take advantage of free events hosted by local parks and recreation areas.
What do you do to keep the technology-nature balance in your family?