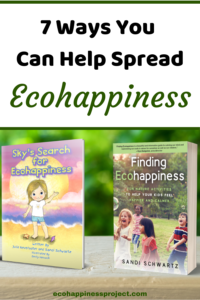 Spending time in and around nature is so beneficial to our family's health and well-being. It calms us when we are feeling stressed and boosts our mood when we are feeling down. There are so many incredible ways to tap into the healing power of nature.
Ecohappiness is about connecting to nature to feel happier and calmer. On a deeper level, it involves realizing how important nature is to our well-being so we do what we can to protect it.
I am so thrilled to announce that my parenting book, Finding Ecohappiness: Fun Nature Activities to Help Your Kids Feel Happier and Calmer, is now available and the children's picture book I co-authored, Sky's Search for Ecohappiness, is also available wherever books are sold.
Grab your copies today of both books to start finding ecohappiness for you and your family! Keep reading to discover how you can help spread ecohappiness far and wide.
Request Books at Your Local Bookstore
Independent bookstores are the heartbeat of many local communities, offering special programming and hands-on customer service. It's so important to support local bookstores. Many bookstores are already carrying Finding Ecohappiness and Sky's Search for Ecohappiness either online or physically in the store. If the store in your area isn't yet stocking my books, please request that they do so.
Request Books at Your Local Library
Reading about nature can be particularly soothing. Let's get both ecohappiness books in the hands of more readers!
Did you know you can request your library to add a book to their collection? Just ask a librarian or look for a book request form on your library website. I would be forever grateful if you requested my books to be at your library.
Little Free Library
Have you noticed the cute Little Free Libraries sprouting up all over the place? In case you are not familiar with the Little Free Library program, it is a nonprofit organization based in Wisconsin with a mission to be a catalyst for building community, inspiring readers, and expanding book access for all through a global network of volunteer-led Little Free Libraries. There are now over 125,000 Little Free Libraries in over 100 countries around the world, sharing more than 42 million books annually.
I was inspired by author, Christina Dankert, and her 50 State Challenge to spread kindness with her book, The Kindness Machine. Taking a cue from her, I decided to kick off my own 50 State Challenge to spread ecohappiness.
Here's how you can get involved:
Purchase a copy of either Finding Ecohappiness or Sky's Search for Ecohappiness (or both).
Pop it in a Little Free Library in your area or while traveling. Find a location near you.
Take a picture. Post it to Instagram and/or Facebook with the name of the state and #ecohappiness. Be sure to tag us @getecohappiness.
Send a quick email to sandi@ecohappinessproject.com letting me know what state you donated the book(s).
I will add the Ecohappiness Project logo to all the states submitted.
If you are outside the U.S, you can still participate. I would love to be able to add a country challenge as well! Just follow the instructions above and include your country.
Choose Books for Your Book Club
Joining or starting a parenting, environmental, or other type of book club can be a wonderful way to find support while having fun and garnering a whole host of additional benefits, such as meeting new people, engaging in intriguing conversation, learning new things, building a healthy habit of reading, and more.
I have put together a free book club discussion guide for Finding Ecohappiness. Download your copy now and add my book to your book club's calendar.
Another idea is to read Sky's Search for Ecohappiness if you are part of a children's book club through school or otherwise.
Give Books as a Gift
Looking for a gift for a friend or loved one? Consider gifting my books for the next birthday, holiday, or other special occasion. Both of my books would make the perfect gift for a teacher, guidance counselor, therapist, camp director, or anyone else who works with kids or has a connection to mental health and/or nature. There is also a coloring book for Sky's Search for Ecohappiness, so a wonderful gift would be to pair the children's book with the coloring book.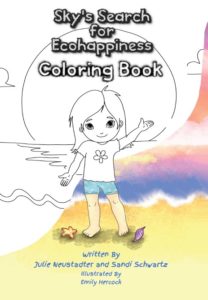 Write about Ecohappiness
If you are a professional writer or enjoy writing as a hobby, consider highlighting ecohappiness and my books in your next blog post; newsletter; or magazine, newspaper, or website article. My ecohappiness work has been featured in numerous publications, including The Washington Post, National Geographic, Yahoo!, MSN, Good Housekeeping, Earth911, and more. I am available for interviews, so please reach out to me at sandi@ecohappinessproject.com.
Ask Me to Speak
Finally, if you are looking to host a discussion about ecohappiness to share this important information about nature and mental health with your group, please let me know. I have been featured on over 50 television shows, conferences, summits, podcasts, social media lives, and more. View my speaking engagements here and please reach out to me at sandi@ecohappinessproject.com to book me for a presentation, discussion, or interview.
Thank you for spreading ecohappiness!