This guest post was written by Charlie Fletcher, a freelance writer from the lovely "city of trees"- Boise, Idaho. Her love of writing pairs with her passion for social activism and search for the truth. You can find more of her writing on her Contently.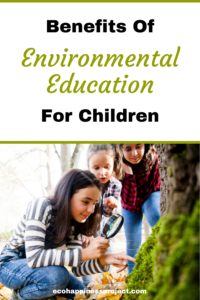 Childhood today can look a lot different than in previous generations. Rather than playing outside with friends until the streetlights came on, as so many of today's parents and grandparents did growing up, kids today are inside. They are spending the majority of their free time on technology, with very little connection to nature.
Such a pervasive and persistent disconnection from the natural world can have a profound and long-lasting impact on a child's physical, mental, and emotional health. In addition, children who have little engagement with or understanding of the natural world miss out on invaluable opportunities for cognitive development and intellectual stimulation.
Robust environmental education, however, can not only help children develop an appreciation for the natural world, but it can also prepare them, personally and professionally, for the future. This is a particularly critical concern as the threat of climate change continues to increase.
This article examines the importance of environmental education for children and provides strategies for helping your children learn about nature in impactful ways.
Environmental Education and Mental Health
There is little disputing the fact that today's children are facing a mental health crisis of breathtaking, and tragic, proportions. From the upheavals of the pandemic to the pressures of online learning to widespread civil unrest, children are drowning in a flood of uncertainty, anxiety, and bad news.
Spending time in nature, though, can be the perfect antidote to the stress and sadness of today's troubled and chaotic world. For instance, getting outside and into nature can be a great way to alleviate the stress of online schooling while learning about science at the same time.
Birdwatching and leaf-peeping, for example, can be great ways to learn about biology and botany in a truly non-threatening environment. Indeed, the proven anti-anxiety attributes of nature can make learning processes far more productive and enjoyable than in the high-stress environment of the classroom.
Similarly, because knowledge truly is power, learning about the environment can be a terrific way to help children combat eco-anxiety, as they become empowered to live more sustainably.
Environmental Education and STEM Training
The stark reality that children today must face is the increasing danger of climate change. However, by educating kids about the environment from an early age, you are also preparing them to grapple with this threat in adulthood. Children with a deep understanding of ecology and the environment are more likely to grow into more environmentally-conscious adults, and might even choose to become scientists, technologists, and engineers who take the next great strides in the fight against climate change.
Indeed, though it may seem counter-intuitive, learning about nature, such as through citizen science projects, can be integrated seamlessly into science, technology, engineering, and math (STEM) education. For instance, children who learn to integrate STEM processes and practices with environmental education are uniquely positioned to become innovators in green engineering. Their training may help them blaze new trails in resilient design, constructing buildings, planning communities, and creating materials that reduce or eliminate carbon emissions.
Evidence-Based Learning and Critical Thinking
Being in nature is not just a balm to the mind and spirit. Learning about the environment is also a powerful way to cultivate cognitive skills, particularly those relating to critical thinking and creative problem-solving. Nature is, after all, governed by the laws of cause and effect. There is perhaps no better way to discover the fundamental principles of physics, chemistry, and biology than by seeing them manifest in the ecosystem.
Such evidence-based environmental learning can also be a superb way to help children develop an appreciation of the impact humans have, both positive and negative, on the ecosystem. For instance, you may introduce your child to the myriad nature DIY videos available online relating to environmental projects. These projects encompass everything from planting an organic garden to cleaning up a beach, and they use active learning principles to teach kids about nature and the environment. In the process, children learn to problem-solve, think creatively, observe and ask questions about the world around them, and use the scientific method to find the answers.
Using Immersive Experiences for Environmental Education
Fortunately, you do not have to have an advanced degree in environmental science to ignite your child's curiosity and cultivate their understanding. The first and most important thing you can do is to spend as much time as you can in nature.
You might start small by exploring your own backyard or by taking a walk around the neighborhood to see how many species of flowers, trees, birds, and insects you can identify. When you are ready to take things to the next level, then why not plan a family road trip to one of our great national parks?
Indeed, you might plan to visit a different national park each year, enabling your child to compare them and try to explain the differences they have noted. What better way to learn about the effects of climate than by contrasting the landscape of the Desert Southwest with that of snowy New England or the rainy Pacific Northwest?
The Takeaway
Starting your child's environmental education can have a deep and abiding impact both on their cognitive development and their mental and emotional well-being. An understanding of and appreciation for nature helps children grow into healthier, happier, and more environmentally conscious adults. Such awareness is also critical in preparing children for the most fulfilling and important jobs of the future, particularly those dedicated to combating the threat of climate change.