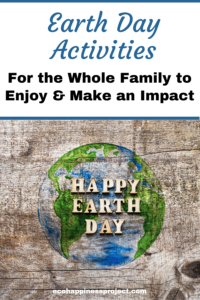 Earth Day, which takes place every year on April 22, is a way to support environmental protection and enjoy the many incredible benefits that nature provides. Founded in 1970 when millions of Americans took to the streets and parks to demonstrate their support for our planet, this special holiday was created to inspire awareness and appreciation for environmental protection. Today, participants all around the world come together in their campaigns for plastic waste elimination, sustainable fashion, climate change, and other green initiatives to help make a difference and protect our environment.
Earth Day is the perfect opportunity to celebrate our precious planet and remember that it is the only one we have—and it needs our help. By taking part in Earth Day activities like planting trees and cleaning up parks, we can ensure that our planet remains healthy and habitable for future generations. Your family can celebrate Earth Day in numerous ways—by attending events in person and online, organizing your own events, participating in environmental volunteer projects, or simply spending time outside as a family. Here are some fun ideas to celebrate on April 22 (and every day!) to make an impact and connect to nature.
Spend Time Learning
Teaching children about environmental issues can help pique their interest in and curiosity about nature, and may even lead them to want to take action. Read books; recite and write nature poetry; watch environmental shows and documentaries; take trips to nature centers, gardens, and scenic destinations; and participate in science education programs.
Local libraries are a great place to spend the day exploring environmental topics. There are story hours, dog reading programs, and other special events focused on nature topics. Many libraries now let you borrow science kits and outdoor exploration backpacks. Finally, look for a Storywalk® in your community, which consists of a children's book placed on boards that are spread out so readers can walk (or run) from one page of the book to the next. It is an interactive way to read a book while also enjoying the outdoors.
Earth Day is the perfect time to read about ecohappiness! Grab a copy of my award-winning book, Finding Ecohappiness, and the children's book I coauthored, Sky's Search for Ecohappiness. There is even an adorable coloring book about Sky that would make the best gift for a young child.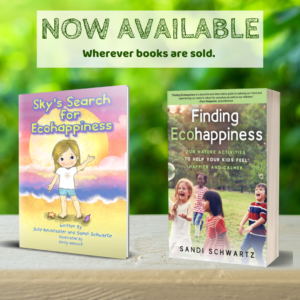 Host an Earth-Friendly Feast
Every celebration needs a delicious meal, right? Take this opportunity to spend time together in the kitchen cooking a nutritious meal that supports our planet—whether that means vegetarian, vegan, or organic to your family. If you have your own garden, center the meal around the produce you nurtured. By savoring nature's bounty, you can stop and appreciate how much we rely on the Earth to provide the many nutrients we need to stay healthy. Keep the festivities green by avoiding single-use plastics and other unnecessary waste, and enjoy time outside together. Opt for natural decorations like plants, flowers, produce, leaves, etc. instead of buying plastic ones that will just get tossed away.
Join an Earth Day Event
Look out for environmental-related events organized by local nature centers, science museums, libraries, schools, environmental groups, or local governments. You may be able to find an Earth Day Fair or concert in your community to attend. There are usually global events online as well to connect to people in different countries. Check earthday.org for event listings.
Organize a Virtual Earth Day Party
Earth Day is a great excuse to connect with friends and family no matter where they live. You can send an online invitation, get a group together through an online platform, and celebrate the planet together. Some activities that you can do include making an eco-craft, reading environmental poetry or books, writing letters to elected officials to support the environment, and playing nature-themed games like charades or jeopardy. You could even have everyone give a tour of their backyards or do a backyard scavenger hunt. 
Volunteer
In addition to encouraging children to spend more time outside enjoying nature, they can play a role in improving and protecting it through hands-on volunteer projects. Keep natural areas pristine and garbage-free by participating in a trash cleanup at a beach, lake, playground, or other location. Look for opportunities to volunteer at a local community garden to help with planting seeds, weeding, and picking fruits and vegetables. Often the fresh produce grown at a community garden is donated to local food banks. If your family loves animals, volunteer at a nature center, zoo, horse ranch, or animal shelter. Finally, make a big difference to beautify our world and reduce the impact of climate change by planting trees, flowers, and other vegetation in your community. This is such a positive, hands-on activity for children because they will get to see for themselves the impact they can have. Many towns host planting events and have goals to plant a certain number of trees annually. Check out Tree City USA for information in your area.
Support Environmental Organizations
When we give to others, we feel better and experience what is known as a helper's high. Spend some time this Earth Day choosing one or more environmental organizations (local, national, or international) to either join or send a donation to. Some favorites include Sierra Club, World Wildlife Fund, Ocean Conservancy, and Earthjustice. Consider supporting an animal shelter, botanical garden, or nature center in your area.
Take the Ecohappiness Challenge
Tap into the power of nature to feel calmer and happier by challenging your family to find one way every day to connect to nature. These activities range from going for a mindful bike ride to listening to nature sounds to gazing at the stars. You can download your own FREE Ecohappiness Challenge Calendar filled with activities that can be done from inside your home, on your balcony, or in your backyard. Start your challenge on Earth Day and see how many days in a row you can connect to nature.